Good summer for campsites and holiday parks due to domestic tourism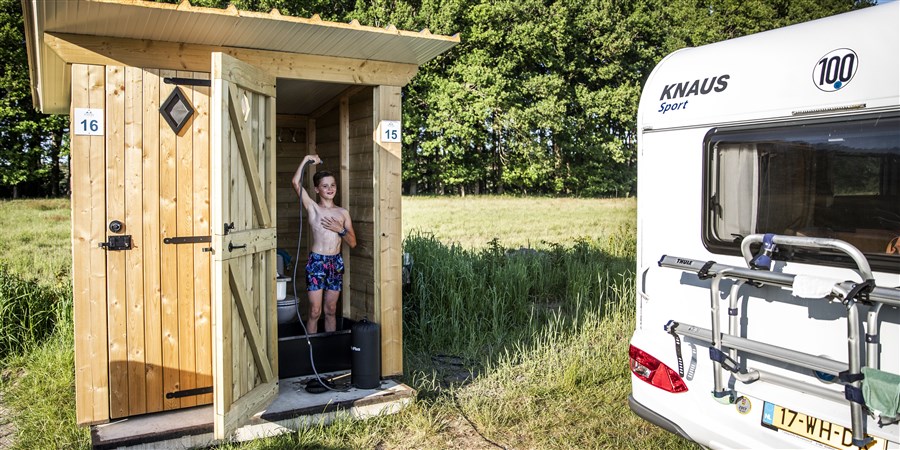 Dutch tourist accommodations booked a record number of overnight stays in July and August 2020, even more than in the peak year 2019. The growth was mainly on account of campsites and holiday parks, which were able to welcome more domestic guests in the third quarter. The loss of foreign guests at hotels was not compensated by Dutch guests. Statistics Netherlands (CBS) reports this in a trend report on tourism, recreation and leisure (Dutch only) for 2020.
In April 2020, the activities of overnight accommodations came to a virtual standstill, with 93 percent fewer overnight stays than in the same period last year. The sector slowly picked up again in the following months. The third quarter of 2020 ended relatively well. Although the number of guests was 12 percent down, the number of overnight stays was 74 thousand up on the previous year.
Overnight stays in tourist accommodations, Q3 2020*

Type accommodatie

Foreign guests (year-on-year % change)

Dutch guests (year-on-year % change)

Group accommodations
-60.4
-34.2
Hotels
-54.3
12.6
Holiday parks
-28.6
29.7
Campsites
-14.5
40.2
* Provisional figures
Campsites and holiday parks benefit from domestic holidays
Campsites and, to a slightly lesser extent, bungalow parks in particular saw an increase in the number of guests and overnight stays in July and August compared to the same period in 2019. Contrary to previous years, Dutch tourists were more likely to choose a domestic holiday this summer. In Q3 2020, nearly 3.5 million Dutch people went on holiday abroad. This is 57 percent less than in the same period in 2019. On the other hand, around 5.9 million Dutch went on holiday in their own country: a 24-percent increase.
The domestic guests stayed longer, boosting the number of overnight stays; campsites and holiday parks recorded an increase in overnight stays of 27 and 7 percent respectively in Q3 relative to the same quarter last year.
Loss of foreign hotel guests not offset
In Q3 2020, the number of hotel nights was down by one-quarter in total year-on-year. Domestic demand increased at the same time with 9 percent more guests and 13 percent more overnight stays; however, this could not compensate for the sharp drop in foreign demand (54 percent fewer overnight stays).
While in 2019 still 56 percent of the overnight stays at hotels were booked by foreign visitors, this share went down to 39 percent over the first three quarters of 2020.
Noord-Holland badly hit, Amsterdam and Haarlemmermeer in particular
The increased domestic demand benefited almost all provinces, but not Noord-Holland and Zuid-Holland. These provinces rely on foreign tourism for an important part of their revenues. Well into the third quarter, it was mainly the hotels in Amsterdam and Haarlemmermeer which were badly hit by the coronavirus crisis with a 61-percent drop in the number of overnight stays relative to one year previously.
Groningen province saw the number of overnight stays rise by 33 percent in Q3 while Gelderland – the most popular province for domestic holidays – recorded an increase of 21 percent, reaching a total of 5.6 million overnight stays.
Overnight stays in tourist accommodations, Q3 2020*

Regio

Change (year-on-year % change)

Groningen
33.5
Gelderland
21.0
Fryslân
20.0
Drenthe
17.2
Overijssel
15.6
Flevoland
14.6
Limburg
11.6
Zeeland
10.9
Noord-Brabant
4.2
Utrecht
3.6
Zuid-Holland
-7.4
Noord-Holland
-34.1
The Hague
-6.7
Utrecht
-11.1
Maastricht
-18.4
Rotterdam
-34.3
Haarlemmermeer
-60.6
Amsterdam
-61.4
* Provisional figures
Value added of national tourism down in Q3 as well
The growth in domestic holidays also resulted in higher domestic holiday spending compared to Q3 2019 (+1 percent). The fact that this limited growth could not compensate for less spending by foreign guests is reflected in the value added. The value added for the industries that focus almost entirely on tourism declined in Q3.
Relative to the previous quarter, these industries did see a slight improvement. Hotels and restaurants in the accommodation and food services sector were able to realise 90 percent of the value added that was accomplished in Q3 2019. Businesses in the aviation and travel services sectors achieved around 40 percent of last year's value added, a decrease of 60 percent. In culture, recreation and sports, the value added was more or less halved.
Trend report on tourism, recreation and leisure 2020
These topics and many more are addressed in a trend report on tourism, recreation and leisure for 2020 (Dutch only). The trend report provides an up-to-date statistical overview of supply and demand in the tourism sector and provides insight into trends and innovations relevant to the leisure sector. Attention is also paid to the impact of the COVID-19 pandemic on the leisure sector. The trend report has been compiled by NRIT media, NBTC Holland Marketing, the Centre of Expertise Leisure, Tourism & Hospitality (CELTH) and CBS.