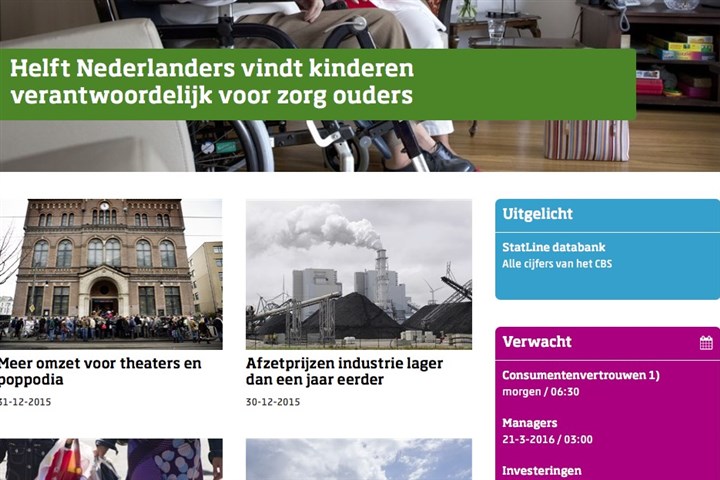 Accessibility
Status of accessibility of https://www.cbs.nl
We consistently strive to make our website www.cbs.nl accessible to everyone and on all types of devices. We do so by adhering to the international WCAG 2.1 accessibility standard. The below statement (in Dutch only) explains where Statistics Netherlands deviates from this guideline.
www.cbs.nl accessibility statement (Dutch only).
In addition to the points in the accessibility statement, there are 2 parts on which the website does not (fully) comply:

Statistics Netherlands consciously chooses to visualize data to make it transparent for a large audience, for example in the form of infographics, dashboards and other (interactive) visualizations. Naturally, CBS realizes that a visual form is not accessible to everyone. Statistics Netherlands strives to offer the information included in a visualization in alternative forms (texts or tables), but the nature of a visualization is not always suitable for offering a completely equivalent alternative.

Discussion papers are for the time being only placed on the website as a less accessible PDF. These papers are not suitable or cannot be made suitable for publication in a digital form. They contain highly theoretical research, often in collaboration with other knowledge institutes and regularly contain screenshots of models and software for which no equivalent, accessible alternative is available. Statistics Netherlands will continue to look for alternatives and will switch to another form as soon as possible.
Do you encounter a problem with the accessibility of this website?
Should you experience any accessibility restrictions on our website despite the measures we have put into place, please let us know.