Internationalisation Monitor 2017, fourth quarter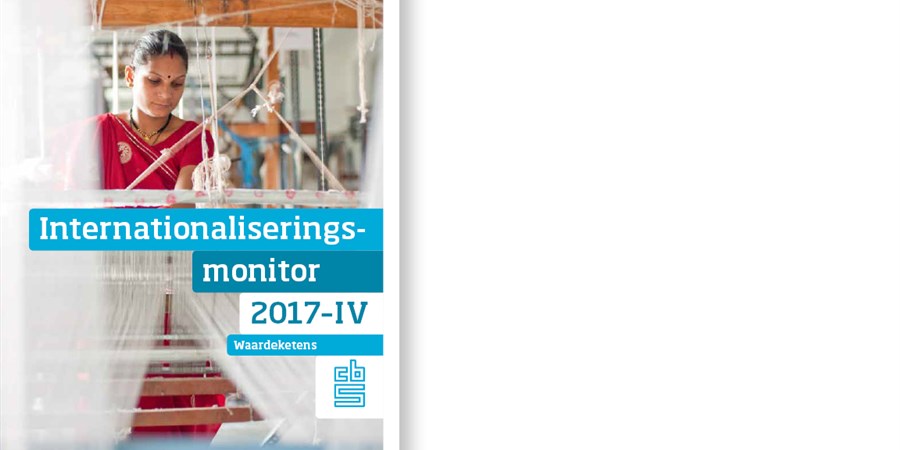 In this edition of the Internationalisation Monitor, the key focus is on so-called value chains. A value chain describes the full range of activities that is required to bring a product or service from conception through the different phases of production, delivery to final consumers, and final disposal after use. With on-going globalisation, this process has evolved to the extent that specific components of the value chain are relocated to where production is cheapest or most efficient. The existence of such global value chains also creates (new) dependencies between people, businesses and countries which extend beyond borders and which can be very complex. Relocating part of a production chain abroad has implications for e.g. employment, wages, trade in intermediates and greenhouse gas emissions, at home as well as abroad. But also other events - such as a tsunami in Japan or a crop failure in Africa - can affect our country. Therefore it is crucial for policymakers to understand which dependencies there are for the Dutch economy, since a change in one location (e.g. closing a factory) can significantly impact people, sectors and the environment in another location. With English summary included.
The Internationalisation Monitor describes trends in internationalisation and their consequences for the Dutch economy and society. It is a quarterly publication as part of CBS' Globalisation development and publication programme, which is commissioned by the Dutch Ministry of Foreign Affairs.
The aim of this research on Globalisation is to arrive at new insights in the field of globalisation in order to contribute to practices, policy making and science. At the core of the approach is the integration of a wide range of sources and already available microdata, combined with the application of advanced statistical methods such as I/O analysis. The ensuing results, i.e. newly developed statistics and accompanying analyses, are being published in the Internationalisation Monitor.