Imports from China down in 2023, exports up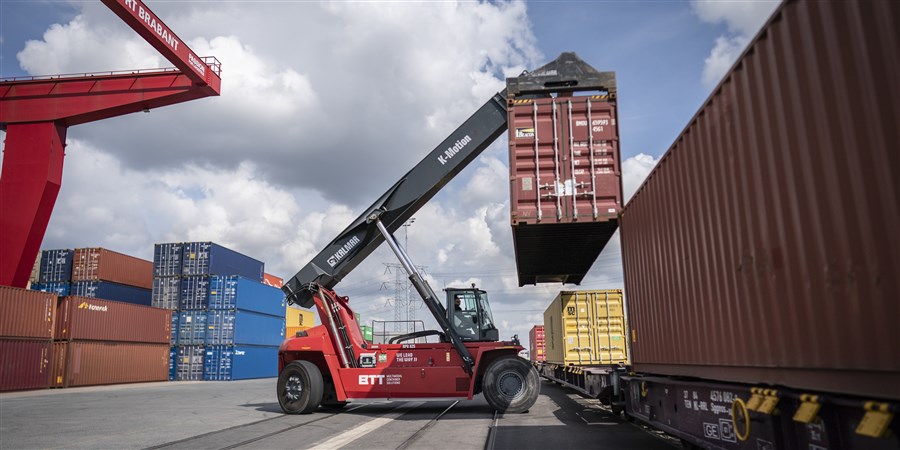 Between January and July 2023, the Netherlands imported almost 70 billion euros in goods from China. That is nearly 5 billion euros less than in the same period last year. Imports of computers and telephones were down in particular. On the other hand, goods exports to China increased by 16 percent to a total of 11.8 billion euros. Statistics Netherlands (CBS) reports this on the basis of new CBS and Eurostat figures.
The drop in import value followed a rise of 17 billion euros in 2022 that was partly due to price increases.

In the first seven months of this year, imports from China by the European Union as a whole fell by over 45 billion euros (from 352 to 306.5 billion). Forty-three percent of the decline was related to sharply lower imports of Chinese-manufactured goods by Germany (from 77 billion to 57 billion euros).

Germany was still the largest importer of goods from China within the EU during the first seven months of 2022; the Netherlands took over that position in the same period in 2023. However, half of the goods were transited to other countries almost immediately. The Netherlands mainly imported telephones, computers and semiconductors. Whereas the import value of telephones and computers fell (-1.2 billion and -4.6 billion respectively), that of semiconductors increased (+1.6 billion euros).
Goods trade with China, January-July 2023

Netherlands (year-on-year % change)

EU-27 (year-on-year % change)

Germany (year-on-year % change)

Imports
-6.56
-12.96
-25.63
Exports
16.13
-0.05
-8.23
Source: CBS, Eurostat


Goods exports from the EU to China remained virtually stable. German exports to China fell by 8 percent to just under 58 billion euros in the period January - July 2023. Nevertheless, Germany retained its position as largest exporter to China within the EU.

The Netherlands' export growth to China was mainly due to a higher export value of machinery and equipment (+898 million euros), medicines (+401 million) and medicinal and pharmaceutical products (+188 million).
China's import share has declined
China's share in total Dutch goods imports (excl. transit trade) exceeded 10 percent for the first time in 2020. The share fell below 10 percent again in 2022, to 9 percent. Furthermore, Dutch firms imported relatively less in raw materials and semi-manufactured goods from China. In 2020, the Chinese share in these imports was still 6.8 percent; that was down to 5.1 percent in 2022, versus 5.5 percent in 2015.
China's share in Dutch goods imports

| | Total goods imports (excl. transit trade) (%) | Raw materials/semi-finished goods imports (%) |
| --- | --- | --- |
| 2015 | 8.8 | 5.5 |
| 2016 | 8.8 | 5.8 |
| 2017 | 9.0 | 5.9 |
| 2018 | 9.1 | 6.4 |
| 2019 | 9.2 | 6.5 |
| 2020 | 10.3 | 6.8 |
| 2021 | 9.9 | 5.6 |
| 2022 | 9.1 | 5.1 |
Lower imports from China in services
Service sectors (IT and information, financial and business services) have shown lower import dependency on China over the past few years. In 2019, IT and information services still imported 32 percent of their raw materials and semi-manufactured goods from China. This was 17 percent in 2022. Of all Dutch sectors, telecommunications was most dependent on China for its production, with nearly 29 percent import dependency in 2022.
Total earnings from exports to China down slightly
In 2022, net export earnings from trade with China, i.e. the value added after deducting the cost of imports for manufacturing of the goods or provision of the services, stood at nearly 7.1 billion euros. This is 31 million euros (0.4 percent) less than in 2021. The decrease was due to lower net export earnings in services (-432 million euros). Net earnings from goods exports, on the other hand, increased (+400 million euros).

In goods exports over 2022, the Netherlands earned the most from machinery and equipment (especially chip-manufacturing machines) at 1.5 billion euros, followed by processed foodstuffs such as baby milk powder at 1.1 billion euros, and meat at 379 million euros. The largest increases last year were recorded in processed foodstuffs (+370 million euros), machinery and equipment (+192 million euros) and semiconductors (+174 million euros); the largest declines in earnings last year were seen in medicine exports (-122 million euros) and passenger car exports (-95 million euros).

The decline in export earnings from China in 2022 was primarily due to a drop in earnings from intellectual property rights (royalties; -511 million euros).
The Netherlands' earnings from exports to China

| | Goods (bn euros) | Services (bn euros) |
| --- | --- | --- |
| 2015 | 3.0 | 1.8 |
| 2016 | 3.7 | 1.5 |
| 2017 | 3.9 | 1.4 |
| 2018 | 4.1 | 1.8 |
| 2019 | 4.6 | 1.7 |
| 2020 | 5.4 | 1.5 |
| 2021 | 5.5 | 1.6 |
| 2022 | 5.9 | 1.2 |