The Netherlands largest importer of Chinese solar panels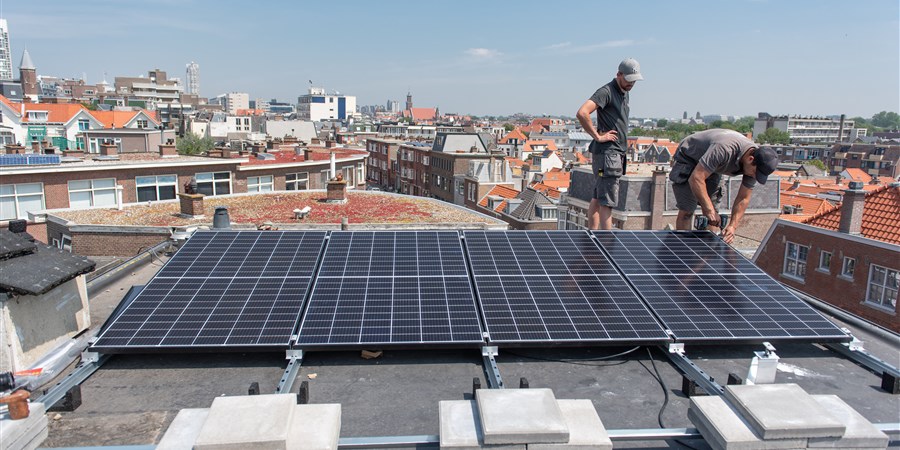 The Netherlands is the world's largest importer of solar panels; 89 percent of these solar panels come from China. Roughly 60 percent of the imports are re-exported to other countries. Statistics Netherlands (CBS) reports this in connection with the publication Dutch Trade in Facts and Figures 2023.
The total value of Dutch solar panel imports was 11.9 billion euros, making the Netherlands the largest importer in 2022. At 10.5 billion euros, imports of China-manufactured solar panels are highest as well. The United States is the world's second-largest importer of solar panels, although it hardly gets any solar panels from China. Brazil comes in third place. Followed by Germany, the fourth largest importer. Germany imports relatively few solar panels directly from China. The majority were Chinese solar panels re-exported by the Netherlands. Spain is the fifth largest importer, but gets more panels directly from China compared to Germany.
Solar panel imports, 2022

Solar panels from China (bn euros)

Solar panels from elsewhere (bn euros)

Netherlands
10.5
1.3
United States
0.1
9.6
Brazil
4.5
0.1
Germany
1.5
2.3
Spain
2.8
0.6
Source: CBS, Eurostat, VN, Customs China
Import value has more than doubled
Between 2021 and 2022, the value of Dutch solar panel imports more than doubled. The import volume rose by around 70 percent. The difference is related to a substantial price increase in 2022. This increase is partly due to higher demand (due to increased energy prices) and to rising costs of transportation and raw materials.

Approximately 60 percent of Dutch solar panel imports is destined for other countries, mostly within the EU. Around 40 percent is thus installed in the Netherlands, or stored for later use, either in the Netherlands or abroad.

The Netherlands not only trades a lot of Chinese solar panels, but also has a large number in use. Among the EU countries, the Netherlands had the highest installed solar capacity per capita in 2022. In addition, the Netherlands generated the largest share - 14 percent - of electricity using solar power. This is slightly more than Spain. In 2021, there were around 48 million solar panels in the Netherlands, and according to the Netherlands Enterprise Agency, about 10 million panels were added last year.
Imports of solar products including panels, solar LED and single solar cells 1)

Value (bn euros)

Weight (bn kg)

2018
2.8
0.5
2019
3.7
0.8
2020
3.8
0.9
2021
6.0
1.4
2022
12.5
2.4
1) Solar panels were included separately in trade statistics for the first time in 2022. For proper comparison, figures were compared with goods that were covered by the same commodity code until 2021 such as solar LED lights and single solar cells. Solar panels account for 95 perocent of this import value.
China is important for the green transition
China is not only the largest supplier of solar panels, but also of other transitional goods that are crucial for the green transition in the Netherlands, Europe and the rest of the world. For example, China is a major producer of lithium-ion batteries, an essential component of electric cars. In addition, China produces magnets used in e.g. wind turbines and electric cars.

The Chinese share of Dutch imports of these transitional goods is largest for solar panels (89 percent), followed by lithium-ion batteries (74 percent) and magnets (68 percent). If quasi-transit trade, i.e. re-exports of goods in foreign ownership) is decoupled from imports, China's share is lower.
China's share as a supplier of several transitional goods, 2022

| | Incl. quasi-transit trade (%) | Excl. quasi-transit trade (%) |
| --- | --- | --- |
| Solar panels | 89 | 76 |
| Lithium-ion batteries | 74 | 53 |
| Magnets | 68 | 63 |
Manufacturing and processing of critical raw materials mainly done in China
Dependence on Chinese transitional goods is partly due to the fact that China plays a major role worldwide in extraction and processing of critical raw materials into end products.

For the production of lithium-ion batteries, solar panels, magnets and other transltional goods, materials such as gallium, magnesium, rare earths, silicon, germanium and graphite are important. China holds a share of at least 65 percent in global production of these critical raw materials. The share is as high as 98 percent in the production of gallium.

China itself is a major producer of critical raw materials and also specialises in the processing of both domestic and foreign materials.
China's share in the global production of several critical raw materials, 2022

China's share in global production (%)

Gallium
98
Magnesium
90
Rare earths
70
Silicon
68
Germanium
68
Graphite
65
Source: United States Geological Survey
Dutch Trade in Facts and Figures 2023
Dutch Trade in Facts and Figures 2023: Exports, imports and investmen has been developed by the CBS Expertise Centre for Globalisation at the request of the Dutch Ministry of Foreign Affairs. The publication covers the latest trade developments, trade in goods and services, foreign direct investment, export earnings for the Netherlands and the use of imports in the Dutch economy.