2020: nearly 169 thousand deaths, 10 percent more than expected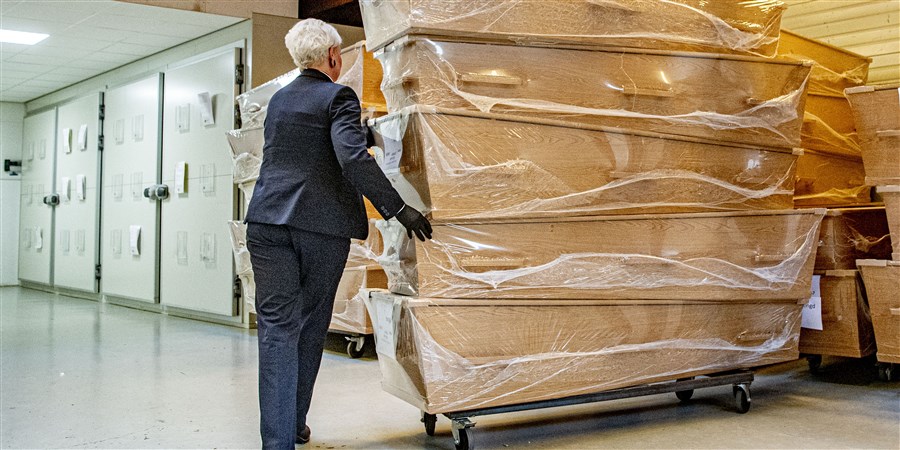 In 2020, the total number of deaths stood at almost 169 thousand, which is over 15 thousand (10 percent) more than expected for that year. Excess mortality was mainly recorded in the south-eastern part of the Netherlands. Relatively high mortality was seen among people receiving long-term care (Wlz), among men and among elderly people. Furthermore, life expectancy declined in 2020. This is evident from the latest figures on mortality, released by Statistics Netherlands (CBS).
Mortality was mainly elevated in the spring during the first wave of the coronavirus pandemic. It was also higher than expected during last year's heatwave and again during the second wave of the pandemic.
Excess mortality is a recurring phenomenon. A flu epidemic at the beginning of the year tends to raise mortality on an annual basis. This was the case in 2015 and in 2018, for instance. Following a year marked by undermortality, 2015 brought a severe influenza epidemic that eventually caused over 5,000 excess deaths that year. During the 2018 influenza epidemic, excess mortality amounted to 9 thousand. It came out below 3 thousand over the whole year 2018 due to fewer deaths than expected in the months following the influenza outbreak. With over 15 thousand more deaths than expected, excess mortality was significantly higher in 2020 than in the years with severe influenza outbreaks.
Excess mortality

Jaar

Excess mortality (x 1,000)

2011
-1.2
2012
4.4
2013
0.1
2014
-4.3
2015
5.4
2016
1.0
2017
1.7
2018
2.5
2019
-1.7
2020*
15.2
* provisional figures
Southeast relatively hardest hit
In 2020, there were mainly more excess deaths in the GGD (municipal health) regions in eastern Noord-Brabant, Limburg and southern Gelderland. Other GGD regions with significantly elevated mortality included Zaanstreek/Waterland, Flevoland and Rotterdam-Rijnmond. Excess mortality was relatively limited in the northern regions and in Zeeland province.
The fact that south-eastern regions saw relatively the highest excess mortality last year was mainly due to the first wave of the coronavirus pandemic. Excess mortality was spread more evenly across the country during the second epidemic wave in the fall of 2020.
Relative excess mortality, 2020*

GGDregio

Codes

GGD Groningen
0.4
GGD Drenthe
5.6
GGD IJsselland
10.0
GGD Regio Twente
10.5
GGD Noord- en Oost-Gelderland
10.3
Veiligheids- en Gezondheidsregio Gelderland-Midden
9.8
GGD Gelderland-Zuid
12.3
GGD Flevoland
12.9
GGD Regio Utrecht
9.0
GGD Hollands-Noorden
7.9
GGD Kennemerland
6.9
GGD Amsterdam
5.5
GGD Gooi en Vechtstreek
8.2
GGD Hollands-Midden
10.1
GGD Rotterdam-Rijnmond
13.7
Dienst Gezondheid & Jeugd ZHZ
11.9
GGD Zeeland
2.7
GGD West-Brabant
10.0
GGD Hart voor Brabant
19.3
GGD Brabant-Zuidoost
14.1
GGD Limburg-Noord
12.6
GGD Zuid-Limburg
13.1
GGD Haaglanden
8.2
GGD Fryslân
1.1
GGD Zaanstreek/Waterland
14.0
* provisional figures
Long-term care users hit harder than rest of population
In 2020, there were 65 thousand deaths among the population receiving care under the Long-term care Act (Wlz). This was almost 8 thousand deaths or 14 percent more than expected. Mortality among the rest of the population stood at 104 thousand, i.e. over 7 thousand (8 percent) more than expected.
Among the group using long-term care, 80 percent of the deceased were people aged 80 years or older. Sixty-one percent were female. Among the rest of the population, mortality in the age group 80 years and up occupied a much smaller share at 42 percent while male mortality (57 percent) exceeded female mortality.
Number of deaths, 2020*

Leeftijd

Geslacht

Long-term care users (x 1,000)

Rest of the population (x 1,000)

Under 80 yrs
Men
6.9
35.9

Under 80 yrs

Women
6.1
23.9
80 yrs and over
Men
18.0
23.4

80 yrs and over

Women
33.9
20.4
* provisional figures
Mortality higher than expected among men in particular
Last year, the mortality rate was approximately equally high among both sexes. It is normally higher among women due to the fact that there are more women among the elderly part of the population. Especially in the first few weeks of the coronavirus epidemic wave and over several consecutive weeks of the second wave, the number of deaths was higher among men. Over the whole of 2020, male mortality was nearly 12 percent higher than expected while female mortality was over 8 percent higher.
Number of deaths

Jaar

Men (x 1,000)

Women (x 1,000)

2010
66.0
70.1
2011
65.3
70.5
2012
67.9
72.9
2013
68.4
72.9
2014
67.1
72.1
2015
71.0
76.1
2016
72.2
76.8
2017
72.7
77.6
2018
74.5
78.8
2019
74.4
77.5
2020*
84.2
84.3
* provisional figures
Not just more elderly deaths
Although mortality was elevated primarily among the elderly, it was also higher than expected among people under age 65, namely by 4 percent (over 900 deaths). In the age group 65 to 79 years, mortality was 12 percent higher than expected (over 5 thousand excess deaths) while it was 10 percent among people aged 80 and over (almost 9 thousand excess deaths).
Life expectancy declined in 2020
A summary indication of mortality in a given year is the period life expectancy. This figure represents the number of remaining years a person is expected to live, based on the number of deaths by age for that year.
In 2020, the period life expectancy at birth was 79.7 years for men and 83.1 years for women. This is lower than in the previous year by over 9 months (0.8 years) for men and 6 months (0.5 years) for women. The average trend in life expectancy is gradually rising year over year.
Despite the drop in 2020, the coronavirus pandemic will not have a downward effect on the long-term rise in life expectancy. Life expectancy recovered rapidly after other periods with high mortality such as the Spanish flu and the Second World War. The CBS population forecast is still based on the assumption that within several years, life expectancy will again be close to the level that was forecast prior to the coronavirus pandemic.
Period life expectancy at birth

Jaar

Male (yrs)

Female (yrs)

1950
70.29
72.58
1951
70.24
72.75
1952
70.96
73.29
1953
70.41
72.98
1954
70.96
73.83
1955
70.94
74.08
1956
70.97
74.10
1957
71.38
74.58
1958
71.46
74.84
1959
71.24
75.16
1960
71.39
75.30
1961
71.45
75.74
1962
70.95
75.56
1963
71.02
75.77
1964
71.28
76.27
1965
71.11
76.14
1966
71.03
76.11
1967
71.17
76.57
1968
70.92
76.44
1969
70.92
76.29
1970
70.81
76.50
1971
70.99
76.77
1972
70.81
76.79
1973
71.30
77.13
1974
71.61
77.61
1975
71.45
77.71
1976
71.53
77.92
1977
72.08
78.52
1978
71.95
78.50
1979
72.46
78.93
1980
72.48
79.18
1981
72.71
79.32
1982
72.73
79.41
1983
72.93
79.56
1984
72.96
79.68
1985
73.08
79.66
1986
73.09
79.61
1987
73.51
80.06
1988
73.68
80.24
1989
73.66
79.92
1990
73.84
80.11
1991
74.05
80.15
1992
74.30
80.28
1993
73.98
80.00
1994
74.58
80.31
1995
74.60
80.36
1996
74.66
80.35
1997
75.16
80.55
1998
75.19
80.69
1999
75.34
80.45
2000
75.54
80.58
2001
75.80
80.71
2002
75.99
80.69
2003
76.24
80.93
2004
76.87
81.44
2005
77.19
81.60
2006
77.63
81.89
2007
78.01
82.31
2008
78.32
82.28
2009
78.53
82.65
2010
78.77
82.72
2011
79.18
82.85
2012
79.14
82.82
2013
79.41
83.04
2014
79.87
83.29
2015
79.73
83.13
2016
79.88
83.13
2017
80.06
83.32
2018
80.16
83.33
2019
80.46
83.56
2020*
79.68
83.08
* provisional figures