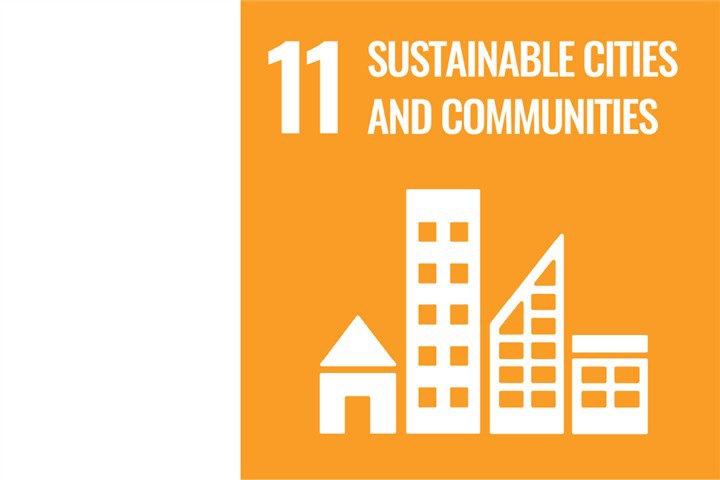 SDG 11.2 Living environment
The second part of SDG 11 concerns the surroundings in which homes and workplaces are located. How can we keep local living environments safe, affordable, accessible and sustainable? Space is a scarce commodity in the Netherlands and both living environment and available area per person are coming under increasing pressure.
Summary of results
Dashboard and indicators
SDG 11.2 Living environment
Further reading
Summary of results
Three of the 13 indicators are moving in the direction of declining well-being. Population growth is pushing down available land area per capita, people are increasingly bothered by noise from neighbours or traffic, and – as evidenced by numbers of birds in urban areas – biodiversity in the immediate living environment is declining.
Another three indicators point to rising well-being: lower emissions of acidifying substances mean air quality is improving, crime victim rates are falling and people are reporting more social engagement in their communities.
The Netherlands is in the bottom groups of the EU for noise nuisance, crime victim rates and area per capita.
Dashboard and indicators
In addition to housing (SDG 11.1), this SDG also addresses the neighbourhoods and communities in which people have their homes and lead their lives. Given the high pressure on scarce available space in the Netherlands, keeping local living environments safe, affordable, accessible and sustainable is a major challenge.
This second dashboard for SDG 11 focuses on environmental factors: the amount of space per person, waste processing and government spending on the environment. Other indicators in the dashboard relate to concentrations of particulate matter in urban air and to crime victims. New indicators included in the dashboard reflect participation in cultural events and satisfaction with local cultural provisions.
Three of the 13 indicators are moving in the direction of the targets, three others are moving away from the targets. Within the EU, the Netherlands is mostly in the middle group, or trailing lower down.
SDG 11 Sustainable cities and communities: living environment

Resources and opportunities
Resources and opportunities relate to available space and spending on protecting the quality of the living environment. As the population of the Netherlands continues to grow, the amount of total space per capita is shrinking. In 2022, average space per capita had decreased by 96 m2 from the beginning of the trend period in 2015, and this does not even take into account how accessible or attractive this space is. The Netherlands is the second most densely populated country in the EU: only in Malta do people have less space per person. In relative terms, Dutch spending on environmental protection puts the country in the leading group in the EU; this spending is reasonably constant, amounting to 1.4 percent of GDP in 2021.
Use refers to how people use their local environment. Municipal authorities removed 9.8 billion kilograms of household waste in 2021, an average of around 562 kilograms per capita. In 2020, this was higher, at 10.1 billion kilograms (582 kilograms per person). As a consequence of coronavirus measures, people spent a lot more time at home, did a lot of clearing out, and ordered more home deliveries. This all resulted in large amounts of waste materials, although it was volumes of bulky garden waste, wood, construction waste and soil in particular that decreased from 2020 to 2021. The medium-term trend (2015-2022) is neutral. The data include waste collected from households and waste delivered by households to municipal recycling facilities, but also textiles, paper and cardboard collected for charity or by schools and clubs. The Netherlands occupies a middle position within Europe, although it should be noted that differences in types of waste collected by municipal services in different countries may affect the rankings.
New indicators have been added to the dashboard this year to reflect active and passive cultural participation. In 2020, 61 percent of the Dutch population actively took part in an art or heritage-related cultural activity at least once, such as playing a musical instrument, dancing, sculpting, writing, collecting historical objects or genealogical research. Before the outbreak of coronavirus, in 2018, this was 64 percent. In addition, 84 percent of the population attended at least one cultural activity or performance in 2020. The medium-term trend for these indicators in neutral.
Outcomes relate to the quality and safety of the living environment. On a per capita basis, emission levels of acidifiers (sulphur oxide, nitrogen oxide and ammonia) are steadily decreasing, the trend is downward. Another factor affecting air quality is the concentration of particulate matter, a collective term for suspended particles in the air. The indicator included here refers to the finer fraction of particulate matter, PM2.5 (particles with a diameter smaller than 2.5 micrometres) in urban air.
The presence of nature and wildlife is a valued aspect of the living environment. The indicator for urban birds is a measure for nature in towns and cities. Some species of birds are more at home among people and buildings than in the countryside. Populations of bird species typical of the built environment are declining: for 83 indigenous species of breeding birds typical of urban areas monitored under the Meetnet Urbane Soorten (MUS) scheme they had declined by more than six percentage points to 93.4 in 2020 since the reference year 2007 (2007=100). This seems to indicate that suitable breeding sites for urban birds are decreasing in towns and cities.
Local neighbourhoods seem to be becoming safer places to live: fewer and fewer people in the Netherlands report having been victims of crime, and the trend is downward. In 2021, crime affected 17.1 percent of the population aged 15 years and older. In 2015 the figure was still almost 27 percent. These figures are based on the Safety monitor 2021. Due to changes in the questions and in the design of the survey, the results of the 2021 Safety monitor are not directly comparable with those from previous editions. To calculate the trend, therefore, data for previous years have been adjusted to take account of this revision.
To measure neighbourhood attachment, we look at the number and nature of contacts people have with local residents, how satisfied they are with the population composition, and the degree to which they feel at home there. On a scale of 1 to 10, people reported an overall score of 6.4 for social cohesion in their neighbourhood in 2021. Satisfaction shows a rising trend.
Subjective assessment
describes how people experience their local living environment. Compared with other EU countries, relatively many households were bothered by noise caused by neighbours and traffic. This trend is rising. A new indicator reflects satisfaction with cultural provisions in the neighbourhood. Over half the Dutch population were satisfied or very satisfied with the cultural provisions in the area where they lived: 54 percent in 2020, according to figures from CBS and the Boekman Foundation.
Further reading
Dossier natuur en milieu
Dossier stikstof
Natuurlijk kapitaal
Dossier Verstedelijking
Compendium voor de Leefomgeving