People of non-Dutch origin relatively often live in large cities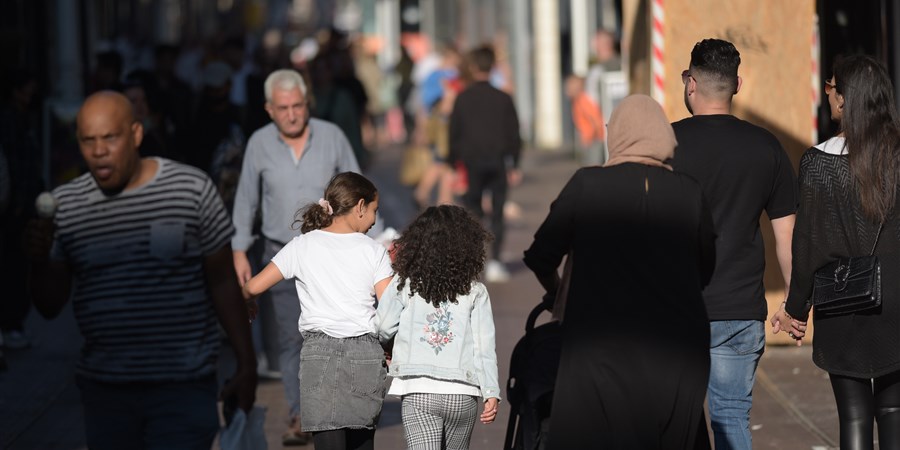 Comparatively many people with a foreign country of origin live in large cities. As at 1 January 2022, nearly 15 percent of the Dutch population were born abroad; they came to the Netherlands as migrants. In addition, nearly 12 percent were born in the Netherlands and have at least one foreign-born parent: the so-called second generation. Statistics Netherlands (CBS) reports this in the Report on Integration and Society 2022.
Of all residents of Surinamese and Moroccan origin, just under half live in one of the four large cities (Amsterdam, Rotterdam, Utrecht and The Hague). For people of Turkish and Dutch-Caribbean origin, the share is slightly more than one third and for those of Indonesian origin 17 percent. Fourteen percent of the total Dutch population reside in one of the four large cities.
On average, migrants are more likely to live in one of the four major cities than the second generation. The difference is greatest for the group of Surinamese origin: 51 percent of the migrants from Suriname live in one of the four large cities, versus 42 percent of the Dutch-Surinamese second generation. Migrants from Indonesia form an exception: they are about as likely to reside in one of the four major cities as the Dutch-Indonesian second generation.
Share residing in Amsterdam, Rotterdam, The Hague or Utrecht, 2022

Herkomst

Geboren

Share residing in one of the 4 large cities (%)

Suriname
Total
46.3

Suriname

Foreign-born
50.6

Suriname

Netherlands-born
42.1
Morocco
Total
44.9

Morocco

Foreign-born
46.5

Morocco

Netherlands-born
43.8
Turkey
Total
34.7

Turkey

Foreign-born
36.1

Turkey

Netherlands-born
33.4
Dutch
Caribbean
Total
32.1
Dutch
Caribbean
Foreign-born
34.9
Dutch
Caribbean
Netherlands-born
28.6
Indonesia
Total
16.6

Indonesia

Foreign-born
16.4

Indonesia

Netherlands-born
16.7
The reference line shows the average for all inhabitants of the Netherlands (14 percent).
Marriage partner often of the same origin
In 2021, nearly 80 percent of the Dutch-Turkish and Dutch-Moroccan second generation married partners with Turkish and Moroccan origins, respectively. For the vast majority, these were partners who were already residing in the Netherlands and there was no so-called migration marriage. This applied to both people born in the Netherlands and people born abroad.
Residents of Surinamese origin but especially those of Dutch-Caribbean origin relatively often marry partners from another origin group. People of Indonesian origin are most likely to marry a partner of Dutch origin. Residents of Dutch origin most often tie the knot with a partner of the same origin (83 percent).
Choice of marriage partner by origin and country of birth, 2021

herkomst

geboren

Partner of Dutch origin (%)

Other (%)

Same origin, migration marriage (%)

Same origin, Netherlands-born (%)

Netherlands
Netherlands-born
82.7
17.3

Netherlands

Foreign-born
Turkey
Netherlands-born
7.5
12.5
9.8
70.2

Turkey

Foreign-born
8.2
15.4
24.5
51.9
Morocco
Netherlands-born
10.2
13.6
7.9
68.3

Morocco

Foreign-born
9.9
11.0
35.5
43.7
Suriname
Netherlands-born
32.8
24.7
1.6
40.9

Suriname

Foreign-born
26.8
16.8
7.2
49.2
Dutch
Caribbean
Netherlands-born
58.4
30.9
0.2
10.5
Dutch
Caribbean
Foreign-born
33.2
27.1
1.7
37.9
Indonesia
Netherlands-born
70.8
21.2
0.8
7.3

Indonesia

Foreign-born
65.7
16.9
5.0
12.4