One-quarter of businesses facing staff shortages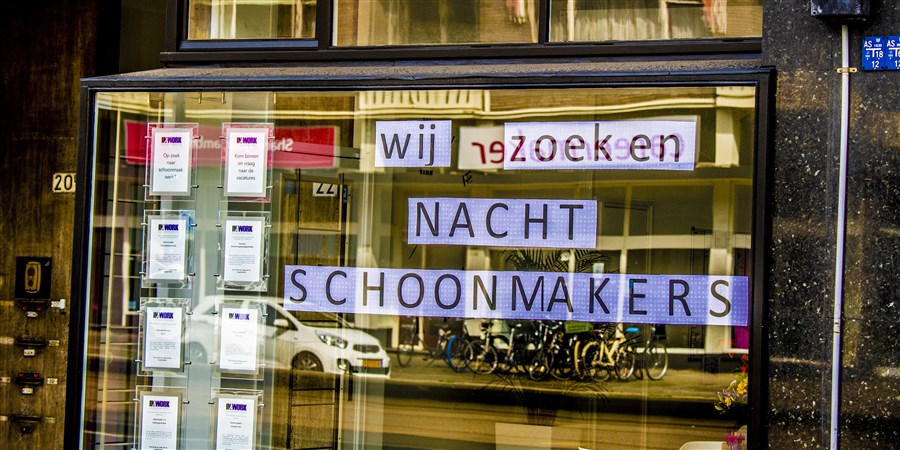 One-quarter of Dutch non-financial enterprises are hampered by a lack of manpower. At the start of Q3 2019, staffing deficits were mainly affecting entrepreneurs in business services. Business confidence - the sentiment indicator of the Dutch private sector - has declined slightly to 10.6. Despite this drop, the overall mood among entrepreneurs remains positive. This is reported by Statistics Netherlands (CBS), the Dutch Chamber of Commerce (KvK), the Economic Institute for Construction and Housing (EIB), the Dutch Organisation for Small and Medium-Sized Enterprises (MKB-Nederland) and the Dutch Employers' Organisation (VNO-NCW) on the basis of the Netherlands Business Survey (COEN).
Since mid-2018, approximately one-quarter of the non-financial private sector have cited staff shortages in the Business survey. The number of businesses encountering impediments as a result has not declined as of Q3 2019. Nevertheless, on balance 12 percent of entrepreneurs anticipate an increase in their workforce over Q3. This share is lower than in the same quarter last year, when on balance 18 percent of entrepreneurs expected such as increase.
Non-financial enterprises facing staff shortages

Year

Quarter

Enterprises facing staff shortages (%)

2016
Q1
4.6

2016

Q2
5.4

2016

Q3
6.7

2016

Q4
8.3
2017
Q1
8.7

2017

Q2
10.4

2017

Q3
15.6

2017

Q4
16.5
2018
Q1
18.4

2018

Q2
20

2018

Q3
25.2

2018

Q4
25.9
2019
Q1
24.1

2019

Q2
24

2019

Q3
24.9
Source: CBS, KVK, EIB, MKB-Nederland and VNO-NCW
Most severe shortage found in business services
In the business services industry, staff shortages are affecting 35 percent of entrepreneurs. The share of entrepreneurs with staffing deficits lies at 32 percent in the transport and storage industry. Staff shortages are also above average in the industries information and communication, accommodation and food services and construction. In mining and quarrying, however, only 5 percent report labour shortages.
Non-financial enterprises facing staff shortages

Bedrijfstak

Q3 2019 (%)

Q2 2019 (%)

Non-financial private sector
24.9
24
Business services
35.4
33.9
Transport and storage
32.2
28.9
Information and communication
31.1
31.2
Accommodation and food services
29.1
29.4
Construction
27.3
26.5
Manufacturing
21.4
19.3
Car trade and repairs
21.4
22.3
Wholesale and commission trade
18.4
18
Real estate, renting and business activities
17.8
17.6
Retail trade (excl. cars)
12.2
12.7
Mining and quarrying
5.5
8.5
Source: CBS, KVK, EIB, MKB-Nederland and VNO-NCW
Entrepreneurs still positive
Business confidence stood at 10.6 at the start of Q3, representing a decline by 1.4 points on Q2. Despite this decline, the mood among entrepreneurs remains positive with the sentiment indicator far above the average since monitoring started in 2008 (2.0). Optimism has prevailed in the private sector since October 2014.
Information and communication most optimistic
Business confidence is highest in the information and communication industry, where It rose sharply from 17.9 in Q2 to 25.0 in Q3. In the previous eleven quarters, the most positive mood was consistently found among entrepreneurs in construction. This confidence declined to 20.6 in Q3 2019, however. Entrepreneurs in car maintenance and repair services reported a negative mood for the third quarter in a row. Their confidence in Q3 came out at -12.7, which means it deteriorated against the previous quarter (-5.3).
Business confidence, by industry

Bedrijfstak

Q3 2019

Q2 2019

Non-financial private sector
10.6
12
Information and communication
25
17.9
Construction
20.6
27.8
Business services
15.3
13
Wholesale and commission trade
12.9
13.4
Transport and storage
10.3
8.4
Mining and quarrying
8.9
-1
Retail trade (excl. cars)
7.6
10.9
Accommodation and food services
7.4
8.6
Manufacturing
3.9
6.7
Real estate, renting and business activities
1.5
7.2
Car trade and repairs
-12.7
-5.3
Source: CBS, KVK, EIB, MKB-Nederland and VNO-NCW

This is a joint publication by: