Economic growth Eindhoven above average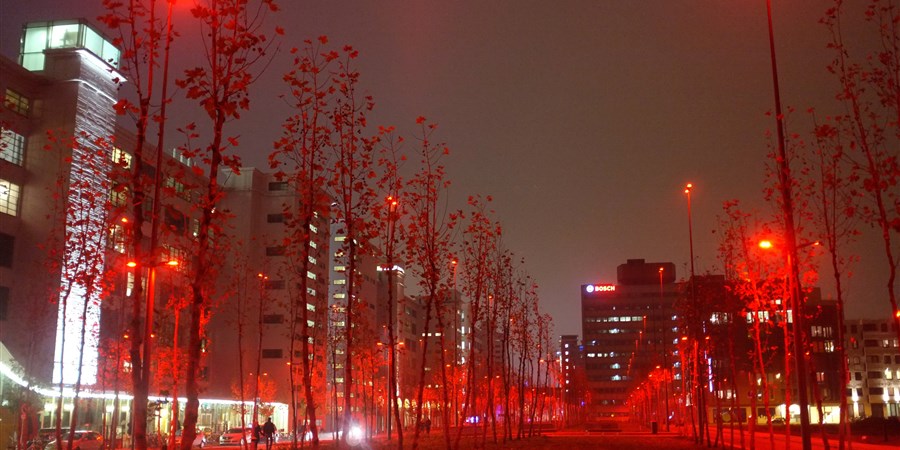 The economy of the municipality of Eindhoven grew by 3.6 percent in 2016, a higher growth rate than for the Dutch national economy . Eindhoven's growth also surpassed Amsterdam, Rotterdam, The Hague and Utrecht (the four largest Dutch municipalities or 'G4' ). Main contributor was the manufacturing industry, according to research conducted by Statistics Netherlands (CBS) for the Urban Data Center (UDC) Eindhoven.
The gross value added of Eindhoven, i.e. total production within the municipality minus the value of goods and services purchased from elsewhere, grew by 3.5 percent relative to 2015 to exceed the mark of 13 billion euros for the first time. The sector manufacturing and energy grew relatively rapidly (especially manufacturing) as its gross value added increased by 8.2 percent. Across the country, this sector grew by 2.7 percent. Eindhoven has a relatively highly developed high-tech industry.
Commercial services grew by 2.4 percent, virtually the same as in the rest of the country. Non-commercial services (including care, public sector and education) and the agricultural sector in Eindhoven grew less rapidly than at national level.
In 2015 as well, the gross value added in Eindhoven increased more rapidly than nationally (3.5 percent against 1.6 percent). That year, the gross value added of the manufacturing and energy sector grew by 7.0 percent locally, against an average growth rate of 0.4 percent for the entire country. Commercial services showed slightly faster growth as well at 3.1 percent versus 2.8 percent growth nationwide.
GDP and gross value added, 2016

| | Eindhoven | the Netherlands |
| --- | --- | --- |
| GDP | 3.6 | 2.2 |
| | | |
| Gross value-added | 3.5 | 2.1 |
| of which | | |
| Agriculture, forestry and fisheries | 1.1 | -0.9 |
| Manufacturing and energy | 8.2 | 2.7 |
| Commercial services | 2.4 | 2.5 |
| Non-commercial services | 0.5 | 1 |
Manufacturing and commercial services relatively large sectors in Eindhoven
Compared to the national economy, urban areas generally have higher growth rates. This is due to the fact that sectors with a relatively low value added, such as agriculture, forestry, fisheries and non-commercial services, are less represented in urban economies, and this applies to Eindhoven as well.
The commercial services sector makes relatively the largest contribution to gross value added in the Dutch economy as well as in Eindhoven's local economy. In Eindhoven's economy, the fast-growing sector manufacturing and energy occupies a relatively larger share than the average share in the Dutch economy, whereas non-commercial services (e.g. care, public sector and education) occupy relatively smaller shares.
Share in gross value added, 2016

| | Eindhoven | the Netherlands |
| --- | --- | --- |
| Agriculture, forestry and fisheries | 0.1 | 1.8 |
| Manufacturing and energy | 24.5 | 19.7 |
| Commercial services | 60.1 | 54.2 |
| Non-commercial services | 15.4 | 24.4 |
Southeastern part has strongest growth across Noord-Brabant province
Gross domestic product (GDP) in the so-called COROP region of Southeastern Noord-Brabant was 2.8 percent in 2016, faster than the overall growth rate in the Netherlands (2.2 percent). The region's higher growth rate is due in part to the fast economic growth in Eindhoven. It also stood out among the rest of the COROP regions in the province of Noord-Brabant. Central and Western Noord-Brabant recorded growth rates of 2.7 percent and 2.6 percent respectively. Lagging behind and below the national average was Northeastern Noord-Brabant with 1.9 percent growth.
Unemployment rate Eindhoven saw relatively strong decline in 2016
The relatively strong economic growth in Eindhoven and the surrounding areas is also evident on the labour market. Unemployment in the municipality of Eindhoven declined to 6.8 percent in 2016; this was still 8.1 percent of the labour force one year previously. The number of Eindhoven residents in employment grew by 3 thousand to 113 thousand, while the number of unemployed in the local population declined from 10 to 8 thousand.
The decline in unemployment last year was stronger than the nationwide average. Nevertheless, Eindhoven's unemployment rate is still above the nationwide unemployment rate of 6.0 percent. This is due to the high cyclical sensitivity of the region; Eindhoven suffers relatively more under economic setbacks, but also recovers faster in times of economic growth.
CBS Urban Data Center Eindhoven
As of September 2016, the municipality of Eindhoven and CBS collaborate in the CBS Urban Data Center Eindhoven. The city of Eindhoven regards this UDC as an important element in a Smart Society, in which the city takes its own initiatives by smartly applying data, technology and design to improve public spaces and quality of life in Eindhoven.