Business confidence higher at start of third quarter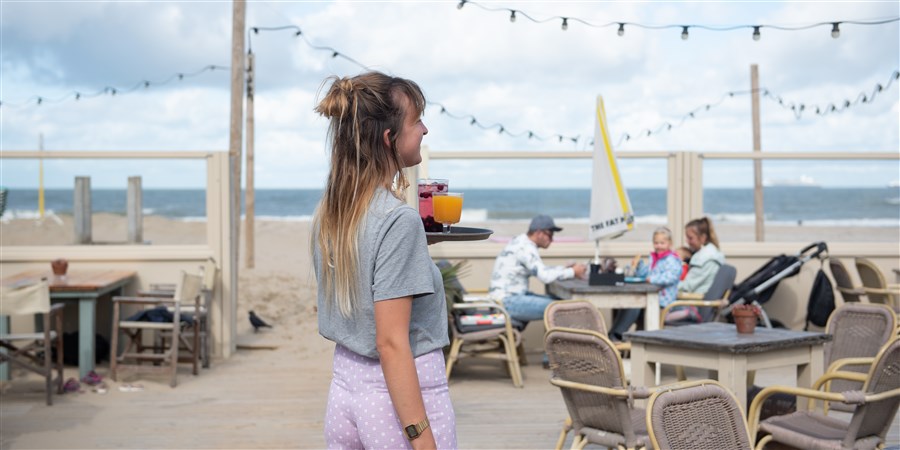 Business confidence continued its upward climb at the start of the third quarter of 2021, reaching the highest level since measurements started in 2008. Business confidence rose sharply in accommodation and food services in particular. Entrepreneurs were also more optimistic in all other sectors, except in construction. This is reported by Statistics Netherlands (CBS), the Dutch Chamber of Commerce (KvK), the Economic Institute for Construction and Housing (EIB), the Dutch Organisation for Small and Medium-Sized Enterprises (MKB-Nederland) and the Dutch Employers' Organisation (VNO-NCW) on the basis of the Netherlands Business Survey (COEN).
The sentiment indicator reached a record high of 18.4 at the start of Q3 2021. This is more than 16 points higher than one quarter earlier, when business confidence was positive for the first time since the outbreak of the coronavirus pandemic. Entrepreneurs were more positive about the results achieved in the past quarter than at the beginning of April. They also had more positive expectations for the three months ahead. The Netherlands was in its second phase of lockdown in Q2 2021, but coronavirus measures were relaxed starting on 26 June and few restrictions remained in place. The measures were tightened again on 10 July in response to rising rates of coronavirus infections.
Business confidence

Jaar

Kwartaal

Business confidence

2008
Q4
-7.0
2009
Q1
-24.3

2009

Q2
-29.7

2009

Q3
-23.5

2009

Q4
-13.5
2010
Q1
-7.1

2010

Q2
0.5

2010

Q3
3.4

2010

Q4
6.1
2011
Q1
7.2

2011

Q2
10.1

2011

Q3
3.2

2011

Q4
-4.4
2012
Q1
-6.3

2012

Q2
-6.8

2012

Q3
-8.6

2012

Q4
-9.2
2013
Q1
-10.7

2013

Q2
-11.7

2013

Q3
-8.7

2013

Q4
-2.7
2014
Q1
1.6

2014

Q2
4.7

2014

Q3
2.9

2014

Q4
4.9
2015
Q1
5.6

2015

Q2
5.4

2015

Q3
8.7

2015

Q4
7.4
2016
Q1
9.3

2016

Q2
8.8

2016

Q3
7.9

2016

Q4
9.2
2017
Q1
14.7

2017

Q2
15.5

2017

Q3
15.9

2017

Q4
13.4
2018
Q1
18.1

2018

Q2
14.2

2018

Q3
15.0

2018

Q4
13.4
2019
Q1
10.6

2019

Q2
12.0

2019

Q3
10.6

2019

Q4
6.6
2020
Q1
6.4

2020

Q2
-37.2

2020

Q3
-19.3

2020

Q4
-4.0
2021
Q1
-6.0

2021

Q2
2.3

2021

Q3
18.4
Source: CBS, EIB, KVK, MKB-Nederland, VNO-NCW
Greatest confidence boost in accommodation and food services
Business confidence rose in almost all sectors and entrepreneurial positivity was high. The general pessimism among entrepreneurs in accommodation and food services made a U-turn: at the start of Q3 2021, this was the most optimistic sector in the Netherlands. These entrepreneurs had been the most pessimistic group for the previous five quarters in a row. Turnover projections in accommodation and food services were more positive at the beginning of July. Entrepreneurs in this sector also indicated that total turnover and the economic climate had improved over the previous three months. The sector was still shut down due to coronavirus measures at the beginning of April.
As in the previous quarter, entrepreneurs in the construction sector were positive, although business confidence declined slightly. Some entrepreneurs in the real estate sector (renting, buying and selling) were positive while others were negative, resulting in a net balance.
Business confidence by sector

Bedrijfstak

Q3 2021

Q2 2021

Non-financial private sector
18.4
2.3
Accommodation and food services
39.8
-32.6
Wholesale and commission trade
25.9
12.3
Transportation and storage
23.0
-3.9
Business services
16.2
6.5
Car trade and repair
16.1
-6.2
Information and communication
15.7
4.9
Mining and quarrying
15.2
-4.8
Construction
13.2
14.3
Manufacturing
12.3
6.5
Retail trade (excl. cars)
5.7
-1.6
Real estate activities
0.0
-0.1
Source: CBS, EIB, KVK, MKB-Nederland, VNO-NCW
Staff shortages more common
Each quarter, the Business Survey asks about obstacles entrepreneurs are facing in production processes and in business activities. At the beginning of Q3 2021, 32 percent of entrepreneurs reported no obstacles to their operations. Around 23 percent reported staff shortages as the most common obstacle at the beginning of the third quarter, which is more than double the average for the same period in the years 2012–2020.
In all sectors the percentage of entrepreneurs struggling with staff shortages at the beginning of July 2021 was higher than the long-term average. The business services sector reported the most pressing lack of available personnel. More than 35 percent of entrepreneurs in this sector, which includes temporary employment agencies and car rental companies, experienced staff shortages as a primary obstacle. The number of entrepreneurs in accommodation and food services facing staff shortages was more than three times higher than the long-term average. The number of entrepreneurs reporting staff shortages also increased relatively strongly in the retail trade and cultural sectors.
Staff shortages as a primary obstacle

Bedrijfstak

Q3 2021 (% of businesses)

Q3 2012-2020 (average) (% of businesses)

Non-financial private sector
23.1
10.6
Business services
35.4
16.1
Accommodation and food services
30.8
10.1
Information and communication
25.5
16.7
Transportation and storage
25.1
12.8
Manufacturing
22.0
9.5
Car trade and repair
21.3
8.4
Agriculture, forestry and fishing
19.6
6.8
Construction
19.5
11.4
Wholesale and commission trade
16.2
7.6
Retail trade (excl. cars)
15.5
4.4
Culture, sports and recreation
14.3
4.3
Other services
13.9
8.0
Mining and quarrying
12.5
7.0
Real estate activities
10.1
5.7
Source: CBS, EIB, KVK, MKB-Nederland, VNO-NCW
This is a joint publication of: