International transport by inland vessels declining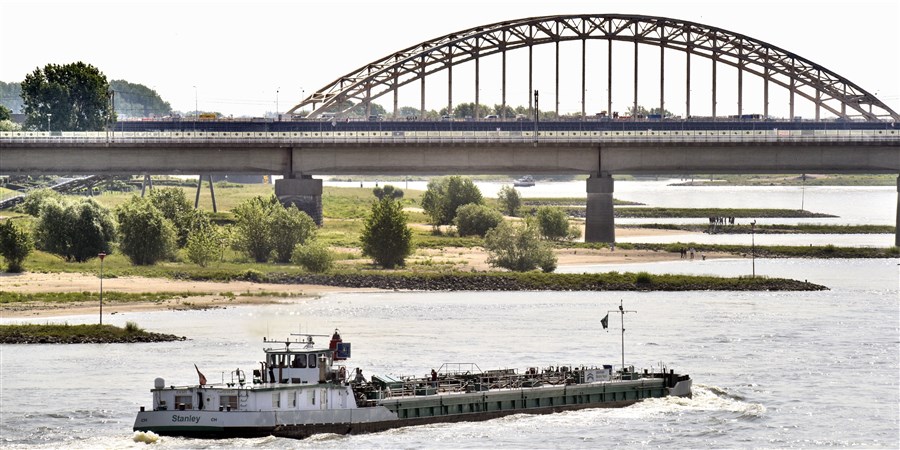 In 2020, inland vessels carried 349 million tonnes of goods. This is 2.3 percent less than in the previous year. The decline is entirely attributable to the weight of goods in cross-border traffic, which was down by 4.1 percent. Inland waterway transport saw a slight increase. This is reported by Statistics Netherlands (CBS) on the basis of newly released figures.
In 2020, the decline in cross-border shipping by inland vessels mainly concerned dry bulk, such as coal and iron ore shipments (8.6 percent). Cross-border shipments of liquid bulk cargo rose by 1.7 percent. The decline in cross-border shipping weight was caused by reduced outbound and transit shipments; inbound shipping did increase.
Weight of goods transported by inland vessels, 2020

| vervoerstroom | Weight transported (% change relative to 2019) |
| --- | --- |
| Domestic | 1.5 |
| Inbound | 1.7 |
| Outbound | -6.5 |
| Transit | -6.5 |
Decline in outbound shipments
Last year, inland vessels transported nearly 116 million tonnes of goods from the Netherlands to a foreign destination. This represents a year-on-year decline of 6.5 percent. Transport to Germany, the main foreign destination of inland vessels, decreased in particular. Belgium, the second largest foreign destination, saw an increase of 6.1 percent.
Fewer coal and metal ore shipments to Germany
In 2020, outbound shipments to Germany declined by 14.3 percent to 61 million tonnes. The bulk of the decline was in coal and metal ore shipments: coal by almost 19.5 percent and metal ore by 12.7 percent year-on-year. The transport of coal to Germany by inland vessels has been declining for years. From 2013 onwards, it has decreased by 44.9 percent, to 16 million tonnes in 2020.
Weight of goods transported by inland vessels from the Netherlands to Germany

Goederen

2020 (million tonnes)

2019 (million tonnes)

Metal ores and other
minerals
20.1
23.0
Coal and lignite,
crude oil and natural gas
15.5
19.3
Cokes and refined
petroleum products
7.1
9.0
Chemical products
5.4
5.6
Other
12.2
13.3
Total throughput in Rotterdam port area declining
In 2020, 49.1 percent of all cargo loaded and unloaded on inland vessels in the Netherlands came from the Rotterdam port area. The total volume of transhipments by inland vessels in this area decreased to 150 million tonnes, i.e. 0.9 percent less than one year previously. The volume of outbound cargo shipments from Rotterdam (to a foreign destination) declined by 4.7 percent relative to 2019. The volume shipped by inland vessels to Rotterdam rose by 8.3 percent.
Inland shipping at Dutch ports, 2020

| Haven | Weight |
| --- | --- |
| Rotterdam | 150.1 |
| Amsterdam | 52.7 |
| Flushing | 16.9 |
| Other ports | 86.2 |