Slightly fewer asylum seekers and following relatives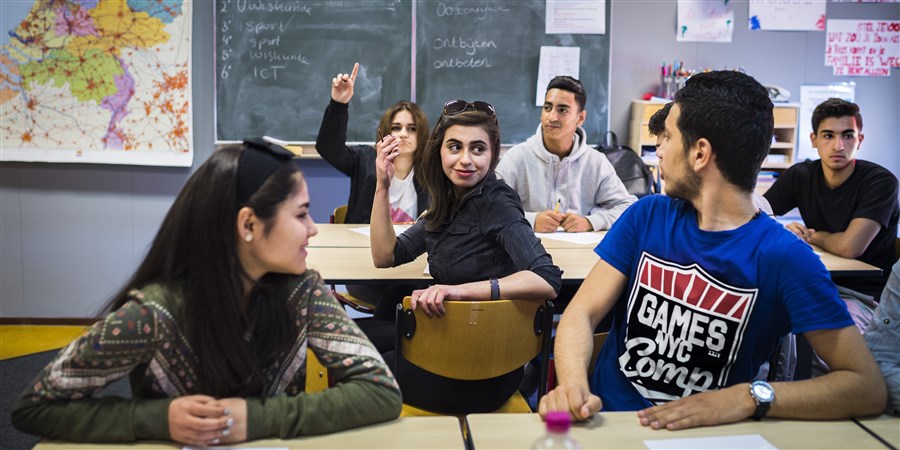 In 2019, the Netherlands received 22.5 thousand asylum seekers and 4.2 thousand following family members. The total is marginally lower than in 2018. Syrians and Eritreans still constitute the largest two groups. The number of asylum seekers from Nigeria and Syria increased most significantly. Statistics Netherlands (CBS) reports this based on new figures provided by the Dutch Immigration and Naturalisation Service (IND).
In 2019, the number of first asylum requests was up by more than 2 thousand, while family reunification was down by 2.3 thousand year-on-year. The total number of asylum seekers and following relatives has been in decline since 2015.
Asylum seekers and following family members

First asylum requests (x 1,000)

Following family members (x 1,000)

2013
9.8
3.6
2014
21.8
5.4
2015
43.1
13.8
2016
19.4
11.8
2017
16.1
14.5
2018
20.5
6.5
2019
22.5
4.2
Source: CBS, IND
Since 2013, Syrians have constituted the largest group among asylum seekers. In 2019, 3.7 thousand came to the Netherlands, over 700 more than in the previous year. The next largest group are Nigerians. Their number increased from just under 600 in 2018 to 2.1 thousand in 2019.
Asylum requests from Moldova saw a substantial rise as well last year: 45 percent. Moldovan nationals currently form the sixth largest group of asylum seekers. At 1,205, their number is almost as high as the number of Turkish (1,250) and Algerian (1,210) nationals. The number of Eritrean asylum seekers dropped by more than 900 to 500 last year. They have formed a large group among asylum seekers since 2014.
Following relatives still mainly Syrians and Eritreans
In 2019, the number of following family members mainly declined due to a substantial drop in family reunification among Syrians and Eritreans. Relative to 2018, there was a decline of 800 in both groups. However, they still accounted for three-quarters of all family reunification.
Asylum seekers by country of origin, 10 largest groups

2019

2018

Syria
3675
2960
Nigeria
2100
560
Iran
1535
1870
Turkey
1250
1300
Algeria
1210
1265
Moldova
1205
830
Morocco
1060
1065
Unknown
910
760
Yemen
645
530
Iraq
620
745
Source: CBS, IND
Following family members by country of origin, 10 largest groups

2019

2018

Eritrea
1780
2565
Syria
1365
2135
Yemen
200
130
Stateless
140
240
Afghanistan
100
250
Iraq
90
195
Turkey
75
50
Pakistan
70
75
Iran
60
120
Somalia
55
180
Source: CBS, IND