More work-related mental fatigue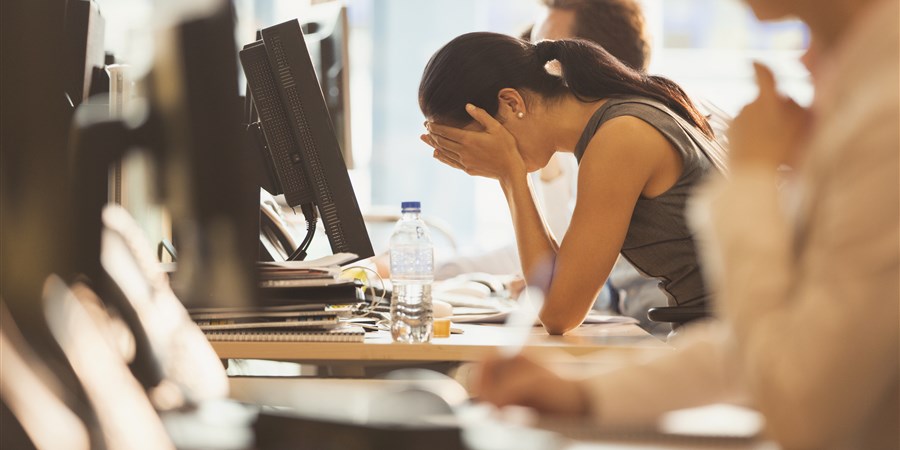 In 2017, 16 percent of employees between the ages of 15 and 75 indicated they experienced work-related mental fatigue at least several times per month. This percentage still stood at 13 percent in 2015. In comparison with the self-employed, the share of employees experiencing such complaints is nearly twice as large. This is reported by Statistics Netherlands (CBS) on the basis of figures from the Netherlands Working Conditions Survey (NEA) and the Self-Employment Survey (ZEA) conducted by CBS and the Netherlands Organisation for Applied Scientific Research (TNO).
Self-employed persons are also reporting more mental fatigue due to work (burnout complaints), although the increase is smaller than among employed persons: 9 percent in 2017 versus 8 percent in 2015. Almost all age groups reported more complaints of fatigue, 65 to 74-year-old employees in particular.
At nearly 20 percent, employees between the ages of 25 and 35 were most affected by work-related mental fatigue. Among the self-employed, this applied to 35 to 44-year-olds in particular with a share of just under 11 percent.
Symptoms of mental fatigue were reported based on five specifically work-related questions. Other factors associated with burnout complaints were not measured here.
Work-related mental fatigue (burnout complaints)

Positie in de werkkring

2017 (%)

2015 (%)

Employees
Total
15.9
13.4
15 to 24 yrs
9.9
7.7
25 to 34 yrs
19.5
15
35 to 44 yrs
15.9
14
45 to 54 yrs
16.2
13.9
55 to 64 yrs
17.8
16.4
65 to 74 yrs
7.2
2.2
Self-employed
Total
8.8
7.5
15 to 24 yrs*
25 to 34 yrs
9.6
6.2
35 to 44 yrs
10.7
8.5
45 to 54 yrs
8.5
8.5
55 to 64 yrs
9.7
7.8
65 to 74 yrs
2.9
2.3
Source: CBS, TNO
*No data
Feeling drained after work
The most common complaint is feeling drained at the end of a working day: 30 percent of the employed and 20 percent of the self-employed experience this several times per month or more often. In addition, almost 20 percent of the employed and 12 percent of the self-employed feel tired in the morning when they are confronted with work. Other work-related fatigue symptoms are also seen more often among the employed than among the self-employed.
Work-related mental fatigue (burnout complaints), 2017

Employees (% of 15 to 74-year-olds)

Self-employed (% of 15 to 74-year-olds)

Feeling drained
30.3
19.6
Feeling tired in the morning
19.5
11.6
Emotionally exhausted
14.5
8.1
Exhausted from work
14.4
7.4
Demanding work with other people
12.1
9
Source: CBS, TNO
Most fatigue complaints among employees with permanent employment contract
Employees with a permanent employment contract are more likely to experience work-related mental fatigue symptoms than employees with a flexible contract: 17 percent, against 14 percent. Among these flex workers, there are widely diverging levels of mental fatigue. Temporary agency workers are more than twice as often exhausted due to work (20 percent) than stand-by or substitute employees (9 percent).
Fewer self-employed without personnel report fatigue symptoms (8 percent) than self-employed with personnel (11 percent).
Work-related mental fatigue (burnout complaints), 2017

Type dienstverband

Burn-out complaints (% of 15 to 74-year-olds)

Employees
Permanent employees
16.7
Flexible employees
13.9
Self-employed
With personnel
11
Without personnel
8.3
Source: CBS, TNO