Falling unemployment, mainly among youth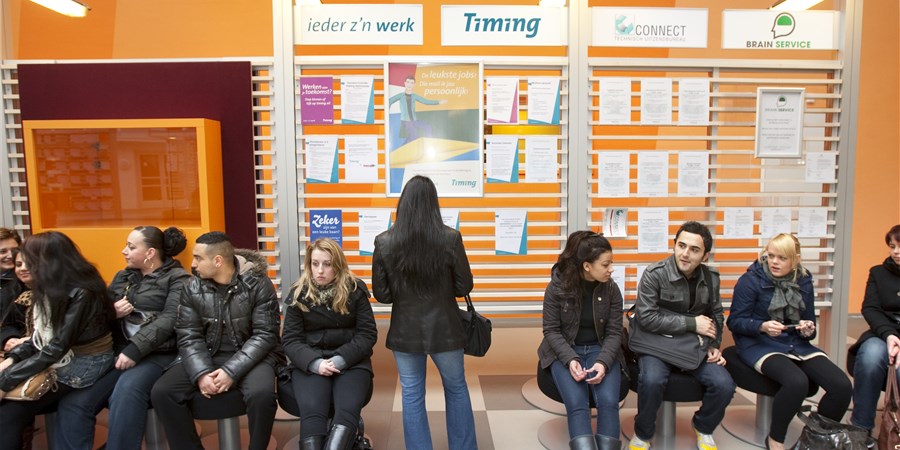 According to Statistics Netherlands (CBS), unemployment declined by an average of 6 thousand per month over the previous three months and stood at 456 thousand (5.1 percent of the labour force) in May. The sharpest decline was seen among young people. The number of people in paid employment grew by an average of 14 thousand per month between March and May. At the end of May, the Employee Insurance Agency (UWV) paid 386 thousand unemployment benefits.
UWV: sharp drop among young claimants
In May 2017, UWV reported a total number of 386 thousand current unemployment (WW) benefits, i.e. a decline by 16 thousand (-3.9 percent) relative to April. The number of young benefit claimants in particular declined substantially (-10.2 percent). The smallest decrease (-2.2 percent) was seen in the age group 55 years and over. The decline in number of unemployment benefits among men (-5 percent) was much sharper than among women (-2.8 percent).

Broken down by sector, the drop was relatively strongest in temporary employment, a sector with many young people. Male-dominated sectors such as agriculture (-8.9 percent) and construction (-8.4 percent) saw a more than average decrease.

At the end of May, the number of unemployment benefits was 63 thousand lower than one year previously (-13.9 percent). In the age group 55 years and over, the decrease was below the average trend with -8.3 percent.


UWV: ended benefits outnumber new ones in 2017
In the first five months of this year, UWV provided 175 thousand new unemployment benefits and ended 201 thousand existing ones, i.e. 20 percent and 7 percent respectively down from the same period last year.

In nearly all sectors, the number of new benefits decreased year-on-year. In the sectors construction and multiple stores, this number was even reduced by half. The banking sector, however, recorded an increase: by over 26 percent.
Further drop in youth unemployment
In May, 5.1 percent of the total labour force was unemployed. This is equal to the level of April, but lower than three months ago when the unemployment rate stood at 5.3 percent.

Unemployment dropped among young people under 25 in particular. The unemployment rate fell from 9.7 percent in February to 9.0 percent in May: the lowest level since March 2009. Among people aged 25 and over, there were 0.2 percent point fewer unemployed in May than three months previously.
More people in employment
There are 12.9 million people in the Netherlands in the age category 15-74 years. In May, 66.5 percent of them were in paid employment. This is equivalent to 8.6 million people (4.6 million men and 4 million women). Over the past three months, the number of people in paid employment has grown by an average of 14 thousand per month.

In May, nearly 1.3 million young people were in paid employment. This means that the number of employed youngsters is back to the level of before the economic crisis. Over the past three months, the number of young people in paid employment has grown by an average of 5 thousand per month.

Altogether, 4.3 million people aged 15-74 are not in paid employment; 456 thousand of them are unemployed and nearly 3.9 million are not looking or not immediately available for work. With 2.2 million, women constitute the majority in the latter group.
More unemployed find work
Unemployment is falling as more unemployed people find work than workers become unemployed. In May, there were 119 thousand people in employment who were still unemployed three months previously. In the same period, 79 people who were still in paid employment three months previously had become unemployed. The decline in unemployment was slightly tempered as the number of job seekers who could not find work (174 thousand) exceeded the number of people who gave up looking for work (151 thousand).