Sustained decline unemployment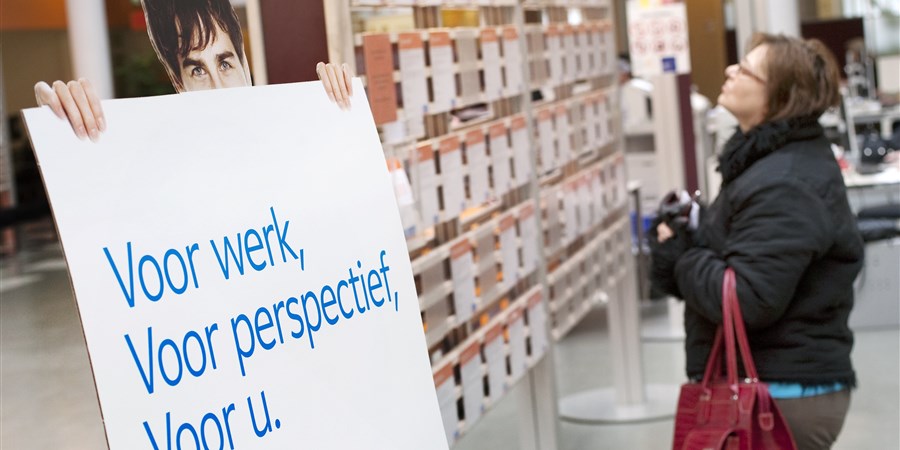 According to Statistics Netherlands (CBS), unemployment declined by an average of 6 thousand a month over the past three months and stood at 463 thousand (5.1 percent of the labour force) in March. The number of people with paid jobs has grown by an average of 14 thousand a month during the past three months. At the end of March, the Employee Insurance Agency (UWV) paid 415 thousand unemployment benefits.
UWV: increase among young claimants, decrease among over-55s
The number of current unemployment benefits stood at 415 thousand in March 2017 i.e. a decline by 1 thousand (-0.3 percent) relative to February. The number of young benefit claimants grew by 1 percent, the number of benefits also rose marginally (+0.7 percent) among 25-34-year-olds. In the older age categories the number of benefits declined in March, in particular among over-55s (-0.8 percent). Broken down by sector, the number of unemployment benefits decreased most in agriculture (-5.1 percent) and construction (-3.8 percent). More unemployment benefits were granted in the sector multiple stores and in the banking sector: 4.1 and 2.5 percent respectively.
UWV: fewer new benefits in sectors health care and construction
In the first quarter of this year, UWV provided 124 thousand new unemployment benefits, 18.4 percent down from the same period last year. In all professional groups, the number of new benefits declined in Q1. In health care and welfare the decline was above average (37.7 percent). Fewer homecare workers applied for unemployment benefits (-43.7 percent) and with 36.5 percent, the decline in the construction sector was also above average. The number of carpenters applying for unemployment benefits fell by no less than 46.7 percent.
More women than men find work
The number of working women is rising more rapidly than the number of working men. In the past three months the increase among women averaged 11 thousand a month, versus 4 thousand a month for men.

The labour participation rate has grown since the spring of 2014. Employment among women rose from 59.2 to 61.6 percent in March. The female participation rate is almost back at the high level recorded in early 2009, when 62 percent of women were employed. Employment among men rose from 69.2 to over 71 percent, which is still considerably below the high level of early 2009 (74.7 percent).

Female employment increased noticeably among over-45s. This is partly due to the fact that in the younger generations more women are employed than in the older generations. Of course, these younger generations grow older and become part of the over-45 age category.
More people find work
There are 12.8 million people in the Netherlands in the age category 15-74. In March, 66.4 percent of them were in paid employment. This age category includes 8.5 million people (4.6 million men and 3.9 million women). Over the past three months, the number of people in paid employment has grown by an average of 14 thousand a month.

Altogether, 4.3 million people aged 15-74 do not have paid work; 463 thousand of them are unemployed and nearly 3.9 million are not looking or immediately available for work.
With 2.2 million, women constitute the majority in the latter group.
More unemployed find work
Unemployment is falling mainly because the people who find work outnumber those who become unemployed. Over the past three months, 120 thousand previously employed individuals became unemployed. In the same period, 82 thousand individuals who were still employed three months ago became unemployed. The decline in unemployment was slightly tempered as the number of job seekers who could not find work (171 thousand) was higher than the number of people who gave up looking for work altogether (152 thousand).