Growth in goods transport via Venlo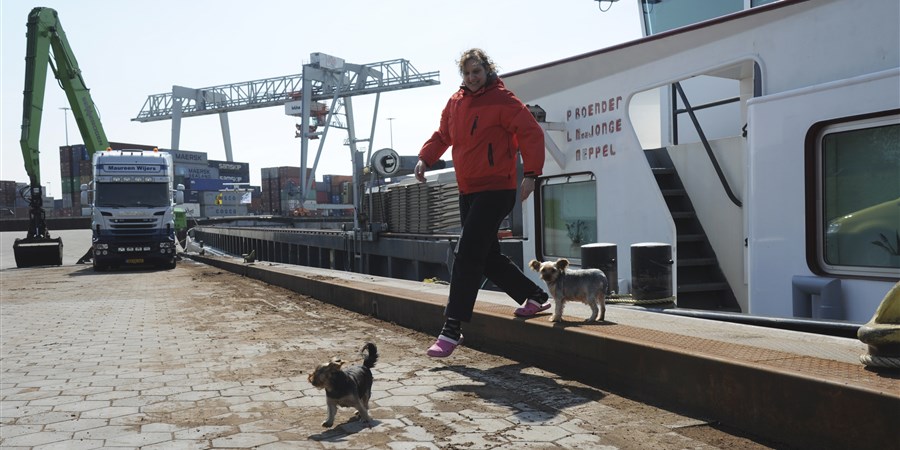 In 2015, the volume of goods loaded and unloaded in the region of North Limburg amounted to 49 million tonnes. This is 8 percent more than one year previously. Cargo traffic in this region has been on the rise for some time. Especially the volume of goods transhipped in sea containers at Venlo's inland waterway port has increased significantly. This is based on figures released by Statistics Netherlands (CBS) on the occasion of Venlo's Urban Data Centre opening.
Goods transport to and from North Limburg, three-quarters of which goes through Venlo, increased by 22 percent between 2010 and 2015. The total volume of goods transported by rail, road and inland waterway in the Netherlands rose by 1 percent during this period.
Increased inland waterway transport
The region of North Limburg has a relatively high volume of transport on inland waterways: there is a good connection between the Rotterdam Port area and Venlo via the river Maas (Meuse). In addition, Venlo has a strategically favourable location close to the German Ruhr Area. In 2015, inland waterway transport accounted for nearly one-quarter of the total weight of goods transported in this region. This share was only higher in regions with a seaport.
Between 2010 and 2015, the share of inland waterway transport increased more sharply (i.e. by 41 percent) than rail and road transport (both rising by 18 percent). The share of transported weight by inland navigation rose from 17 percent in 2010 to 20 percent in 2015, while the share of road transport dropped from 79 percent to 76 percent. The share of rail transport remained more or less the same.
Goods loaded and unloaded in North Limburg region

| | Rail | Inland waterways | Road |
| --- | --- | --- | --- |
| 2010 | 1.7 | 7 | 31.8 |
| 2014 | 1.9 | 9.1 | 34.7 |
| 2015 | 2 | 9.8 | 37.4 |
Mainly more sea containers transported to and from North Limburg
In the period 2010-2015, sea container transport to and from North Limburg rose by 44 percent as against 8 percent growth in the total volume of sea container transport in the Netherlands. The number of loaded and unloaded sea containers in North Limburg increased from 308 thousand in 2010 to 445 thousand in 2015.
During this period, the number of transported sea containers by inland vessel increased much more sharply (+135 percent) than by lorry (+23 percent) and by train (+26 percent). As a result, the share held by North Limburg's inland navigation in the total volume of sea container shipments rose from 18 to 30 percent between 2010 and 2015. In the inland waterway ports of Venlo and Wanssum in 2015, one sea container was loaded or unloaded every four minutes.
Containers loaded and unloaded in North Limburg region

| | Rail | Inland waterways | Road |
| --- | --- | --- | --- |
| 2010 | 85.6 | 55.8 | 167 |
| 2015 | 108 | 131.4 | 205.4 |
Sea containers enter Germany via Venlo
North Limburg is the fourth most important region in the Netherlands in terms of sea container transhipment; it ranks highest among regions without a sea port. Only in the regions of Greater Rijnmond (Rotterdam), Greater Amsterdam and West Noord-Brabant (Moerdijk), more sea containers are loaded and unloaded than in North Limburg. Many goods previously loaded at sea ports are shipped to Germany via Venlo. Of all sea containers crossing the Dutch border via North Limburg in 2015, 61 percent were destined for Germany; 22 percent were shipped to Italy and 16 percent to Belgium.
Top 15 largest regions for loading and unloading, 2015

| | number of containers |
| --- | --- |
| Greater Rijnmond | 6691 |
| West Noord-Brabant | 752 |
| Greater Amsterdam | 473 |
| North Limburg | 445 |
| Southeast Zuid-Holland | 318 |
| Utrecht | 307 |
| Central Noord-Brabant | 287 |
| South Limburg | 270 |
| Northeast Noord-Brabant | 255 |
| Arnhem/Nijmegen | 226 |
| East Zuid-Holland | 213 |
| Southwest Gelderland | 204 |
| Twente | 194 |
| Zeeland and other | 189 |
| Southeast Noord-Brabant | 188 |