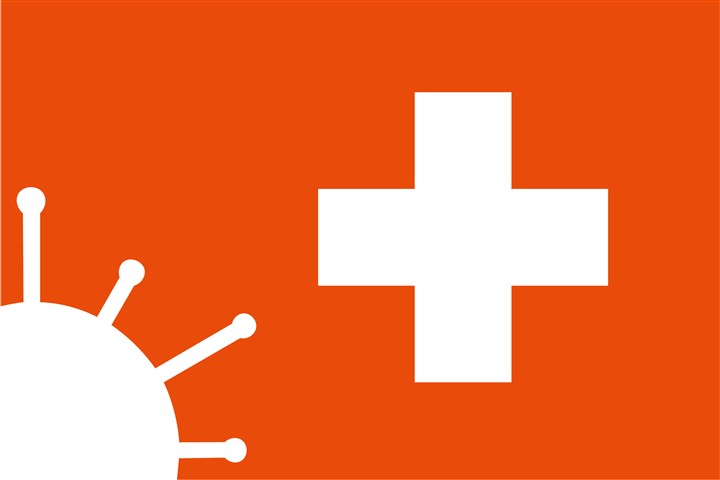 COVID-19 impact on public health
How many deaths are registered weekly in the Netherlands?
In week 28 (12 to 18 July 2021 inclusive), the estimated number of deaths stood at 2,873. This is slightly more than expected for this period and nearly 90 more deaths than in the previous week (2,788). For figures on official COVID-19-related deaths, please visit the RIVM website.
What is the number of deaths among people with long-term care?
Based on the estimate, mortality increased among people receiving care under the Long-term Care Act (Wlz) in week 28. An estimated 1,050 long-termcare users died. As of the last week of February (week 8), mortality in this group was below the expected level. As of the end of May (week 21), mortality in this group has been around the expected level.
How many people got tested for coronavirus?
Data from the municipal health services (GGD) show that between 1 August 2020 and mid-April 2021, 11.3 million tests for coronavirus were taken from approximately 6.7 million people in the Netherlands. This means that 38 percent of the Dutch population was tested at least once in this period. Young people and young adults were tested most often, older people least often. Employed people were tested more often than people on welfare or on a pension. The percentage of testing was highest among people working in education. People who were tested outside the GGD are not included in these figures.
How is employee sickness absence developing?
Illness-related absenteeism among employees in the public and private sector stood at 4.8 percent in Q1 2021. This means that employees were absent due to illness on 48 out every 1,000 working days. The rate of absenteeism was slightly lower than one year previously. Since Q2 2020, absenteeism has been highest in the care sector.
What is the number of confirmed COVID-19 deaths from March 2020 through February 2021?
In February 2021, altogether 2,504 people died of COVID-19, the disease caused by the novel coronavirus. According to provisional figures, this brings the number of COVID-19 deaths up to and including February to a total of 27,056. Of these deaths, 24,242 were caused by confirmed COVID-19 and 2,814 by suspected COVID-19. Figures on causes of death are based on death certificates filled in by a doctor. CBS receives these statements mainly through the municipality where the death took place. Furthermore, CBS receives a small part of the forms (e.g. from some hospitals, general practitioners and forensic doctors) directly digitally in the context of pilot projects pending the amendment of the Dutch Burial Act (Wet op de lijkbezorging). This is evident from provisional figures on causes of death. Read more
How many people are willing to be vaccinated against the coronavirus?
In Q1 2021, 66 percent of the population aged 16 or over said that they intended to be vaccinated against the coronavirus. Adding the 4 percent who had already been vaccinated at the time of the survey, the proportion who are willing to be vaccinated stands at 71 percent. The willingness to be vaccinated increases with age and with the level of education.
What is the effect of coronavirus on life expectancy?
In the spring of 2020, more people died than average due to the outbreak of coronavirus (nearly 9 thousand more in week 11 up to and including 19, according to estimates). The precise impact of excess mortality due to COVID-19 on life expectancy in 2020 is not yet known. This depends on the development during the rest of the year, for which CBS has worked out a number of scenarios. In the most favourable scenario, the elevated mortality in the spring will be compensated by undermortality during autumn and winter and life expectancy this year will end up similar to 2019. In case of rising mortality over the last few months of the year, life expectancy will decline by several months. In the worst-case scenario, there is a second wave which causes twice as many deaths as the first wave. In that case, life expectancy may drop by approximately 1 year to the level of 2010. Read more
How did people rate their own health during the first half 2020?
During the first quarter of 2020, a share of 80 percent reported they were in good or very good health, similar to one year previously (79 percent). This share was 82 percent in Q2 2020, against 78 percent one year previously. The share of people with mental health problems stood at 12 percent, the same as in 2019. This is according to the latest (provisional) quarterly figures obtained from the National Health Survey/Lifestyle Monitor. Read more
How much decline was seen in care use in Q2 2020?
In Q2 2020, there was less frequent use of various health services compared to the same quarter in 2019. For example, in the four weeks before the survey, 11 percent had visited a dentist, against 20 percent one year previously. Furthermore, 23 percent consulted a GP in Q2 2020, down from 28 percent in Q2 2019. The share visiting a medical specialist declined from 18 to 12 percent. This is according to the latest (provisional) quarterly figures obtained from the National Health Survey/Lifestyle Monitor. Read more
How many people died from COVID-19 who were not registered as such?
The Netherlands Environmental Assessment Agency (PBL) and CBS describe a new method for estimating the weekly excess mortality caused by COVID-19. This method provides a consistent estimation of the uncertainty surrounding the excess mortality and can indicate the relation between registered and total mortality related to COVID-19.
How many people are working in the care sector?
As of 2016, over 1.2 million people are working in the care and welfare sector.
How many healthcare professionals are out of work?
At the end of 2018, approximately 348 thousand qualified healthcare professionals were registered in the Dutch Healthcare Professionals Register (BIG-register). Of this group, 25.7 thousand (7.4 percent) were not working at that time due to retirement, benefits, occupational disability or lack of (registered) income. Some of those who are out of work will not be able to return to their former occupation. For example, approximately 10 percent of non-working doctors received disability benefits as their main source of income in 2018.
Which healthcare professionals are most likely to be out of work?
Of the non-working qualified healthcare professionals, 68 percent were nurses and 15 percent were doctors in 2018. This means that according to the Dutch Healthcare Professionals Register (BIG-register), 21.5 thousand of the 25.7 thousand non-working healthcare professionals were nurses or doctors. More than three-quarters of non-working nurses and more than half of non-working doctors are 55 years of age or older.
What is the average distance to the nearest GP and hospital?
In 2019, the average distance to the nearest GP was 1 km. The nearest hospital was on average 4.8 km away. There are large regional differences. For example, people in Baarn have to travel an average of 2 km to get to the nearest hospital, while the average distance for people on Terschelling is 63 km.
What is the difference in recent mortality between institutional and private households?
In week 14 (ending 5 April), mortality among people in institutional households was almost double the weekly average in the first ten weeks of this year, whereas it was 1.5 times higher than that average among members of private households. Institutional households include nursing and care homes, mental health institutions and institutions for the disabled, detention centres, and asylum reception centres. Read more
How many hospital beds are there in the Netherlands?
In 2018, there were 39,900 hospital beds available for clinical or outpatient treatment. These were beds at the general hospitals, university medical centres, specialist hospitals and rehabilitation centres. This figure does not include beds in psychiatric wards.
Quantative hospital data
How many medical products are imported?
In Q1 2020, Dutch imports of medical goods amounted to 8.7 billion euros. This is 8 percent more than in the first three months of 2019. Pharmaceutical products (medicines) are relatively expensive compared to other medical products and therefore hold a substantial share in the total value of medical imports, namely 42 percent (3.6 billion euros). Read more