CBS experiments with agricultural sensor data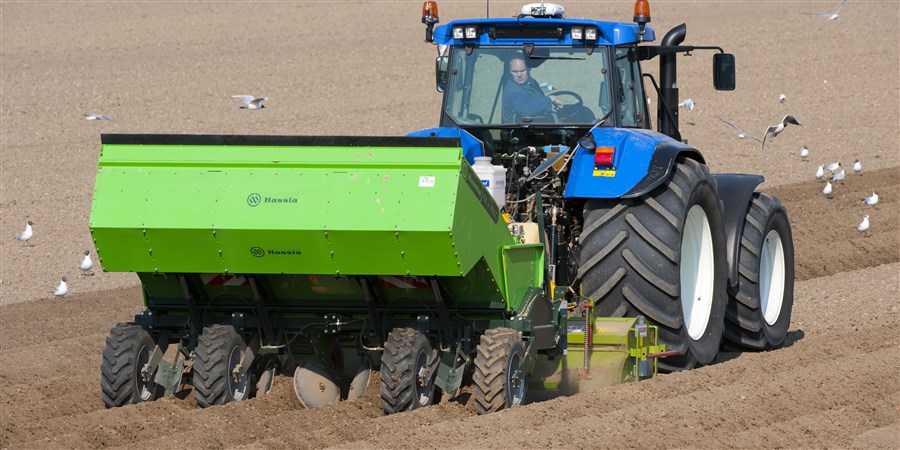 Statistics Netherlands (CBS) is continuously innovating, also in the field of business data collection. We are permanently on the look-out for new data sources and alternative ways of collecting data, with the aim of producing up-to-date statistics and reducing the load for companies to fill in CBS questionnaires. Companies in the agricultural sector, for example, receive a number of CBS questionnaires on an annual basis. With the advent of precision agriculture, CBS is studying the innovative options for collecting these data directly from farmers for the production of agricultural statistics.
Benefits of precision agriculture
Dutch farmers are increasingly using sensors, for example to monitor the condition of the soil or the development of crops. The main advantage of this so-called precision farming - in which farmers try to get a better grip on all kinds of factors that influence crop growth, is that it boosts both yield and quality at the lowest possible cost. Dairy farming is another example of a sensor-driven sector, with milking robots taking over much of the work. CBS methodologist Ger Snijkers sees opportunities: "We are tuning into these developments and now have a team of researchers examining the extent to which the data that farmers collect on a daily basis can be used to compile our agricultural statistics. This can offer a range of advantages for both CBS and farmers. We are also seeking cooperation with external parties in this area."
Three core research questions
As part of his degree in Econometrics & Operations Research at Maastricht University, Tim Punt worked with CBS to examine the system of an innovative farmer and explored the usability of the new data generated. To this end, CBS joined a precision farming project set up in 2017 by the Applied Data Science department of the Eindhoven University of Technology (TUe) and the Southern Agriculture and Horticulture Organisation (ZLTO). "For CBS, there are three core research questions," Punt says. "Firstly, can we use these sensor data as a source for current statistics? Secondly, can we also utilise these data to produce new statistics? And thirdly, how can we use these data to give information in return to the farmer in a way that will be of practical use to him/her?" This last aspect is important, because in this way the farmer also benefits from this development. "Our aim is to close the data cycle. In cooperation with the innovative farm, we are working on a prototype dashboard, designed to provide the farmer with insights into the operations of his farm."
Privacy and trust
"On paper, the idea of harnessing these new data looks simple," Ger Snijkers says. "But in practice, it's another story." Tim Punt confirms this: "We have run into a number of issues. Protecting privacy and confidence in the secure handling of data are essential. The role and position of CBS as an independent party was not yet clear to everyone. In the end, we succeeded in convincing everyone involved that this is guaranteed by CBS." Another vital aspect is complete and accurate description of the data. "That's a prerequisite for the use and reuse of data. In some cases it was possible to extract the meaning of the data from the context, but occasionally it wasn't. We therefore contacted the TUe and the farmer in question to pin down the data definitions." CBS then examined to what extent the farmer's data and CBS questionnaire data overlap. "The results look promising," Punt says. "From the data file, we were able to extract a lot of data that are currently being collected using questionnaires. It remains a challenge, however, to bring these data from the agricultural sector as a whole together and to convert them into high-quality statistics."
Seeking cooperation
Ger Snijkers is keen to emphasise that this study is a first exploration. "We are still at the beginning, though now we have a first proof of concept. We see opportunities, but there are also many challenges. We want to expand our network – also outside the agricultural sector – and would like to get in touch with companies open to collaboration, such as business organisations with expertise in this area. By combining different fields of expertise, we believe that we can take datafication of the agricultural sector and the business community as a whole a step further."
Are you interested in collaborating with CBS on sensor data in businesses, agriculture, dairy farming, horticulture or another sector? Please contact Ger Snijkers at samenwerken@cbs.nl.
"We want to collaborate with external parties in order to take another step towards datafication of agriculture and the private sector as a whole"