Well-being of young adults trailing behind other age groups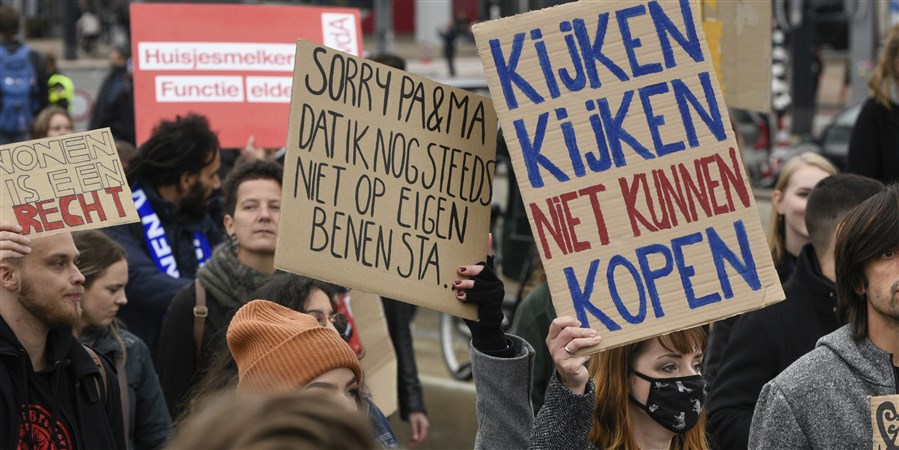 Dutch 25 to 34 year-olds experience lower levels of well-being than people in other age groups. They score lower mainly on satisfaction indicators. People with lower levels of education and the group born in the Netherlands with at least one parent born elsewhere also have lower levels of well-being, according to Statistics Netherlands' (CBS) Monitor of Well-being and the Sustainable Development Goals 2023.
Well-being is affected by more than just income and wealth. It also encompasses things like happiness, health, job status, trust, and quality of people's surroundings. And just like income and wealth, well-being is not spread evenly across all groups in the population.

Just how well-being is distributed between various population groups in the Netherlands has been analysed on the basis of thirteen indicators in eight themes: well-being, material well-being, health, labour and leisure time, housing, society, safety and the environment. For each indicator, a specific population group can score equal to the average, or higher or lower than the average for the overall population. Higher or lower than average may be favourable or unfavourable, according to whether it has a positive or negative effect on well-being. Where possible data for 2022 were used for the analysis.
Young adults less satisfied
Results for 25 to 34-year-olds were unfavourable for eight of the thirteen indicators. These young adults are less satisfied than average with their jobs, the amount of free time they have, their homes and life in general. They also do less voluntary work, have little or no wealth, are relatively more often crime victims and report more pollution nuisance, stench for example, in their neighbourhood than average. More favourable outcomes for this group include those for health, labour participation and trust in other people.
Unlike young adults, 45 to 54-year-olds and 55 to 64-year-olds have predominantly favourable outcomes.

Compared with 2019, well-being of age groups up to 45 years has deteriorated slightly. Changes were more unfavourable than average for several indicators, and only for few were changes more favourable than average. Shares of 18 to 24-year-olds and 25 to 34-year-olds who are satisfied with life fell by more than average, for example, and the share of 35 to 44-year-olds doing voluntary work decreased by more than average.
Favourable changes were more common among 65 to 74-year-olds: satisfaction with life, for instance.

Sizeable differences between education levels and country of origin
Well-being not only differed between age groups. Substantial differences in numbers of favourable or unfavourable outcomes were also established between people with different education levels and different countries of birth/origin. Favourable outcomes were predominant among the higher educated group and people born in the Netherlands whose parents were also both born in the Netherlands.
Distribution of well-being in most recent available year and relative change from 2019
The dots show for each indicator where population groups have significantly higher (green) or lower (red) well-being than the average for the whole population (grey). The diamonds indicate whether the value for a population group has changed, compared to 2019, more favourably (green) or more unfavourably (red) than the average for the whole population.
Ordered by colour
Ordered by indicator
Origin/country of birth
Born in NL, parents from NL
Born in NL, parent(s) from Europe
Born in NL, parent(s) from outside Europe
Born in Europe (excl. NL)
Fewer young adults with favourable results for all aspects of well-being
The study examined not only average outcomes for the groups as a whole, but also outcomes at the individual level: to what extent do favourable or unfavourable outcomes accumulate for certain individuals? Nine of the thirteen well-being indicators were used to calculate this. If an individual has favourable outcomes for at least seven of these nine indicators, this is defined as accumulation of favourable outcomes. A total of 23 percent of individuals had such a favourable accumulation. Accumulated favourable outcomes were less common among 25 to 34-year-olds, where they occurred for 19 percent. In the group aged 45 to 64 years, favourable outcomes accumulated more often.
Compared with 2019, shares of young people (18 to 24 years) and young adults (25 to 34 years) with an accumulation of favourable scores were substantially smaller.

If an individual has an unfavourable outcome for at least three indicators, we describe this as an accumulation of unfavourable outcomes. Nineteen percent of the overall population had such an unfavourable accumulation. Differences between age groups occur here, as well, but accumulation of unfavourable outcomes is most frequent among people with low levels of education and people born outside Europe.
Accumulation, 2022
Percentage of every population group that is located at the top, in the middle or at the bottom of the distribution of well-being
Highest completed level of education