Health spending per capita second highest in the EU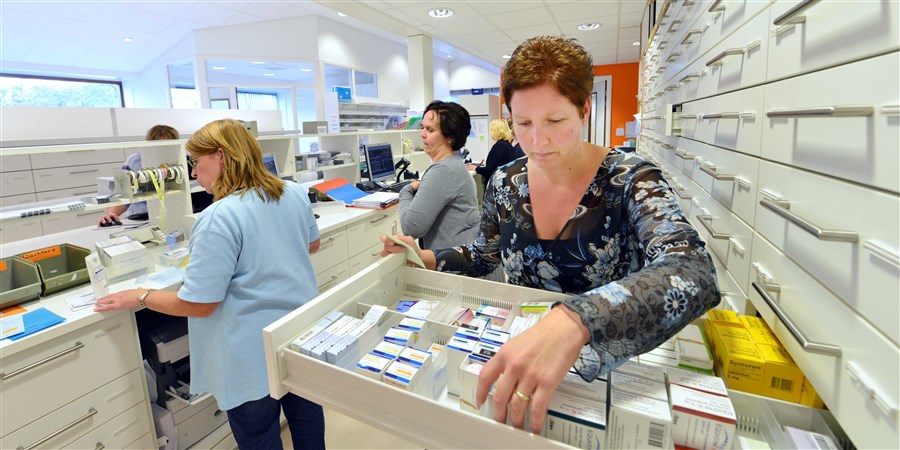 In 2020, average per capita spending on health care in the Netherlands was higher than in almost all other countries of the EU. The out-of-pocket payments, on the other hand, were comparatively among the lowest. This is evident from the publication Health at a Glance: Europe 2022 by the OECD and Eurostat.
Annual health care expenditure in the Netherlands stood at 5,180 euros per inhabitant on average in 2020. This means that average per capita health spending in the Netherlands exceeded that of 25 other EU countries. Only Germany had higher per capita expenditure at 5,736 euros. Health spending was lowest in Romania at 1,696 euros per capita. The figures have been adjusted for price differences in order to allow for comparison. In other words, the amounts quoted for other countries reflect what this expenditure would have been in the Netherlands.


Per capita health expenditure1), 2020

Country

country code

Belgium
4469
Bulgaria
1755
Cyprus
2452
Denmark
4706
Germany
5736
Estonia
2256
Finland
3806
France
4520
Greece
2055
Hungary
1986
Ireland
4441
Italy
3097
Croatia
1719
Latvia
1841
Lithuania
2382
Luxembourg
4652
Malta²⁾
3499
Netherlands
5108
Austria
4862
Poland
1890
Portugal
2767
Romania
1696
Slovenia
2872
Slovakia
1757
Spain
3073
Czechia
3145
Sweden
4759
Source: EUROSTAT
1) Figures based on purchasing power parity in euros, proportionate to Dutch levels 2) Malta: 2019
Out-of-pocket payments low in the Netherlands
People in the Netherlands, in France and in Luxembourg were paying the least out of their own pockets with respective shares in total health expenditure of 9.3, 8.9 and 8.4 percent. Bulgarians paid the highest share, 35.5 percent. These out-of-pocket contributions to healthcare providers include, among other things, health insurance deductibles and contributions to mandatory schemes.
A substantial share of the out-of-pocket payments is usually spent on pharmaceuticals. However, there are major differences between the countries: in Cyprus, roughly 10 percent of the out-of-pocket payments went to pharmaceuticals, against 70 percent in Bulgaria. Another large item in out-of-pocket payments tends to be dental care.


Out-of-pocket payments to health care providers, 2020

Land

Share of health spending financed through out-of-pocket payments (%)

Bulgaria
35.5
Malta ¹⁾
34.1
Greece
33.4
Latvia
31.9
Lithuania
28.7
Portugal
27.8
Hungary
25.5
Estonia
21.4
Italy
21.3
Spain
19.6
Poland
19.5
Romania
19.0
Slovakia
18.8
Austria
16.8
Finland
16.4
Belgium
16.0
EU-27 ²⁾
14.4
Cyprus
14.0
Sweden
13.0
Denmark
12.8
Slovenia
12.5
Germany
12.4
Czechia
11.5
Ireland
10.5
Croatia
10.5
Netherlands
9.3
France
8.9
Luxembourg
8.4
Source: CBS, EUROSTAT
1) Malta: 2019 2) EU-27: estimate
Out-of-pocket payments for pharmaceuticals slightly above EU average
Despite the relatively low out-of-pocket share in total health expenditure, Dutch spending on pharmaceuticals only (obtained from the pharmacy, the chemist or the supermarket) was slightly above the European average of 28 percent, namely 31 percent. Bulgarians spent the most on their own medication at 76 percent. The smallest contribution was made in Cyprus (10 percent). The proportion of spending on pharmaceuticals that does not come out of people's own pockets is paid by insurance companies or the government. In some countries, pharmaceuticals are also reimbursed through schemes of companies or non-profit institutions.


Out-of-pocket payments in pharmaceutical spending, 2020

Land

Share spent out of pocket on pharmaceuticals, 2020 (%)

Bulgaria
75.7
Poland
65.0
Latvia
58.3
Lithuania
53.9
Romania
52.2
Denmark
52.2
Hungary
50.0
Malta ¹⁾
47.6
Sweden
45.9
Greece
45.2
Portugal
44.2
Finland
40.2
Estonia
38.8
Czechia
36.4
Italy
36.3
Belgium
33.9
Spain
33.1
Slovakia
31.8
Netherlands
31.5
Austria
31.0
EU-27 ²⁾
28.3
Luxembourg
27.9
Slovenia
24.0
Ireland
19.2
Germany
17.9
Croatia
17.8
France
12.8
Cyprus
10.4
Source: CBS, EUROSTAT
1) Malta: 2019 2) EU-27: 2019