Exports to Taiwan quadrupled since 2010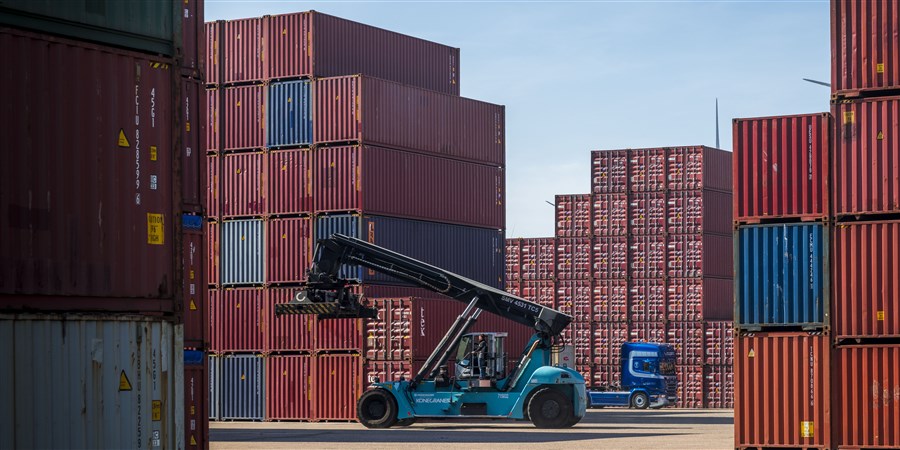 Between 2010 and 2021, the value of Dutch goods exports to Taiwan increased fourfold. In the same period, the value of exports to East Asia as a whole increased by 2.5 times. Taiwan is the Netherlands' second largest export destination in East Asia as of 2021. It was still the fourth largest in 2010. This is reported by Statistics Netherlands (CBS).
The East Asia region comprises the following countries and territories: China, Japan, South Korea, North Korea, Mongolia, Taiwan, Macau and Hong Kong. Statistics keep track of goods trade with these countries and territories separately.
China is the largest East Asian export destination for the Netherlands. In 2021, Dutch exports to China amounted to 14.1 billion euros. Second and third in place respectively were Taiwan (9.7 billion) and South Korea (8.6 billion). Since 2010, exports to China, Taiwan and South Korea have grown considerably faster than exports to destinations number four and five, Japan and Hong Kong. A large factor has been the strong growth in exports of specialised machinery, especially microchip manufacturing machinery, to China, Taiwan and South Korea. Exports to Macau, North Korea and Mongolia are very limited.

Between 2015 and 2020, Dutch earnings from goods exports to Taiwan almost tripled, from 1.1 billion to 3.2 billion euros. Assuming the same export earnings per euro of goods exports as in 2020, earnings from exports to Taiwan increased to around 4.8 billion euros in 2021.
Dutch exports to top five trading partners in East Asia

Jaar

China (billion euros)

Taiwan (billion euros)

South Korea (billion euros)

Japan (billion euros)

Hong Kong (billion euros)

2010
5.4
2.5
3.2
3.2
1.3
2011
6.7
2.3
3.7
3.4
1.6
2012
7.6
2.9
3.4
3.5
1.8
2013
7.7
3.6
3.5
3.2
1.9
2014
7.9
2.5
3.7
3.3
2.2
2015
8.5
2.7
4.2
3.5
2.2
2016
9.7
3.1
3.6
3.3
2.1
2017
11.3
3.4
6.0
3.7
2.1
2018
11.7
4.5
6.0
4.4
2.2
2019
12.8
8.0
4.4
4.5
2.4
2020
14.1
6.4
6.5
4.8
2.0
2021*
14.1
9.7
8.6
4.3
1.9
*Provisional figures
Taiwan top customer of specialised machinery
Dutch enterprises mainly export specialised machinery (predominantly microchip manufacturing machinery) to Taiwan and South Korea. Three quarters of the export package bound for Taiwan in 2021 consisted of specialised machinery. Almost a quarter of the total export value of specialised machinery went to Taiwan in 2021, making Taiwan the largest buyer of this type of goods. In 2010, still only 12 percent of all specialised machinery went to Taiwan. At 64 percent, specialised machinery is also dominant in exports to South Korea, which was the Netherlands' second largest buyer of specialised machinery in 2021.
Share held by specialised machinery in export value, 2021*

Handelspartner

Share held by specialised machinery (%)

China
18.8
Taiwan
75.1
South Korea
64.5
Japan
10.3
Hong Kong
1.2
*Provisional figures
2.5 times more imports from Taiwan since 2010
Relative to 2010, goods imports from East Asia increased by two thirds in 2021; goods imports from Taiwan, including computer components and e-bikes, more than doubled. In 2021, the Netherlands imported 6 billion euros in goods from Taiwan, making Taiwan the third largest supplier of goods in East Asia, after China and Japan. Imports from China are worth 54 billion euros. Dutch goods imports from Macau, Mongolia and North Korea are minimal.
Dutch imports from top five trading partners in East Asia

Jaar

China (billion euros)

Taiwan (billion euros)

South Korea (billion euros)

Japan (billion euros)

Hong Kong (billion euros)

2010
31.0
2.4
1.9
9.3
2.1
2011
30.9
2.3
2.0
10.1
1.8
2012
31.9
2.5
2.4
9.9
1.9
2013
31.8
2.3
2.9
8.4
1.9
2014
35.4
2.5
3.2
8.3
2.1
2015
32.4
2.6
2.7
7.1
3.8
2016
32.5
2.7
3.0
7.0
4.2
2017
36.1
3.1
3.4
7.7
5.4
2018
39.2
3.4
3.5
7.8
5.9
2019
43.0
4.0
3.7
8.1
6.2
2020
44.9
4.6
4.1
7.4
5.0
2021*
53.6
6.0
5.3
7.9
5.2
*Provisional figures