2.4 billion euros in services exported to Russia in 2021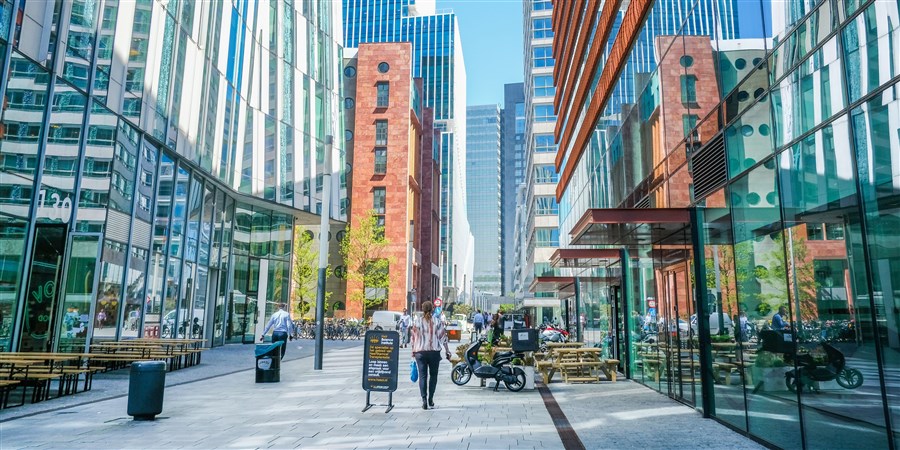 In 2021, the Netherlands exported over 2.4 billion euros worth of services to Russia. Dutch enterprises mainly exported pipeline transportation services, trading services and computer services, including licence fees. Statistics Netherlands (CBS) reports this on the basis of provisional figures on international service trade, relating to the period before the Russian invasion of Ukraine.
Following a decline in the 2020 coronavirus year, service exports to Russia largely recovered in 2021, representing 1.2 percent of total Dutch service exports. This means that the export share was slightly higher than in 2019. Last year, Russia ranked 18th among all export markets for services, receiving slightly more services from the Netherlands than Finland. The main export markets for Dutch services are the United Kingdom (13.7 percent), Germany (12.8 percent) and the United States (11.7 percent).
International service trade with Russia1)

Stroom

Imports (bn euros)

Exports (bn euros)

2014
0.589
2.066
2015
0.587
1.837
2016
0.514
1.640
2017
0.793
2.648
2018
1.214
2.480
2019
0.926
2.544
2020
0.489
1.871
2021*
0.583
2.433
1) The figures for 2014 to 2019 inclusive are based on provisional retrospective calculation. * Provisional figures
In 2021, the Netherlands imported 583 million euros in services from Russia. These mainly concerned various (freight) transport services and business services, such as legal and accounting services or technical services. Service imports from Russia were 19 percent up on 2020. Nevertheless, the import value was still below the pre-pandemic level. With an import share of 0.3 percent, Russia ranked considerably lower as a supplier than as a buyer of services, occupying 37th place. The top three largest suppliers of services to the Netherlands are the United States (19.1 percent), the United Kingdom (16.6 percent) and Germany (10.9 percent).
Service exports to Russia most lucrative
In 2020, the Dutch economy yielded a total of 789 million euros from the export of services to Russia. This is the export value minus the value of imports of goods and services required through the entire Dutch production chain in order to produce these exports. The Netherlands earned more per euro from service exports than from domestic exports and re-exports of goods to Russia.
Russia imports most services from Turkey, Netherlands comes ninth
The Netherlands is Russia's 9th largest supplier of services. In 2019, the most recent year for which data are available at the OECD, 3.5 percent of service imports by Russia came from the Netherlands. This has not changed over the past decade. For almost half of its service imports, Russia is dependent on countries in the European Union (47.5 percent), especially Germany, Cyprus and Ireland. Other countries from which Russia obtains many services are Turkey (7.7 percent), the United States (4.0 percent), China (3.7 percent) and Switzerland (3.3 percent).
As for Russia's exports, the Netherlands ranks 10th as a customer of services from this supplier. In 2019, it accounted for approximately 2.6 percent of Russia's total service exports; this share has been stable for a decade as well. Nearly 36 percent of the services sold internationally by Russia are destined for EU countries. Other important export partners are the United States (6.5 percent), China (6.2 percent) and Switzerland (6.1 percent).
Top 10 largest trade partners in Russia's service trade, 2019

Partner

Share (%)

Russian exports
United States
6.5
China
6.2
Switzerland
6.1
Germany
5.6
Cyprus
5.4
United Kingdom
4.8
Kazakhstan
3.7
France
2.7
Belarus
2.6
Netherlands
2.6
Russian imports
Turkey
7.7
Germany
5.5
Cyprus
5.4
Ireland
5.3
United Kingdom
5.1
France
4.8
United States
4.0
China
3.7
Netherlands
3.5
Switzerland
3.3
Source: OECD
Ukraine advances 13 places as import partner
In 2021, the Netherlands imported 167 million euros worth of services from Ukraine, i.e. 2.7 times as much as in 2014. This put Ukraine in 56th place as an import partner for the Netherlands: in 2014, it was still in 69th position. Ukraine's import share is relatively limited, but significantly higher than it was in 2014. Imports mainly include ancillary transport services, professional and management consulting services, telecommunications, computer and information services, and travel services. Dutch service exports to Ukraine in 2021 amounted to 212 million euros, equivalent to an export share of 0.1 percent of the Netherlands' total service exports. The most exported services are business and technical services, aviation services, and telecommunications, computer and information services.
International service trade with Ukraine1)

Stroom

Imports (million euros)

Exports (million euros)

2014
63
153
2015
81
153
2016
72
132
2017
127
177
2018
191
176
2019
182
184
2020
153
145
2021*
167
212
1) The figures for 2014 to 2019 inclusive are based on provisional retrospective calculation. * Provisional figures