Agricultural exports staying rooted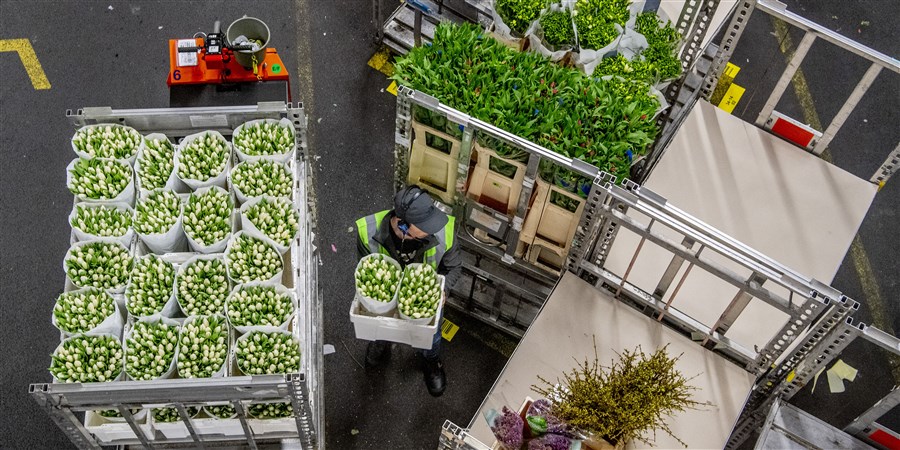 Despite the coronavirus crisis, Dutch agricultural exports grew by an estimated 1 percent in 2020 relative to the previous year. Total goods exports declined by approximately 7 percent. This is reported by Wageningen Economic Research (WUR) and Statistics Netherlands (CBS) on the basis of joint research commissioned by the Ministry of Agriculture, Nature and Food Quality.
The slight growth should be qualified with some considerations. For example, the volume of agricultural exports showed some decline and the growth in export value was driven by rising export prices. In addition, the value of domestic agricultural exports shrank by 0.6 percent. The total value of agricultural exports still grew due to an increase in re-exports of agricultural goods of 5.1 percent. A third observation is that the estimate is surrounded by greater uncertainty than in previous years, due to the coronavirus crisis.
It is estimated that total agricultural exports amounted to 95.6 billion euros in 2020, which is a new record. This includes 68.3 billion euros in domestic exports and 27.3 billion euros in re-exports. These exports generated an estimated total amount of 41.9 billion euros in net earnings for the Dutch economy. Including agriculture-related goods, this represents an export value of 105.4 billion euros and net export earnings of 46.1 billion euros.
Agricultural exports

Jaar

Domestic exports (bn euros)

Re-exports (bn euros)

2016
61.8
23.0
2017
65.3
24.8
2018
65.7
24.7
2019
68.7
26.0
2020
68.3
27.3
Source: CBS, note: November-December 2020 figures are estimates by CBS and WUR
Top export product is horticulture
Just as in 2019, the most traded export products (measured in euros) were flowers, plants, bulbs and tree nursery products. In 2020, horticultural exports amounted to 9.5 billion euros, i.e. 0.3 percent up on 2019. Horticultural products also accounted for the largest export earnings among all agricultural product groups. Horticultural exports suffered greatly in the first few months of the coronavirus crisis, , but recovered in the subsequent months.
After horticulture, meat is the most exported product (measured in monetary value); however, meat exports declined by 3 percent, from 9.0 billion euros in 2019 to 8.7 billion euros in 2020. Contraction was also recorded in exports of dairy and eggs (4 percent) and of vegetables (3 percent). On the other hand, fruit exports grew by 11 percent, although this growth mainly occurred in re-exports.
Top agricultural exports

2020 (bn euros)

2019 (bn euros)

Horticulture
9.5
9.5
Meat
8.7
9.0
Dairy and eggs
8.3
8.6
Vegetables
7.1
7.3
Fruit
7.0
6.3
Beverages
5.9
5.7
Preparations of cereals, flour, milk
5.3
5.1
Food industry residues,

animal feed
5.0
4.7
Fruit and vegetable preparations
4.9
5.2
Natural fats and oils
4.5
4.2
Source: CBS, note: November-December 2020 figures are estimates by CBS and WUR
Agricultural exports to Germany up by 4 percent
In 2020, Germany held a share of 26 percent in agricultural exports, an amount of 24.6 billion euros; this is 4 percent higher than in 2019, when it stood at 23.6 billion (a share of 25 percent). Other major destinations are Belgium, the United Kingdom and France. Exports to these markets contracted by 2 percent (Belgium, France) to 3 percent (United Kingdom). All in all,67 percent of agricultural exports are destined for the EU market (excluding the United Kingdom).
With a share of 4 percent, China has climbed from sixth to fifth place in the ranking of agricultural export destinations. Agricultural exports to China rose from 3.1 billion euros in 2019 to 3.8 billion euros in 2020, an increase of 24 percent. The bulk of this growth was on account of pork and baby milk powder exports.
Top 10 destinations in agricultural exports

Land

2020 (bn euros)

2019 (bn euros)

Germany
24.6
23.6
Belgium
10.6
10.8
UK
8.4
8.7
France
7.6
7.7
China
3.8
3.1
Italy
3.3
3.6
Poland
2.8
2.6
Spain
2.7
2.9
US
2.7
2.6
Sweden
2.0
2.1
Source: CBS, note: November-December 2020 figures are estimates by CBS and WUR
Slight contraction in agriculture-related exports
For 2020, the value of agriculture-related exports is estimated to be 0.6 percent lower than in 2019. This concerns goods that are produced for the agricultural and food industries. Agricultural machinery and machinery for the food processing industry are the most exported agriculture-related goods. However, in 2020 these exports fell by 4 to 5 percent year-on-year. Exports of greenhouse materials grew by 19 percent, mainly due to growing exports of such materials to the United Kingdom. Fertiliser exports declined by 9 percent.
Agriculture-related exports

2020 (bn euros)

2019 (bn euros)

Agricultural machinery
2.5
2.6
Machinery for the

food industry
1.9
2.0
Greenhouse materials
1.8
1.5
Fertilisers
1.7
1.9
Animal vaccines
0.7
0.8
Plant protection products
0.6
0.5
Tractors, agricultural trailers
0.3
0.3
Sprinklers
0.2
0.2
Other
0.1
0.1
Source: CBS, note: November-December 2020 figures are estimates by CBS and WUR