Less cargo throughput in Dutch seaports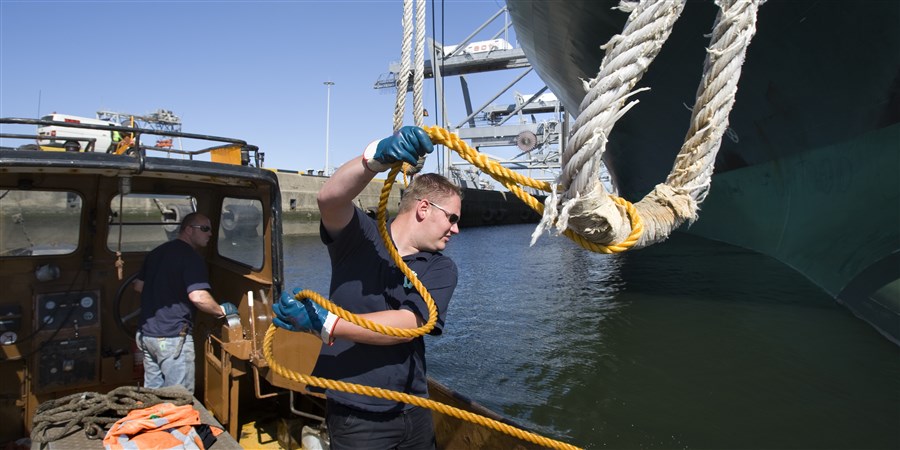 Throughput of cargo in Dutch seaports fell by 1 percent in 2016. It was the first decline since the economic crisis began in 2009 following a record year in throughput volume. Total incoming freight handled in the seaports stood at 398 million tonnes, i.e. 2 percent less than in the previous year. The volume of outgoing sea freight did increase: by 1.5 percent to over 190 million tonnes, Statistics Netherlands (CBS) reports today with the latest figures on throughput volumes.
Last year, the volume of incoming dry bulk cargo fell by more than 2 percent. There were fewer incoming coal shipments following the closure of several coal plants. Crude oil and other liquid bulk cargo make up nearly half of all cargo unloaded at Dutch ports; the volume of liquid bulk cargo rose substantially in 2015 but fell by 2 percent over the following year. Incoming container shipments increased by slightly under 3.5 percent.
More inbound container traffic in Port of Rotterdam
Nearly all container handling in the Netherlands takes place in the Port of Rotterdam. Inbound container traffic in Rotterdam recovered in 2016 following a slight decline in 2015. In the fourth quarter of 2016, the volume of containers handled by the Port of Rotterdam rose by 10 percent. Recent figures released by the Port of Rotterdam show this growth continued at the beginning of 2017 as the volume of incoming goods rose by 9 percent in the first quarter of this year.
Incoming containers are increasingly transported on larger container ships. In 2015, two fully automated container terminals were taken into operation on Maasvlakte 2. The volume of inbound cargo at these new terminals saw a strong increase over the course of 2016.
More container cargo from Asia
Last year, the Port of Rotterdam received 6.5 percent more container shipments from Asia. These shipments were mainly from Vietnam, Taiwan, India, Singapore and Malaysia. Container traffic from Vietnam surged by 110 percent, nearly half of which were textiles. The volume of goods shipped out of China remained more or less unchanged in 2016. Almost half of all container shipments arriving in Rotterdam are from countries in Asia.
Roughly one-third of all incoming containers hail from other ports around Europe. The total volume of incoming cargo from Europe remained the same last year. Sea cargo volumes from Finland and the United Kingdom did rise significantly; cargo arriving from Finnish seaports nearly doubled in two years' time. Wood and paper make up nearly three-quarters of the Finnish cargo unloaded in Rotterdam. Container shipments out of Polish and Swedish ports declined by 31 and 17 percent respectively.
Inbound cargo Port of Rotterdam, top 10 countries of origin

| | 2016 | 2015 |
| --- | --- | --- |
| China | 12.5 | 12.6 |
| Singapore | 2.8 | 2.6 |
| United States | 2.6 | 2.6 |
| Russia | 2.6 | 2.6 |
| UK | 2.5 | 2.3 |
| Malaysia | 2.2 | 2.1 |
| Ireland | 2 | 2 |
| Brazil | 2 | 1.8 |
| South Africa | 1.7 | 1.8 |
| Finland | 1.5 | 1.1 |
For various reasons, CBS figures may differ from the figures published by the Port of Rotterdam.