Nearly 17 million inhabitants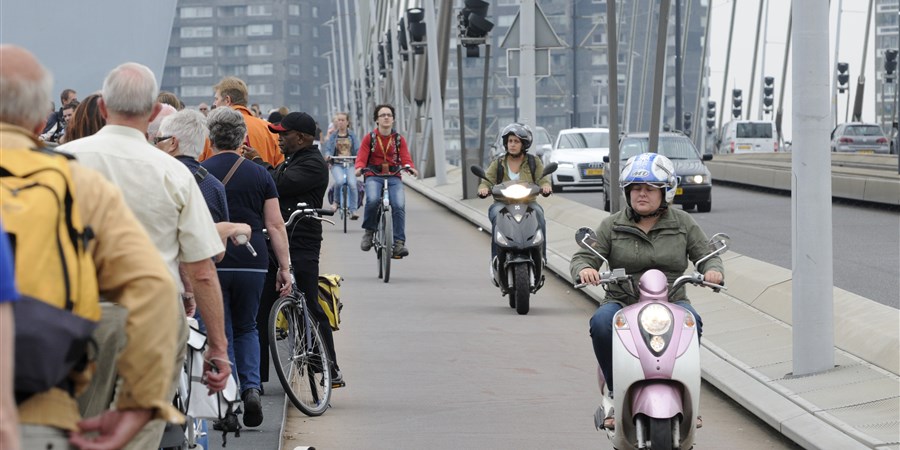 According to provisional figures released by Statistics Netherlands (CBS), the total size of the country's population will top 17 million by around 21 March. It will not be possible to identify the 17 millionth person; however, there is a slightly greater chance of this person being an immigrant than a newborn.
The exact moment at which the official population reaches 17 million will not be known. CBS does provide an estimated figure in its population counter. The counter is not a real time display of changes in population size; it does not go up immediately upon the birth of a child or the registration of an immigrant, nor does it go down immediately upon the death or the departure of a person. Such events are only reported to CBS once registered by a municipality. This is why CBS calculates an estimated population size in advance. Today (4 March 2016), for instance, the population according to the counter is an estimate on the basis of a provisional figure on 1 February plus an estimated growth figure for this time of year. It should be noted that the population size refers only to people who are officially registered, and excludes illegal residents and asylum seekers who do reside in the country, but who have not yet been registered in a municipal population database.
Who will be the 17 millionth inhabitant?
It will not be possible to directly identify the person who becomes the 17 millionth inhabitant. It could be a newborn, a refugee from Syria, a migrant worker from Poland, a student from China or a returning Dutch expat. It is more likely an immigrant than a newborn baby: in 2015, over 200 thousand immigrants were registered by municipalities while 170 thousand children were born. In January of this year as well, more immigrants than newborns were added.
If it is an immigrant, this person is most likely of Polish, Dutch or Syrian origin, each group accounting for approximately 10 percent of all immigrants last year. If the 17 millionth person is a newborn, the baby's mother is most likely of native Dutch origin (70 percent of alll newborns in 2015). If the mother has a non-native background, this is most often Maroccan (4.4 percent) or Turkish (3.5 percent).
The 17 millionth inhabitant is slightly more likely male than female: 52 percent of recent immigrants and 51 percent of newborns were male.
From 5 to 18 million inhabitants
Varying growth rates
There was a relatively long span of 15 years between the 16th and the 17 millionth inhabitant. In comparison, the population grew from 15 to 16 million in slightly over 10 years' time. In the 1990s, the Netherlands saw an annual average population increase of 6 percent. This has dropped to an average of slightly over 4 percent since the turn of the millennium, mainly due to higher net emigration than immigration between 2003 and 2007. Immigration has increased again as of 2007, when EU residents were allowed to work in the Netherlands without the need for a work permit from their employer. Over the past few years, asylum immigration has increased as well.
According to population forecasts, one million more people will be added over the next 18 years, i.e. the total will top 18 million by 2034. Based on current insights, an increase beyond this is expected to remain limited and to reach 18.2 million inhabitants. This can only be established with wide margins of uncertainty, as the population may decline after that, but it cannot be ruled out that the Netherlands will continue to reach 19 million inhabitants.