Syrian immigrants often live in a family setting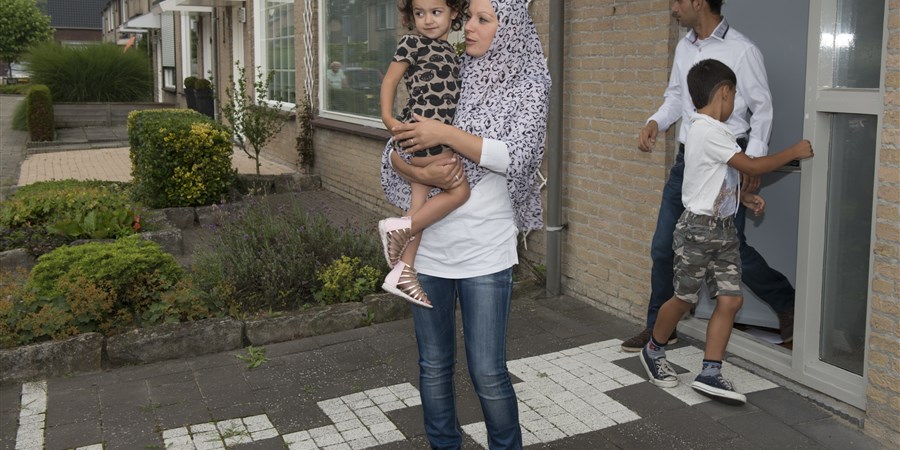 Statistics Netherlands (CBS) reports that 29 thousand Syrians were registered as residents of a Dutch municipality in 2014 and 2015. Syrian immigrants are young compared to other recent immigrants in the Netherlands and they often live in a family setting. Information about unregistered immigrants is scanty. This news release includes no data on unregistered immigrants.
Within the group of Syrian immigrants in the Netherlands, 44 thousand officially belonged to the Dutch population on 1 January 2016. A considerable part of them (29 thousand) were registered as residents of a Dutch municipality in 2014 and 2015 and as such have acquired a formal status as immigrants. In the same period 5 thousand Eritreans and 4 thousand Ethiopians also registered as immigrants. The age distribution of these groups varies considerably and also differs from other recent immigrant groups. Altogether, 306 thousand immigrants are involved, for a large part labour migrants, among whom Poles constitute the biggest group.
Age distribution of immigrants registered in 2014 and 2015, 1 January 2016
Many Syrian children
Most Syrians who have recently registered as immigrants in the Netherlands are young: nearly 40 percent are under the age of 18, versus only 17 percent among other groups of foreign immigrants. Nearly one-quarter of Eritreans are underage and only 5 percent of Ethiopians. A large part of Eritrean minors are aged between 15 and 17. Most Syrian minors are young children. On 1 January 1.8 thousand recent child immigrants from Syria were under the age of four, 6.1 thousand were aged between 4 and 12 and 3.4 thousand were 12 to 17-year-olds.
With 54 percent, male registered immigrants slightly outnumber their female counterparts. Among Syrians 59 percent are men. In the group of migrants from Eritrea and Ethiopia men constitute a distinct majority (68 percent).
Majority of Syrian immigrants live in a family setting
Proportionally, many Syrian immigrants (more than six in ten) live in a family setting and two in ten are singles. Just over half of adult migrants (mainly men) from Eritrea and Ethiopia live alone and two in ten in a family. They also more often live in asylum centres.
Immigrants registered in 2014 and 2015 by type of household, 1 January 2016
Recently registered Syrians live spread across the Netherlands
A total of 29 thousand Syrians registered as residents of a Dutch municipality in 2014 and 2015. This means that 1.7 in every one thousand residents are Syrian nationals. Broken down by municipality, the ratio ranges from 0 on the West-Frisian islands to 21 per one thousand in the municipality of Vlagtwedde. In municipalities where one or more asylum centres are located, the share of recently registered Syrians is relatively high. They are often awaiting accommodation elsewhere in the Netherlands. In a number of large municipalities, the share of Syrian migrants is relatively low (fewer than 1 per one thousand residents). This is, for example, the case in the municipalities of Leeuwarden and Emmen, but also in Amsterdam and The Hague.