2.8 billion roses imported from Africa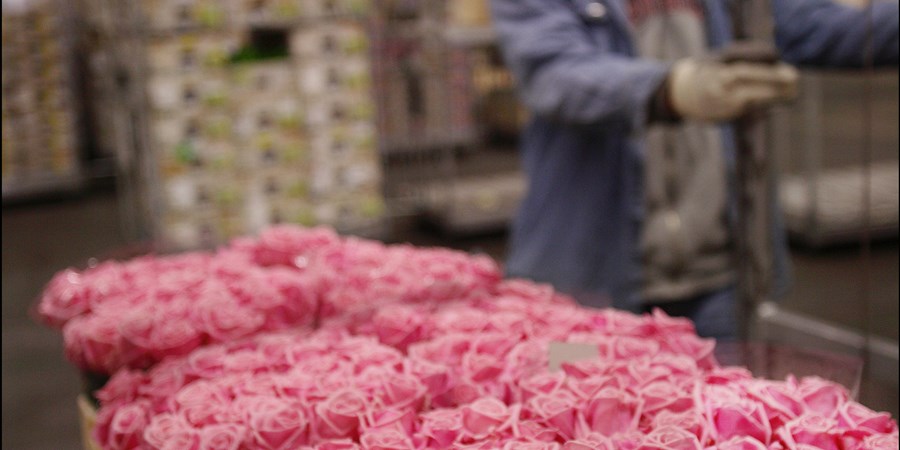 Statistics Netherlands announced today that Africa accounts for 85 percent of imported roses. Kenya and Ethiopia are the main suppliers, chiefly because Dutch rose growers have shifted their activities towards these countries. The import price of African roses was 10 euro cents in 2013.
Imports of roses grown in Africa
Kenya accounts for more than half of all roses
Low wages, favourable weather conditions and good infrastructural facilities have contributed to Kenya's number one position as rose-growing country on the African continent. Kenya is by far the most important rose-growing country, but its share in Dutch rose imports has diminished from nearly two-thirds in 2010 to 57 percent 3 years later. In 2013, 1.9 billion roses with an import value exceeding 200 million euros were imported from Kenya. Altogether, the Netherlands imported 3.3 billion roses worth 384 million euros. On an average day, approximately 9 million roses are imported into the Netherlands.
Dutch exports of roses
9.1 million

roses exported on a daily basis

A considerable part of the roses imported from other countries are sold through the Aalsmeer flower auction and re-exported to countries elsewhere in Europe. In total, the Netherlands exported more than 3.3 billion roses worth over 1 billion euros, i.e. 9.1 million roses on a daily basis. Since 2010, rose exports have exceeded imports . Germany is the largest consumer with a share of nearly 40 percent, followed by France and the United Kingdom with 16 and 11 percent respectively. The average export price of roses was 30 euro cents in 2013.
Number of Dutch rose growers further down
The number of businesses engaged in rose cultivation was reduced from 765 in 2000 to 142 in 2014, a decrease by 29 relative to 2013. The rose cultivation area was also reduced substantially from 932 hectares in 2000 to 311 hectares in 2014, a reduction by 73 hectares from 2013. The area per rose grower increased from 1.2 to 2.2 hectares over the same period. Since 2010, however , the area per rose grower has hardly changed.
Nearly two-thirds of rose cultivation takes place in the province of South Holland. The top 6 rose-growing municipalities are Westland, Waddinxveen, Pijnacker-Nootdorp, Lansingerland, Zuidplas and Midden-Delfland. Together, these municipalities situated in the province of South Holland account for 55 percent the rose cultivation area. The rest of South Holland accounts for another 8 percent.
Title
G3