Manufacturing output down by 1.3 percent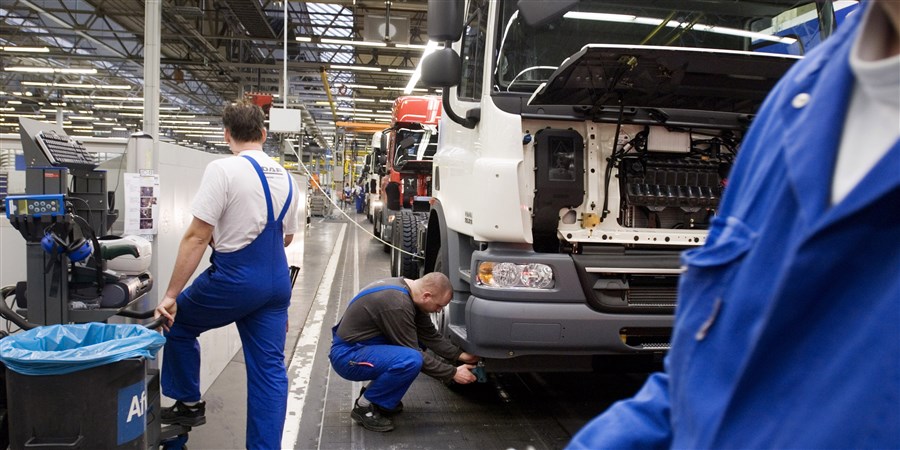 The average daily output generated by Dutch manufacturing industry was 1.3 percent down in June 2014 from June 2013. Prior to the decrease, output had been up from twelve months previously for eight months in a row. According to Statistics Netherlands, output growth already started to slow down in May 2014 relative to the preceding months.
Output reduced across nearly all branches
Output declined nearly across the board relative to June 2013. With 3.0 percent, production declined most notably in the sector food, drinks and tobacco. Output generated in the sector petroleum, chemical, rubber and plastic products and the sector (basic) metal products fell by 1.7 and 1.3 percent respectively. Output in the sector electrical products and machinery, on the other hand, was 2.4 percent higher than one year previously. Together, these four sectors account for almost three-quarters of manufacturing output.
Average daily output manufacturing industry (volume)
More stocks, lower demand from abroad
Statistics Netherlands announced earlier that the stocks of finished products held by Dutch manufacturers were somewhat larger than one year previously. Manufacturers defining their stocks as too large have outnumbered those defining their stocks as too small for quite some time now. Statistics Netherlands also reported earlier that exports fell in May, after a period of modest growth in the first months of 2014. Circumstances for exports were less favourable May, June and July than in March and April. This was predominantly due to the growth slowdown in German manufacturing industry. Germany is an important market for Dutch manufactured products.
Manufacturers still positive about future output
According to the producer confidence survey Statistics Netherlands published recently, Dutch manufacturers are still optimistic about their future output despite the decrease in June, but they are slightly less positive than in the preceding months.
Output levelling off after peak in February
Figures adjusted for seasonal variation and the effect of the number of working days provide a more reliable picture of short-term output developments. Over the past months, these figures have varied considerably. In February 2014, manufacturing output reached the highest level in more than six years, followed by a substantial decline in March and further growth in April. In May and June, output levels were respectively 1.5 and 1.3 percent down from the preceding months.
Seasonally adjusted average daily output in manufacturing industry
More figures can be found in the dossier Business cycle.

For more information on economic indicators, the reader is referred to the Economic Monitor