'All parties benefit from an Urban Data Centre'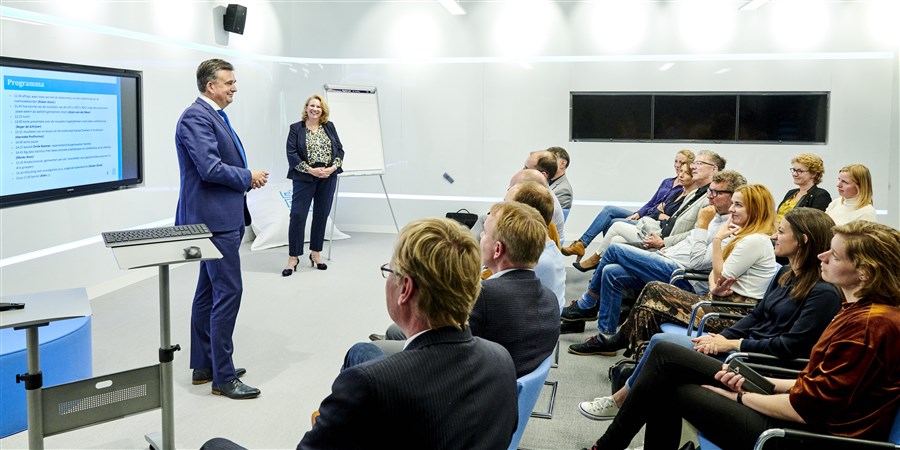 'We need to think big. If we add up the surface area of South Limburg to border cities like Aachen, that is a total population of 6 million people. Over 4 million of these people have jobs in the region,' says acting Mayor of Heerlen Emile Roemer. He was one of the speakers at the conference held in Heerlen on 10 October for all Dutch cities and regions which have set up an Urban Data Centre (UDC) together with Statistics Netherlands (CBS). The purpose of the conference was a joint discussion on data-driven working methods.
Data-driven
Roemer is enthusiastic about the new position he has held since last March. After having been active for many years in Dutch national politics, he now relishes being close to the fellow residents of 'his' city. 'For several reasons, Heerlen is a great showcase. For example the major cultural event Cultura Nova, an international 10-day visual theatre festival which is held around Heerlen every year'.He also refers to the rich Roman past of Heerlen city, with one of the highlights being the Thermen Museum. 'In addition, we have the Brightlands Smart Services Campus, and CBS. The campus is host to all kinds of data-driven knowledge institutions, but also innovative startups. This is where we lead the way!' The aim of the campus is to strengthen collaboration among the fields of government, education, research and business in order to encourage activities, innovation and talent in the area of smart services. The CBS Urban Data Centre/Heerlen (UDC) has formed part of it since November 2016.
Preventive work
Roemer: 'Governing a city means to devise and optimise new policies. We want to use data to solve problems and to work on prevention. For example, conduct research in districts where people feel unsafe; look into the vacancy rates in residential and commercial properties, or study mobility. CBS already has huge amounts of data available on these topics at national level, but we want to find out how this is for Heerlen.' According to Roemer, an Urban Data Centre has numerous potential benefits. 'All parties, whether public or private, stand to gain from the benefits of an Urban Data Centre. But different parties play along different rules, because these are public data, after all.'
'Governing a city means to devise and optimise new policies. We want to use data to solve problems and to work on prevention'
Filling in the blanks
Dennis Martens is a consultant at the Department for Research and Statistics at Heerlen municipality and works closely with the CBS Urban Data Centre. 'The power lies in the combination of CBS data with our own data. Together, we can fill in the blanks.' Martens admits it took the parties some time to get used to one another; after all, research and policy development are two different working areas. 'It's also a culture change that needs to take place within the municipal organisation, to check where the potential lies of an Urban Data Centre. Once CBS introduced a relationship manager, things really started to accelerate. Five surveys are in the pipeline right now. One on the topic of youth welfare, for instance; CBS has considerable amounts of data on this. Combined with our information, we can find out whether children end up receiving youth assistance, and what we can do about it. Moreover, using CBS's knowledge and experience we can learn from the research that has already been conducted by other municipalities in this area.'
Provincial themes
Roemer sees a great deal of potential in working collaboratively with nearby municipalities, both within the Netherlands and cross-border: 'There are lots of opportunities in this region. For example, in our data-driven quest for new opportunities, we are tackling digitisation as a topic together with the city of Aachen in Germany. We investigate what we can learn from each other and how we can strengthen each other.' He also identifies important research topics for the Provincial Data Centre Limburg, which was launched earlier this year: 'Consider for example the further development of tourism in the province. Or the flooding problems occurring in some villages in Limburg, putting them at risk. These are issues you need to tackle at provincial level.'