Urban Big Data Center Glasgow and CBS sharing expertise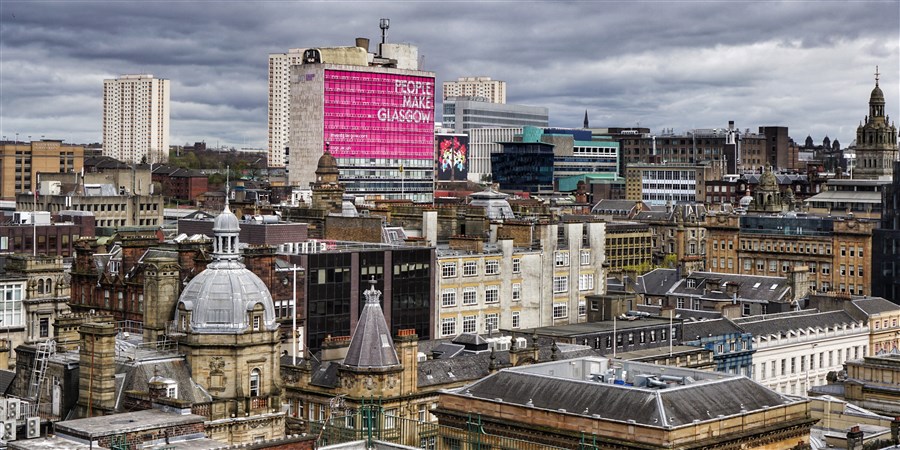 In September 2016, Statistics Netherlands (CBS) established its very first Urban Data Center (UDC) as well as the Center for Big Data Statistics (CBDS). The centres were set up in response to two significant trends in society: an ever-increasing demand for urban data, and the production of new statistics using Big Data. CBS is actively seeking out cooperation with other national and international organisations in these areas. An excellent example in this respect is the Urban Big Data Center (UBDC) in Glasgow, which shows how partnerships can strengthen one another.
Many similarities
Initial contacts with the UBDC in Glasgow were made in late 2016 by CBS' innovation manager Barteld Braaksma. In the months that followed, the two sides became acquainted and started exchanging knowledge. Further to these exchanges, CBDS' IT researcher Mirela Causevic recently paid a three-week working visit to the UBDC in Glasgow. Her main points of contact there were UBDC director Piyushimita Thakuriah and senior IT specialist cum Data Services Manager Andrew McHugh: 'There are many similarities between the work done at the UBDC and here at CBS. We are focusing on similar themes in the area of urban development: urban transportation, public transport and infrastructure, social exclusion, housing and so on.'
Mobility
According to Causevic, the UBDC in Glasgow has come a long way in answering particular research questions, for instance on mobility: how and when do people move around while commuting? 'We have looked at the choices they make while commuting by public transport, and the datasets which are needed to measure this. The UBDC has conducted many experiments with social media in relation to mobility, but it has turned out to be a tough task.' Altogether 30 researchers are affiliated with the UBDC who are all experts in one particular area. 'This means they can move in-depth rightaway. They use 'augmented reality-based modelling' in order to predict future developments. CBS wants to start working with this method, too.'
Research component
Data Services Manager Andrew McHugh is very pleased with the collaboration with CBS over the past year: 'Our staff are excited about the achievements so far, both at the organisation-level, through formal research collaborations with CBS and its existing partner networks, and also in terms of individual researchers, data scientists and managers, for whom there are great possibilities for mutual knowledge exchange and capacity building.' McHugh adds that the UBDC has considerable expertise in a large number of urban data-related topics: urban and transportation, science, education, geography as well as statistics. 'Our organisation has a strong research component, further complemented by expertise in the field of data collection, data analysis, and the sharing of data and management.'
Challenges
What are some of the greatest challenges faced by the UBDC? 'Ever since it was established, the greatest challenge has been to acquire data under licenses that permit further sharing. There are several reasons why organisations choose not to share data, including incompatibilities with their business models, uncertainties regarding legal or ethical issues, and concerns about reputation where data is considered to be of low quality or where its analysis may expose the data owner to criticism.' McHugh adds that more recent challenges have been establishing appropriate controls around data access to reflect privacy or commercial sensitivity of data: 'We have invested a great deal of work in anonymisation of datasets such as life logging images (i.e. capturing one's day-to-day life on body camera) and GPS data. We are determined to maximise data value while adequately mitigating associated risks. This is partly a technical problem, but there are ethical and philosophical components as well.' Despite such hurdles, McHugh has seen how good relationships with key data owning organisations have paid dividends in the meantime.
Inspiring innovation
In 2018, the collaboration between CBS and the UBDC in Glasgow will be formalised in a joint Memorandum of Understanding (MOU). What does McHugh expect from the cooperation with CBS after the signing of the MOU? 'CBS can benefit from the UBDC's knowledge of new research methods and design methods for various data models. We also have extensive experience with systems and technologies for data collection, and we can give CBS access to our products and services. We see that, as a national statistical institute, CBS plays a major pioneering role and is demonstrating inspiring innovation in all sorts of areas. There is a lot to learn from CBS when it comes to delivery of data for 'evidence-based decision making'. Finally, we would like to know how our joint contributions might promote international developments.'