Trade relations with Italy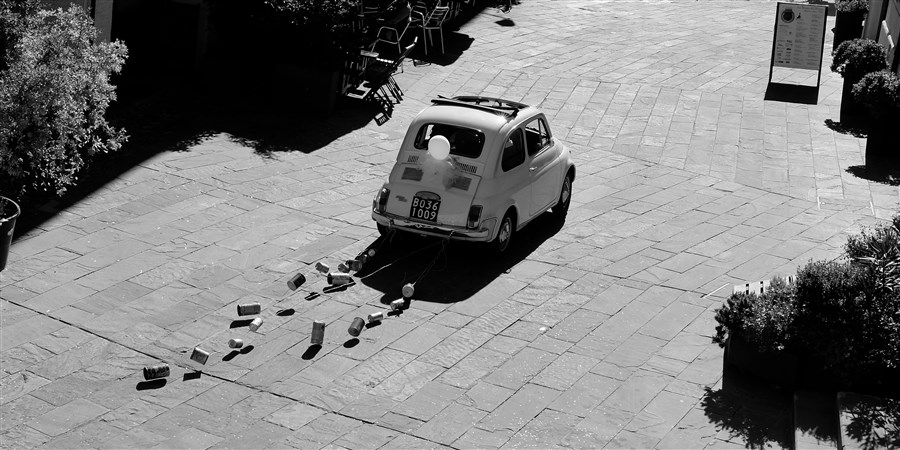 In 2019, nearly 30 percent of all imports from Italy (3.4 billion euros) were machinery and transport equipment. These were primarily telecommunication devices or parts thereof, amounting to altogether 481 million euros. Chemical products imported from Italy in 2019 were worth nearly 2.1 billion euros. Of these products, medicinal and pharmaceutical products form by far the largest group (1.0 billion euros). Miscellaneous manufactured goods comprise 17 percent of imports from Italy. These include footwear (232 million euros), plastic containers (e.g. for food storage) and various types of clothing. The fourth largest product group in imports from Italy (at 1.9 billion euros) are manufactured components such as tubes, pipes and hollow profiles, metal components and products made of copper. Food and live animals took up roughly 9 percent of all imports from Italy last year (1.1 billion euros). These mainy include alcoholic beverages such as wines, various cheeses and whey, meats and other prepared foods.
Composition of goods imports from Italy, 2019

| | Share |
| --- | --- |
| Machinery and transport equipment | 28.7 |
| Miscellaneous manufactured goods | 16.5 |
| Manufactured products | 15.8 |
| Chemical products | 17.6 |
| Food and live animals | 9.4 |
| Other goods | 12.0 |
13 percent of Dutch wine imports are from Italy
On average, 2.6 percent of all goods imported into the Netherlands originate from Italy. This share is substantially higher for specific products. In 2018, for example, approximately 13 percent of all wine imports were from Italy; France is the largest wine supplier with a share of nearly 29 percent. Italy is an even more important supplier of olive oil, accounting for almost 17 percent of all olive oil imports. Italy's market share in cheese imports is approximately 6.5 percent. The main types of cheese are Grana Padano, mozzarella, gorgonzola and various grated cheeses. As for imports of whey, a by-product during the production of cheese and cheese products, Italy occupies a share of approximately 13 percent. These goods from Italy do not have a very high import value; the largest import group are wines at 152 million euros.
Other imports with a relatively large Italian share include perfumes, footwear, clothing, soaps and shampoos. Clothing tops the list in terms of absolute volume: nearly 0.5 billion euros in clothing are imported from Italy, equivalent to nearly 4 percent of total clothing imports in the Netherlands. Italy also accounts for a relatively high share in footwear imports: 6 percent or 235 million euros. On the other hand, Italy occupies a relatively low share in imports of motorcycles, passenger cars and railway equipment.
Share of Italian goods in Dutch imports, 2018

| Product | Imports from Italy (% of the total import value) |
| --- | --- |
| Olive oil | 16.9 |
| Whey | 13.2 |
| Wine | 13.0 |
| Perfume | 7.3 |
| Cheese | 6.5 |
| Footwear | 5.9 |
| Soap and shampoo | 5.3 |
| Hats | 4.6 |
| Clothing | 4.0 |
| Railway equipment | 3.9 |
| Motorcycles | 3.3 |
| Passenger cars | 0.7 |
Most exposed to disruptions in Italian supply chains are manufacturers
Part of the goods and services that are imported from Italy serve as raw material, semi-manufactured products or support services in Dutch manufacturing for final consumption expenditure. The shut-down of economic activities in Italy may cause disruptions in the supply chains of Dutch industries. The exact places where supply chain disruptions may occur are difficult to determine. However, it is possible to produce an overview of the overall supply chain from Italy, using historical data. OECD data over 2016 – the most recently available data – were used to calculate Italy's value added in all sales for final consumption expenditure by Dutch industries. For example, Italian textiles can be direct inputs for the production of Dutch clothing. Italian value added is also processed in indirect inputs. For example, Italian crude oil is processed in plastics which are imported from Germany by a Dutch manufacturer of electrical appliances.
In the entire Dutch economic output of 2016, nearly 4.5 billion euros were inputs from Italy. This was 0.69 percent of the entire output for final consumption expenditure in the Netherlands, i.e. domestic consumption, exports and investments. Not every Dutch industrial sector is equally dependent on Italian goods and services in realising its output. The top ten of Dutch industries with the highest Italian value added in their production mainly includes manufacturing industries, with the highest shares of Italian value added found in the basic metals industry and the building materals industry. Roughly 10 percent of the production for end products within these industries is value added from Italy. The rubber and plastic products industry occupies 6.9 percent, while textiles, clothing and leather manufacturers account for 6.4 percent.
Top 10 industries with the highest share of value added from Italy in production for final consumption expenditure, 2016

bla

Italian value added in production for final consumption expenditure (%)

Basic metal
10.04
Building materials
9.78
Rubber and plastic products
6.85
Textiles, clothing and leather
6.39
Timber
4.73
Metal products
3.37
Electrical appliances
2.99
Paper and print
2.58
Other transport equipment
1.67
Business services
1.65
Source: OECD, own calculations
Exports to Italy amounted to over 20 billion in 2019
In 2019, the Netherlands exported 20.5 billion euros worth of goods to Italy. Nearly 9.7 billion euros were domestically manufactured goods, versus 10.8 billion euros in re-exports. Re-exports to Italy are predominantly machinery, transport equipment and manufactured goods, for example goods which arrive from China or the US and then forwarded to Italy from the Netherlands. Domestic exports to Italy are more evenly distributed across the various goods categories. Chemical products form the largest group with a value of 2.4 billion euros. This is followed by food and live animals, with an export value of nearly 2.0 billion euros. The main export products within this goods category are meat, fish, vegetables and cheese. At 1.9 billion euros, machinery and transport equipment take up around one-fifth of the domestic exports to Italy.
Domestic exports and re-exports to Italy, 2019

| | Chemical products (%) | Food and live animals (%) | Machinery and transport equipment (%) | Miscellaneous manufactured goods (%) | Manufactured products (%) | Other goods (%) |
| --- | --- | --- | --- | --- | --- | --- |
| Domestic exports | 25.0 | 20.3 | 19.5 | 10.4 | 8.9 | 15.9 |
| Re-exports | 19.7 | 5.2 | 36.5 | 22.9 | 6.8 | 8.9 |
In 2016, the Netherlands earned around 13.3 bn euros from exports to Italy
The shutdown in public and economic activity in Italy may also affect Dutch exporters. It is not possible to predict the extent of this effect, as the developments are still unfolding. What can be calculated, however, are the earnings from exports to Italy in previous years. This so-called value added in exports which is created for the Dutch economy is calculated by deducting the costs of previously imported goods and services from the gross export value.
In 2016, the Netherlands earned 13.3 billion euros from direct and indirect exports to Italy. Direct exports to Italy generated a total revenue of 10.5 billion euros that year. Earnings from indirect exports to Italy amounted to approximately 2.8 billion euros. The share of indirect export earnings in the total earnings from exports to Italy was 21 percent. These indirect export earnings arise from semi-manufactured goods and supporting services which are first exported from the Netherlands to other countries, where they are used or further processed, before being exported to Italy. In 2016, Germany processed 604 million euros worth of Dutch goods and services in its exports to Italy, good for 22 percent of total Dutch indirect export earnings in trade with Italy. Germany was followed by Belgium and Ireland with 405 million and 316 million euros respectively.
Nearly 80 percent of Dutch export earnings in trade with Italy are from final consumption expenditure
Over 79 percent of the total earnings from Dutch exports to Italy in 2016 was ultimately destined for final consumption expenditure in Italy. Around 10.2 billion of the 13.3 billion euros in earnings from Dutch exports to Italy are related to either consumption or investment in Italy. The remaining 21 percent in Dutch export earnings - 3.1 billion euros - ended up in Italian exports to other countries. With 376 million euros, the United States is the single largest market for exports from Italy which contain Dutch semi-manufactured goods and supporting services. It is followed by Germany with 272 million euros, France with 243 million euros and China with 182 million euros.
Highest earnings from exports to Italy found in wholesale and retail trade and business services
Around 24 percent of the total Dutch export earnings in trade with Italy went to the wholesale and retail sector, while 17 percent were on account of the business services sector. The industrial sector with the highest earnings from exports to Italy was the chemical and pharmaceutical industry. In 2016, this industry earned over 1 billion euros from exports to Italy. Other industries with substantial export earnings from trade with Italy were the food, drinks and tobacco industry, the electrical engineering industry and the machinery industry.
Top 10 industries with highest earnings from direct and indirect exports (via other countries) to Italy, 2016

Direct exports (bn euros)

Indirect exports (via other countries) (bn euros)

Wholesale and retail trade
2.520
0.610
Business services
1.723
0.527
Chemical and pharmaceutical
0.814
0.242
Mining and quarrying
0.723
0.175
Transport and storage
0.488
0.197
Financial services
0.484
0.192
Food, drinks and tobacco
0.391
0.066
Agriculture, forestry and fishing
0.356
0.090
Electrical engineering
0.401
0.024
Machinery
0.343
0.054
Source: OECD, own calculations