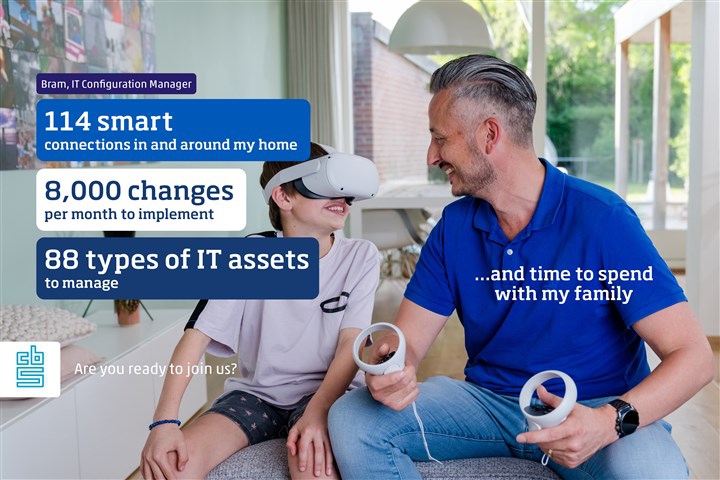 Bram - Configuration Manager
I've been working for more than 20 years now, including four years at CBS. After graduating in technical physics, specialising in control technology, I started working as a software engineer in industrial automation. Then I found out that wasn't quite it for me and enrolled in Business Information Technology part-time. With that degree in hand, I took a job with the Sittard-Geleen municipality, until I got a tip through the grapevine about a great position at CBS: that of Configuration Manager.

As the IT Configuration Manager, I oversee the IT administration at CBS and I know what in-house hardware and software we have. As a team, we make sure everything is registered correctly and the processes around it run smoothly. We retrieve a lot of information automatically. I like going around the organisation myself to meet with different colleagues. I think that's where my strength lies: I speak the IT professionals' complex language, but can also translate that well into understandable ideas and solutions. I like to structure things and this job allows me to do that.

Another rewarding aspect of working at CBS is its commitment to society. Knowing it serves a good cause gives me a great sense of pride. CBS offers its employees plenty of trust and scope for development, both professionally and personally. It' s a mature organisation, one that gives you freedom and attaches responsibilities to it. To me, CBS' greatest strength is the healthy work-life balance that is at the basis.

My family is very important to me; I want to see my children grow up and be there for them when they come home, for example when they come home sick. Sometimes family comes first, sometimes work. I'm able to make these choices consciously within my current job. I'm both a family man and a techie; this comes together nicely at home, where 114 different smart controls around the house help us with our structure. I am constantly learning, at CBS and at home!