Service imports back at pre-pandemic level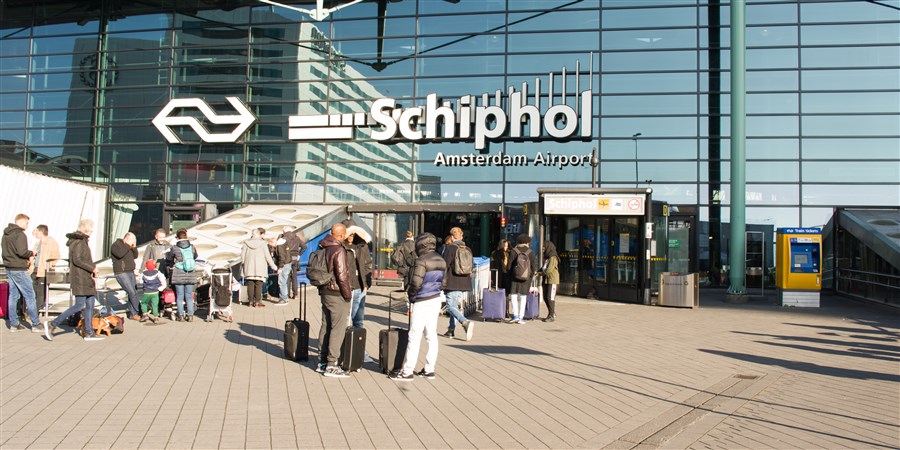 In the first three months of 2022, the Netherlands imported 53.4 billion euros worth of services. This is over 20 percent more than in the previous year. The import value of services has now exceeded the import value in 2019, the year prior to the coronavirus pandemic. The export value of services is still below its pre-pandemic level. This is evident from figures on the international trade in services and from the latest edition of the Internationalisation Monitor, released by Statistics Netherlands (CBS).
Development of Dutch trade in services1)

Jaar

Kwartaal

Exports (% change relative to 2019, quarterly)

Imports (% change relative to 2019, quarterly)

2020
Q1
-4.0
-5.6

2020

Q2
-18.2
-25.8

2020

Q3
-19.5
-27.4

2020

Q4
-18.4
-23.1
2021*
Q1
-18.1
-16.7

2021*

Q2
-13.5
-18.5

2021*

Q3
-8.1
-15.7

2021*

Q4
-3.1
-9.6
2022*
Q1
-3.8
1.2
1) Figures up to and including 2019 are based on a provisional recalculation. *provisional figures
In 2021, the Netherlands exported services worth almost 211 billion euros. This is 5.7% more than in 2020, but still 10.5 percent less than in 2019. Total Dutch goods imports amounted to nearly 201 billion euros in 2021. This is 7.2% more than in 2020, but 15.3 percent less than in 2019. The volume of international service trade thus decreased considerably in 2020 and was not fully restored in 2021. In Q1 2022, service imports were 1.2 percent up on 2019. On the other hand, service exports were still 3.8 percent lower than in the same period in 2019.
Recovery of imports mainly due to transport services
The largest increase in import value (Q1 2022) can be found in transport services. Prices of freight and container transport have risen sharply in recent years, which may partly explain the growth in import value. In addition, the Netherlands imported more business services in Q1 (+7 percent) compared to the same quarter in 2019.

The coronavirus pandemic reduced the value of travel services in particular, but also the import value of intellectual property fees fell sharply in 2020 and 2021. The Netherlands has recently implemented or announced some changes in its tax legislation, which make it less attractive for multinationals to channel certain income flows through the Netherlands. In the run-up to the fiscal changes in 2021 and the upcoming changes after that year, some companies have chosen to shift certain income flows to other countries.
Service imports, Q1 2022*

Service imports (million euros change relative to Q1 20191))
Transport services
2707
Business services
1274
Telecommunications, computer
and information services
936
Financial services
852
Other services
361
Travel
-652
Use of intellectual property
-4843
1) Figures up to and including 2019 are based on a provisional recalculation. *provisional figures
Restructuring slowed down recovery in services trade
For companies that have shifted their income flows (restructuring) due to the fiscal changes in the Netherlands, the total service export value still increased in the first half of 2020. Only from the third quarter of 2020 did the export value of these companies also decline. The export value related to travel (in addition to passenger transport, this includes e.g. accommodation, travel agencies, tour operators or aviation) plummeted in 2020 and the first half of 2021, but recovered slowly from the second half of 2021 onwards in particular.

The value of exported services not directly related to travel or restructuring companies showed only a small decrease in 2020. As of Q2 2021, exports in this component were already higher than in the same period in 2019. Without the services trade that was linked to restructuring and travel, there would have been no contraction in exports, but instead services exports at the end of 2021 would be 11.2 percent higher than in Q4 2019.
Development of service exports

Jaar

Kwartaal

Travel/travel-related (% change relative to 2019, quarterly)

Restructuring (% change relative to 2019, quarterly)

All other service exports (% change relative to 2019, quarterly)

2020*
Q1
-14.0
22.4
-6.9

2020*

Q2
-76.2
14.6
-9.5

2020*

Q3
-51.2
-19.5
-8.9

2020*

Q4
-65.7
-27.7
-5.8
2021*
Q1
-67.4
-42.1
-2.1

2021*

Q2
-64.8
-40.2
5.9

2021*

Q3
-38.6
-39.0
8.9

2021*

Q4
-34.3
-43.6
11.1
*provisional figures