Rising imports and exports of construction services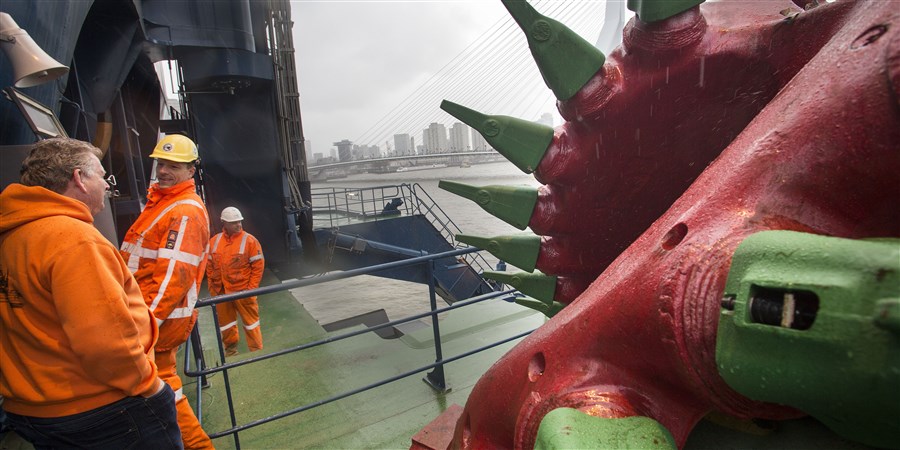 In the first three quarters of 2018, Dutch companies had transactions with foreign companies in construction and dredging services to a total amount of 4.3 billion euros, the highest amount ever recorded over three consecutive quarters. Statistics Netherlands (CBS) reports this on the basis of the latest figures on international service trade.
Of the 4.3 billion euros generated by international trade in construction and dredging services, imports account for around 2.1 billion and exports for 2.2 billion. Imports include payments to foreign companies for construction activities in the Netherlands as well as purchasing of goods or services in support of foreign construction and dredging projects. Exports concern the revenues from foreign companies for Dutch construction services (mainly) supplied abroad.
Relative to the first three quarters of 2017, imports were up by 30 percent and exports by 18 percent. The total of imports over 2018 represented a record amount when measured over three consecutive quarters, while the current level of exports was only slightly exceeded in 2015.
Construction services are naturally volatile as they are often project-based. The growth in imports and exports in 2018 was related to the start of several large new projects. The main projects are in wind turbine production and the installation of various types of machinery and production lines, either by foreign companies in the Netherlands or by Dutch companies abroad.
International trade in construction and dredging services, first three quarters

| | Imports (bn euros) | Exports (bn euros) |
| --- | --- | --- |
| 2014 | 1.65 | 2.04 |
| 2015 | 1.86 | 2.26 |
| 2016 | 1.65 | 1.92 |
| 2017 | 1.58 | 1.89 |
| 2018 | 2.05 | 2.23 |
| | | |
More exports to Germany, UK and Denmark
Construction activities undertaken by Dutch companies abroad have increased relative to four years previously, most notably in Germany, the United Kingdom and Denmark. Germany's share in these exports grew from 18 percent in 2014 to 25 percent in 2018, the UK's share from 9 to 19 percent and Denmark's share from 1 to 7 percent. These three countries and Belgium combined are currently the most important clients of Dutch builders and dredgers. The country with the largest share outside of the EU is the United Arab Emirates (3 percent) with prestigious projects such as the Dubai Palm Islands, delivered by Dutch marine constructors.
Export of construction and dredging services

2018* (%)

2014 (%)

Germany
25
18.1
United Kingdom
19.4
9.4
Belgium
10.4
11.2
Denmark
6.9
1.3
France
3.6
3.7
United Arab Emirates
2.6
1.2
* first three quarters
More imports from France and Romania
In the import of construction and dredging services as well, Germany is the chief trading partner (23 percent), currently followed by Belgium (12 percent), the United Kingdom (11 percent), France (6 percent) and Romania (5 percent). The significance of Germany and Belgium as suppliers has declined, while the United Kingdom, France and Romania have emerged as major trading partners. A significant increase was seen in payments to French companies (a share increase from 2 percent in 2014 to 6 percent in 2018) and Romanian companies (from 0.4 to 5 percent).
Import of construction and dredging services

2018* (%)

2014 (%)

Germany
22.8
26.2
Belgium
11.6
17.8
United Kingdom
10.8
5.2
France
5.6
2
Romania
4.6
0.4
* first three quarters