Increased R&D spending in 2016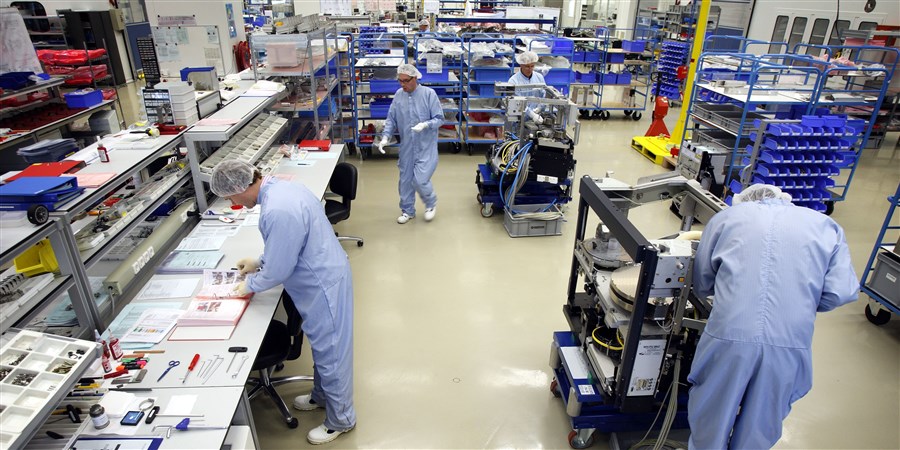 In 2016, Dutch enterprises, institutions and the higher education sector spent nearly 14.3 billion euros on Research & Development (R&D), the highest expenditure on R&D ever recorded. In terms of private spending on R&D, the province of Noord-Brabant is the front runner. Furthermore, Dutch entrepreneurs are outsourcing more R&D work abroad. This is shown by new figures on R&D and in the latest edition of the Internationalisation Monitor 2017, third quarter as released by Statistics Netherlands (CBS).
In 2016, expenditure by companies, in higher education and at other institutions towards their own R&D grew by more than 4 percent. Especially corporate R&D spending was up, namely by 462 million euros relative to 2015, amounting to 8.1 billion euros. R&D expenditure at higher education and other institutions was up as well, albeit more modestly by 2 percent. Not only R&D expenditure but also the number of labour years went up namely by 3 percent to more than 133 thousand.
R&D expenditure in the Netherlands

2014

2015

2016

All sectors
13.268
13.696
14.28
Private sector
7.433
7.669
8.131
Institutions
1.572
1.634
1.649
Higher
education
4.262
4.393
4.5
R&D intensity stable in the Netherlands
R&D expenditure is generally presented in relation to gross domestic product (GDP). In 2016, R&D intensity stood at 2.03 percent, roughly equal to 2015 (2.02 percent) and 2014 (2 percent), but higher than in previous years (1.9 percent). The Dutch government seeks to achieve an R&D intensity of 2.5 percent.
At around 2 percent, the Dutch score lies around the European average. Similar amounts are spent by countries such as Sweden, Denmark and Austria, but these have a higher R&D intensity as set against GDP. The United Kingdom and Italy spend more on R&D spending, but their R&D intensity is lower than in the Netherlands.
More corporate R&D carried out abroad
Companies can break down their production processes into smaller projects which may be set up elsewhere in the world. This can be done with the knowledge-intensive parts of the process or even with entire R&D divisions. Dutch R&D expenditure abroad increased by nearly one-third between 2014 and 2016, from nearly 1.5 billion euros in 2014 to 2.2 billion euros in 2016. The majority of outsourced R&D abroad is on account of the private sector.
At the same time, the Netherlands is generating more and more R&D revenues from abroad. Revenues increased from 1.7 billion euros in 2014 to 2.2 billion euros in 2016, representing around one-sixth of total R&D expenditure in the Netherlands. Therefore, last year's revenues from abroad were approximately equal to the Netherlands' own spending abroad. There is however a clear difference between R&D expenditure abroad by the private sector on the one hand and by institutions and higher education on the other; net expenditure by the private sector is significantly higher abroad than spending by institutions and in higher education. The latter are net recipients of R&D revenues coming from abroad.
Noord-Brabant leads in private R&D expenditure
Around 30 percent of private R&D expenditure is on account of enterprises in Noord-Brabant. Together with Zuid-Holland, this province represents nearly half of total private R&D expenditure in the Netherlands. Noord-Holland province follows in third place.
The bulk of R&D activity can be found in the south-eastern part of Noord-Brabant around Eindhoven. The private sector in this region spent more than 1.5 billion euros on its own R&D, equivalent to 13 thousand labour years. In Noord-Holland province, the Greater Amsterdam region is a dominant player with around half of all corporate R&D activities in the province undertaken there. Furthermore, Greater Rijnmond and the agglomeration of The Hague together account for nearly half of R&D activities by enterprises in Zuid-Holland. In the provinces of Groningen, Drenthe and Zeeland, R&D spending is lowest as against gross regional product.
Private R&D intensity, 2015

| | R&D intensiteit ( percent) |
| --- | --- |
| Groningen | 0.461 |
| Friesland | 0.711 |
| Drenthe | 0.678 |
| Overijssel | 1.090 |
| Gelderland | 1.024 |
| Flevoland | 0.895 |
| Utrecht | 0.872 |
| Noord-Holland | 0.853 |
| Zuid-Holland | 0.986 |
| Zeeland | 0.478 |
| Noord-Brabant | 2.326 |
| Limburg | 1.191 |