Unemployment falls to 550 thousand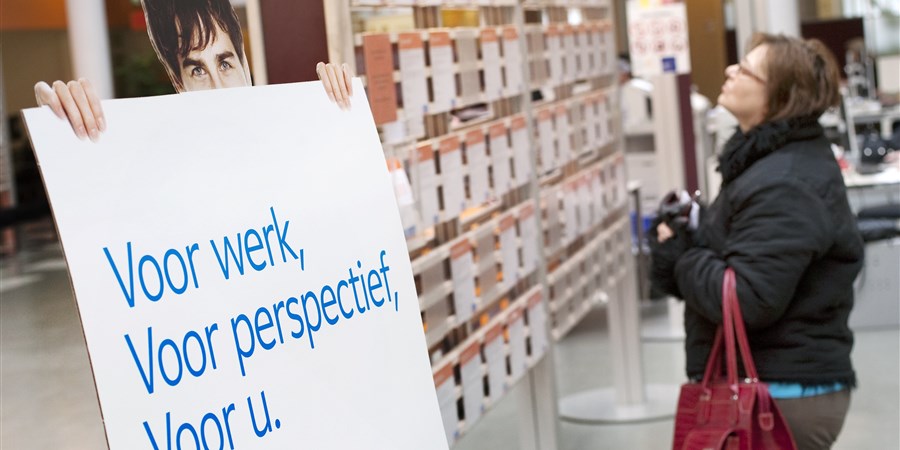 According to Statistics Netherlands (CBS), unemployment continues to fall. In June, 550 thousand people, i.e. 6.1 percent of the labour force were unemployed, as against 588 thousand six months ago. Since December 2015, more than 80 thousand people have found paid employment. The Employee Insurance Agency (UWV) granted 438 thousand unemployment benefits by the end of June.
Unemployed and unemployment benefits, Jan 2011-June 2016
Following the adoption of the Work and Security Act (Wwz), a new classification method on the basis of income adjustment was introduced in July 2015, which structurally increased the number of current unemployment benefits; firstly, because people who start working may still be entitled to income supplement under the Unemployment Act (WW) and secondly, their entitlement to a benefit is only terminated after a check has been performed to verify whether their self-reported income matches the income as stated by their employer. These data are available in the Policy administration.
UWV: fewer new unemployment benefits
UWV paid out 262 thousand new unemployment benefits in the first six months of 2016, a decline by more than 27 thousand (-9 percent) relative to the same period last year. The decline among over-55s was only 2 percent. The number of new benefits fell across all sectors in the first six months of 2016, except in the segment retail department stores. The number of benefit applications fell sharply in the sectors construction (-21 percent) and health care and welfare (-20 percent).
Unemployment down by nearly 40 thousand
Unemployment decreased from 588 thousand in December 2015 to 550 thousand in June 2016. The unemployment rate fell from 6.6 to 6.1 percent during this period. Unemployment fell for both genders, but more women than men are unemployed: 6.6 versus 5.7 percent. In spite of a slight increase in Q1, youth unemployment was lower in June than in December.
Unemployment rate (seasonally adjusted), by gender
More people in work
The population in the Netherlands includes 12.8 million people in the age category 15-74, of whom 65.7 percent were working in paid employment in June (nearly 8.4 million people: 4.5 million men and approximately 3.9 million women). Since the beginning of this year, the number of people in paid employment has risen by more than 80 thousand. More women than men found employment.
The remaining 4.4 million 15 to 74-year-olds do not have paid jobs: 550 thousand are unemployed and 3.8 million are not seeking employment or are not immediately available for the labour market. In the latter group women are in the majority with 2.2 million.
Total and employed labour force (seasonally adjusted), 15-74 yrs
Unemployment falls less rapidly, because more people enter the labour market
In the first six months, the number of people who found employment was higher than the number of people who became unemployed. This is due to people who (re-)enter the labour market and do not immediately find a job. As a result, unemployment declines less rapidly. Unemployed who find paid employment outnumber employed who become unemployed.
UWV: sustained decline current unemployment benefits
The number of current unemployment benefits has fallen for the third month in a row. By the end of June, more than 438 thousand people received unemployment benefits from UWV, 9 thousand fewer (-2 percent) than in May. The number of benefits paid to under-25s decreased most (-7 percent). Proportionally, the number of unemployment benefits declined most dramatically in sectors strongly affected by seasonal variation, like construction (-10 percent), agriculture (-9 percent) and temp agencies (-9 percent). In education, the number of benefits rose by 3 percent.