Focus on globalisation together with University of Groningen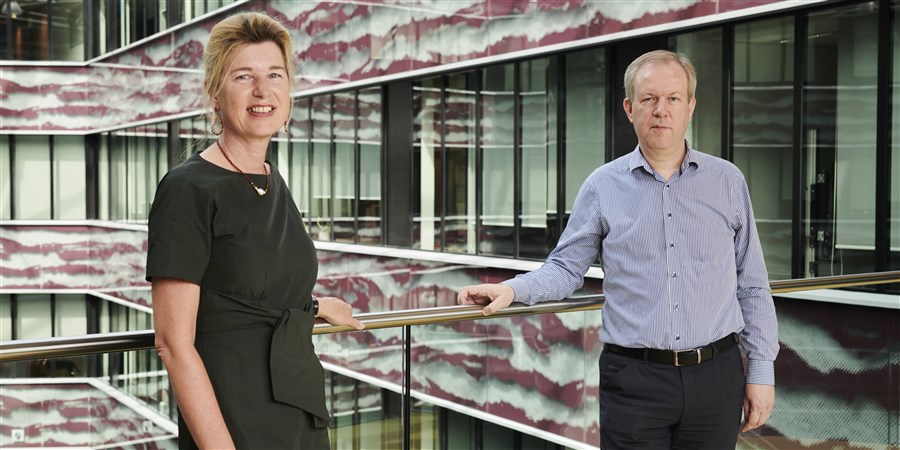 Statistics Netherlands (CBS) is increasingly joining forces with universities and universities of applied science. In addition to activities such as joint research and the creation of endowed chairs, CBS also offers PhD candidates the opportunity to conduct research – subject to strict conditions – using anonymised CBS data. One recent example of this scheme is PhD candidate Aobo Jiang's study of offshoring: relocating work to a country outside the Netherlands. This study – which was financed by the Dutch Research Council (NWO) – further strengthened the collaboration between CBS and the University of Groningen.
Centre of expertise
CBS Director

Sandra Wilms

explains how her sector, Business Statistics Heerlen, established a centre of expertise for globalisation some years ago. 'Through this centre of expertise, we are creating insights into the international actions of enterprises and the effects those actions have on the Dutch economy, both nationally and regionally. This centre has already enabled us to seek out opportunities for collaboration with external partners, such as the University of Groningen, generating benefits for both sides. Those benefits include exchanging expertise about each other's methods and techniques, issuing scientific articles and publications together, and offering each other inspiration.'

Basic prerequisites
Wilms is very glad that PhD candidates such as Jiang want to conduct some of their research with CBS, but those candidates do have to meet certain basic conditions. 'It is important for the candidate to actually work at CBS; only then can you really work as a team. CBS colleagues can draw on their experience to advise candidates about things they will encounter in practice, and PhD candidates can also work with us on other studies and gain extra expertise. That also helps CBS researchers increase their knowledge of the latest academic insights.' Wilms stresses that equality is at the heart of the collaboration. 'That's why it's so important to set out clearly beforehand how the research will go, and to build in certain standards. Expectations must be clearly defined on both sides.'

PhD programme
Aobo Jiang began her PhD programme in

September 2015

, and she started working with CBS to research offshoring soon after. Why did Jiang choose that topic? 'It's become a relevant and important issue in the last

30 years

, because of its enormous influence on the job market and on countries' economic development. CBS' unique microdata gave me the opportunity to study the effects of offshoring on the job market and on the productivity of enterprises in

the Netherlands

.' Jiang is keen to praise the guidance she received from CBS. 'My colleagues helped and guided me in every possible way. It was an interesting experience, seeing how totally different it is to work for an organisation like CBS compared to working at the university. It's easier to interact with colleagues and everyone's doors are always open. Switching between CBS and the university enriched my PhD research and made it more productive.'

Context as well as raw data
Oscar Lemmers, a CBS researcher at the Centre for Policy Statistics, supervised Jiang at CBS during her PhD programme at the University of Groningen. 'Jiang wrote two chapters of her thesis, "Offshoring, Functional Specialization and Economic Performance", at CBS. She analysed data about relocating business operations overseas. That sparked a collaboration between us and the University of Groningen that generated new insights into the impact of globalisation on socioeconomic outcomes, new datasets and a joint scientific article. We showed that industrial enterprises that focus on Research and Development or marketing are significantly more productive than industrial enterprises that specialise in production. What this means in practice is that not only is CBS able to show that we have relevant numbers; we can also offer context.'

Interesting results
Gaaitzen de Vries is an associate professor in Economics and Business at the University of Groningen. He lectures on trade and development and is doing research in these areas. In that context, he also supervises PhD candidates such as Jiang. 'She carried out detailed research into relocating business operations overseas. We already had an idea of how that worked at a macro level, and there were some relevant indicators, but we didn't really know which enterprises were doing which activities where. One interesting finding is how business functions, in areas such as logistics, manufacturing and marketing, vary between the different regions of the Netherlands. When enterprises relocate specific activities overseas, the impact that has on labour and incomes should also be researched by region.'

Empirical
According to

De Vries

, CBS' microdata were particularly valuable to Jiang's research. 'CBS has the data, and a wealth of knowledge about that data; in the academic world, we try to provide research questions and methods. The collaboration got going quickly, because we both carry out empirically-driven research.' For

De Vries

, this collaboration has gone so well that he expects to do more work with CBS in the future.

Aobo Jiang obtained her PhD from the University of Groningen in June of this year. Due to measures aimed at combating the coronavirus, the ceremony took place by video call. Her supervisors

Gaaitzen de Vries

and

Marcel Timmer

(who is also the Deputy Director of the CPB Netherlands Bureau for Economic Policy Analysis) joined the call. Her research was sponsored by the Dutch Research Council (NWO).