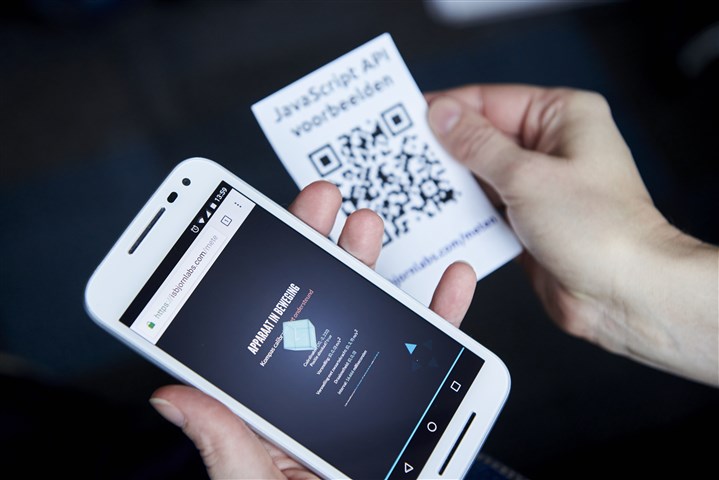 CBS and Utrecht University start innovative survey network
For a number of years now, CBS has been collaborating intensively in many areas with Dutch universities: by way of staff exchange schemes and joint research projects, for example. CBS and Utrecht University have been doing research into survey methodology for many years. This partnership was given an extra boost recently, as they decided to start a network for ICT innovation in the area of primary observation. The project was launched officially in October 2016 during a mini-symposium.
Smartphones and tablets
Barry Schouten works as a methodologist at CBS and has been seconded to Utrecht University as a researcher. His discussions with Peter van der Heijden, professor of statistics at the university and university researchers Peter Lugtig and Vera Toepoel resulted in an idea of extending the existing partnership further than only retrospective survey analysis. They decided to actively examine how new technology can be used. 'Respondents complete questionnaires on their smartphones and tablets, but often stop prematurely because the questionnaires are not suited to these mobile devices. Mobile devices also offer opportunities to use sensor data. We have investigated the possibilities in this area together with the data collection department and the IT departments of CBS and Utrecht University, and the project is now about to start', explains Schouten.
Building and testing new ICT
The research focuses primarily on surveys using mobile devices. Later it will include other options, such as social media and web portals. In Heerlen, trials will be done with visualisations and the usability of the CBS website will also be tested, in addition to StatLine and StatMine. Schouten: 'We are conducting a pilot for the next two years. Physical spaces– so-called usability labs – are being equipped at both CBS in Heerlen and Utrecht University to build and test new ICT. Eight people, from both institutions, will work alternately in the two labs.' Testing will concentrate on three aspects: questionnaire design and lay-out, modular questionnaire design and use of mobile device sensor data; the latter for mobility, ICT use, expenditure and time use, and health.
Mini-symposium
During the mini-symposium, director Astrid Boeijen of CBS and Professor Van der Heijden of Utrecht University signed a document endorsing the partnership in the area of innovative surveying. A number of staff from the two institutions also gave lectures, among other things on questionnaire design for smartphones and tablets, modular questionnaire design for mobile devices, and current use of sensor data for statistics.
More information?
For further information on this project and possibilities for collaboration or advice, please contact Barry Schouten (jg.schouten@cbs.nl) or Peter Lugtig (P.Lugtig@uu.nl).