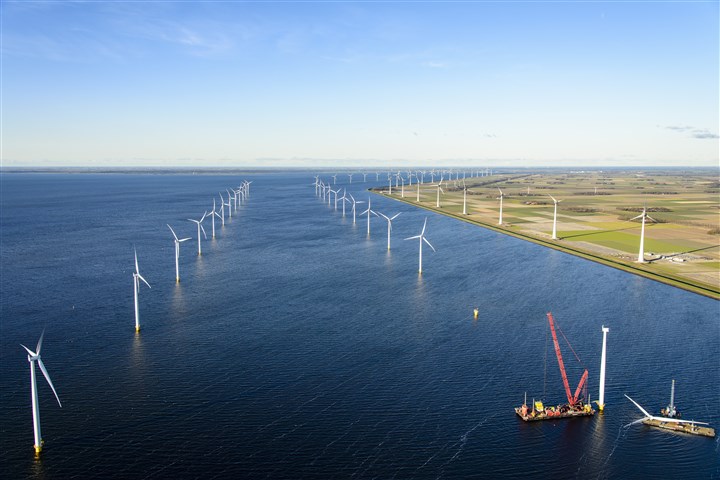 Value added of the environmental goods and services sector
The contribution of the environmental goods and services sector (EGSS) to Dutch gross domestic product (GDP) rose from 1.9 percent in 2001 to 2.5 percent in 2015, an increase of 28 percent. In absolute terms it increased from 9.1 billion euros to 16.7 billion euros. In general, the EGSS has become more important in the Dutch economy since 2001.
Value added environmental goods and services sector

| | Value added environmental goods and services sector (% of GDP) |
| --- | --- |
| 2001 | 1.9 |
| 2002 | 1.9 |
| 2003 | 2 |
| 2004 | 1.9 |
| 2005 | 2 |
| 2006 | 2 |
| 2007 | 2 |
| 2008 | 2.1 |
| 2009 | 2.2 |
| 2010 | 2.3 |
| 2011 | 2.4 |
| 2012 | 2.4 |
| 2013 | 2.4 |
| 2014 | 2.4 |
| 2015 | 2.4 |
The EGSS consists of companies and institutions that produce goods and services that measure, prevent, limit, minimise or correct environmental damage, resource depletion and resource deterioration. Gross value added is measured in basic prices. It equals production (in basic prices) minus intermediate consumption (in purchasing prices).
The issue
Production of environmental goods and services reflects the economic opportunities created in a greener economy. The environmental sector is generally seen as a sector with great growth potential, generating wealth and creating jobs. The EGSS includes both environmental protection and resource management activities, with increasing attention for the latter in recent years. Renewable energy production and energy saving activities continue to grow, but new initiatives such as the circular economy, which has a great growth potential in terms of both value added and employment, are becoming more and more popular. Gross value added is mainly used to compare the income added by the EGSS to the national income, i.e. measuring the wealth generated by the EGSS. The main challenge is to promote production of EGSS across a wide range of economic sectors and to strengthen the competitiveness of the sector by increasing exports.
Analysis
The government sector generates more value added than other sectors of industry: 29 percent, resulting from activities such as public administration, water quantity and quality management .and other environmental services. Water supply and waste management (non-public accounts for 18 percent of value added), wholesale trade (12 percent) and specialised industry (10 percent) also generate sizeable shares of total value added.
In terms of types of activities (often occurring in various industries), most value added is generated by the sustainable energy sector (34 percent), government activities (29 percent), environmental services by specialised companies (12 percent), and the wholesale trade in waste and scrap (10 percent). The remainder of the total value added is generated by a variety of different activities, including manufacturing of environmental equipment, environmental consulting and engineering, preparation for recycling and organic farming. Production of renewable energy showed a huge increase in contribution to the value added of the EGSS, from 1 percent in 2001 to 11 percent in 2015.
International comparison
Internationally, the Netherlands is in the middle range for the contribution of the environmental goods and services sector to GDP. The Netherlands (2.4 percent) ranks 5th of the 12 OECD countries with figures available in 2014.Estonia is tops the list with 4.1 percent, while Ireland is at the bottom with 0.9 percent.
Value added Environmental Goods and Service Sector, 2014

Value added Environmental Goods and Service Sector (% of GDP)

Estonia
4.1
Austria
3.9
Poland
3.1
Denmark
2.8
Netherlands
2.4
Czech Republic
1.9
Germany
1.8
Slovenia
1.7
United Kingdom
1.6
Sweden
1.6
France
1.4
Ireland
0.9
Source: Eurostat