Defence expenditure 1.2 percent of GDP in 2018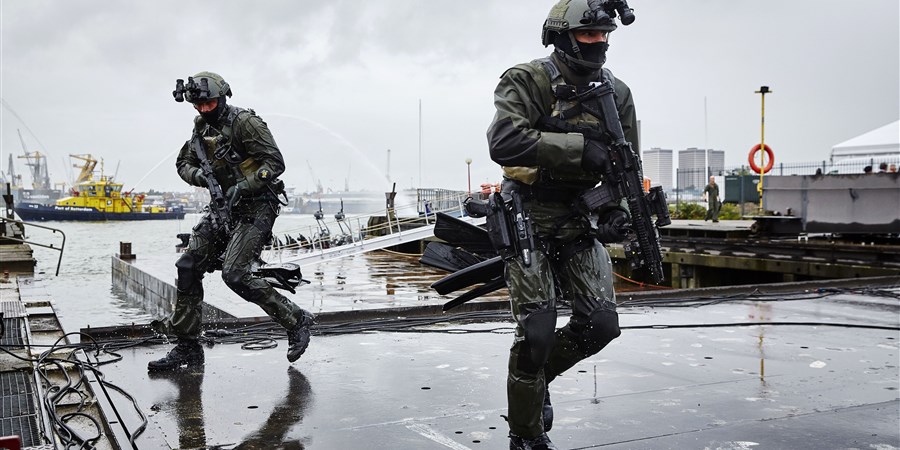 In 2018, the Netherlands spent 1.2 percent of its GDP on defence. Military expenditure rose by over 0.5 billion to 9.1 billion euros. This represents a rise of 25 percent since 2014. Statistics Netherlands (CBS) reports this based on new figures.
Expressed as a percentage of GDP, there was a decline in defence expenditure between 1996 and 2014. The share in GDP was at an all-time low of 1.1 percent in 2014. It rose again to 1.2 percent of GDP in 2018.
Defence expenditure as a percentage of GDP

Jaar

Expenditure (%)

1996
1.80
1997
1.66
1998
1.56
1999
1.62
2000
1.46
2001
1.48
2002
1.43
2003
1.41
2004
1.37
2005
1.22
2006
1.27
2007
1.27
2008
1.25
2009
1.36
2010
1.27
2011
1.25
2012
1.14
2013
1.14
2014
1.09
2015
1.12
2016
1.13
2017
1.16
2018*
1.17
*provisional figures
Largest cost item are wages
In 2018, nearly half (49 percent) of defence expenditure went to defence personnel as wages. Wage costs have amounted to slightly over 4 billion euros in the past ten years. Spending on wages has declined proportionally, however, since 2014. This is due to the rise in defence expenditure and investments in particular. In 2018, two-thirds of these investments consisted of military assets. These mainly included military aircraft, but also military vehicles, tanks and armament. One-third of investments were spent on other assets such as building facilities and computers.
Defence expenditure, by cost item

Jaar

Remunerations (bn euros)

Purchase of goods and services (intermediary use) (bn euros)

Gross investments (bn euros)

Other expenditure (bn euros)

2010
4.3
2.3
1.3
0.3
2011
4.2
2.2
1.5
0.3
2012
4.3
2.1
0.9
0.3
2013
4.3
2.4
0.7
0.1
2014
4.3
2.7
0.4
-0.1
2015
4.2
2.5
0.8
0.2
2016
4.1
2.8
0.9
0.3
2017
4.3
2.8
1.3
0.2
2018*
4.4
3.1
1.3
0.2
*provisional figures
Dutch defence expenditure lagging behind internationally
Various different figures are quoted where the size of Dutch defence expenditure is concerned. Data in this news release are based on the so-called Classifications of the Functions of Government (COFOG), which include all government expenditure, broken down by main socioeconomic function. This approach is slightly different from that of the Ministry of Defence, in which expenditure on the Royal Marechaussee, for example, is fully included as well. In the COFOG classification, only a portion of this particular expenditure is allocated to the purpose of defence. In addition, NATO applies yet another delineation in order to monitor the compliance of its members with the agreed defence spending target of 2 percent of GDP.
These different definitions mean that there are minor discrepancies between the three figures. As figures over 2018 have not yet become available for all countries, the 2017 figures serve as the basis for the international comparison. Expressed as a percentage of GDP, the three different figures on the Netherlands were more or less the same in 2017, namely 1.2 percent after rounding.
In comparison with other countries, the Netherlands' defence expenditure as a percentage of its GDP has been relatively low. The United States is the front runner with more than 3 percent. When setting off defence expenditure against the size of the population instead of GDP, the Netherlands almost ranks top level among the NATO memberstates with nearly 500 euros per inhabitant in annual spending over 2017.
Defence expenditure by NATO member states, percentage of GDP, 2017

Land

Defence expenditure (%)

United States
3.1
Greece
2.5
Turkey
2.2
NATO members
2.0
Estonia
2.0
United Kingdom
1.9
France
1.8
Romania
1.8
Norway
1.7
Poland
1.7
Lithuania
1.7
Latvia
1.7
Italy
1.3
Canada
1.3
Albania
1.2
Denmark
1.2
NATO members, excl. US
1.2
Croatia
1.1
Bulgaria
1.1
Netherlands*
1.1
Slovakia
1.0
Germany
1.0
Hungary
1.0
Portugal
0.9
Slovenia
0.9
Spain
0.9
Belgium
0.8
Czech Republic
0.8
Luxembourg
0.5
Iceland
0.1
Source: CBS, Eurostat, OECD (based on COFOG), SIPRI
*In this comparison, Eurostat uses the provisional figure for the Netherlands; the definitive figure over 2017 for the Netherlands' defence expenditure is equivalent to 1.2% of GDP after rounding.
Majority of military personnel live in Noord-Brabant
In response to media enquiries, CBS has studied provinces of residence of military personnel in the Netherlands. The province with the highest share of residents employed by the military is Noord-Brabant. Eighteen percent of the defence workforce live in this province. Gelderland comes second with 15 percent of the workforce. Both of these provinces have a relatively high number of military barracks and training grounds. The lowest share of defence personnel is found in Zeeland. The province with the highest share of civilian personnel is Zuid-Holland.
Military personnel by province of residence, 2018

| Provincie | Statcode |
| --- | --- |
| Groningen (PV) | 1070 |
| Friesland (PV) | 2331 |
| Drenthe (PV) | 1499 |
| Overijssel (PV) | 2920 |
| Flevoland (PV) | 1573 |
| Gelderland (PV) | 6402 |
| Utrecht (PV) | 2970 |
| Noord-Holland (PV) | 6205 |
| Zuid-Holland (PV) | 5837 |
| Zeeland (PV) | 815 |
| Noord-Brabant (PV) | 7610 |
| Limburg (PV) | 2198 |