Half of low-skilled men aged 25-44 are smokers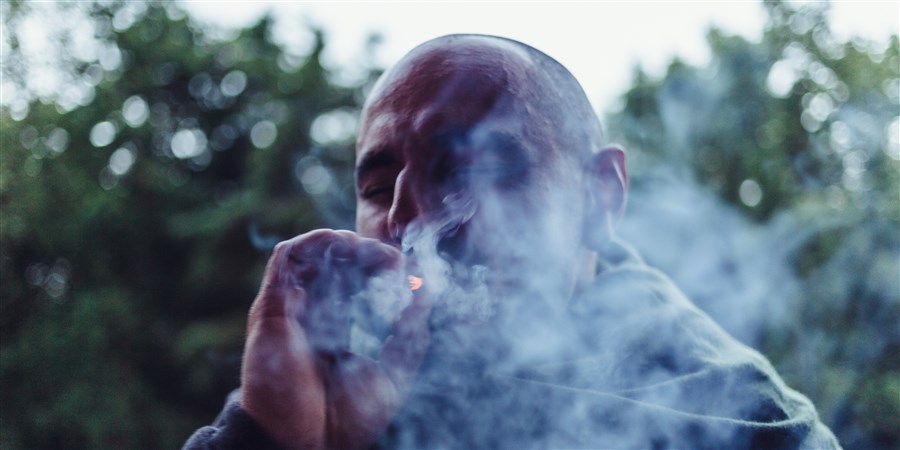 On average, 23 percent of the Dutch population aged 25 or older reported they were regular smokers in 2016/2017. The incidence of smoking is higher among men than among women. Smoking is also more common among lower than among higher educated people. The highest smoking prevalence (52 percent) is found among 25 to 44-year-old men with lower educational attainment. These are the results of a new analysis of figures from the National Health Survey/Lifestyle Monitor over 2016 and 2017. The analysis was conducted by Statistics Netherlands (CBS) in cooperation with the National Institute for Public Health and the Environment (RIVM), the Netherlands Institute of Mental Health and Addiction (Trimbos Institute) and the Dutch Centre of Expertise on Health Disparities (Pharos).
Survey data from 2016 and 2017 were combined in order to analyse disparities among smoking behaviour based on sex, age and education level.


Smoking status of the population aged 25 and over, 2016/2017

Smokers (%)

Ex-smokers (%)

Never-smokers (%)

Total
22.9
35.4
41.7
Male
27.1
36.7
36.2
Female
18.8
34.2
46.9
Education level
Low
27.1
37.6
35.3
Intermediate
25.7
35.2
39.1
High
15.6
33.7
50.7
Source: CBS, RIVM, Trimbos
Two in ten higher educated men aged 25 to 44 are smokers
The largest disparity between education levels is found among the group of men between the ages of 25 and 44. In this age category, the smoking prevalence rate is 52 percent among men with low education levels, while 17 percent used to smoke but had quit. Among the highly educated men in this age category, 22 percent are regular smokers while 23 percent are ex-smokers. The smoking behaviour of 25 to 44-year-old men with an intermediate level of education falls somewhere in the middle.
Smoking disparities based on education level among men aged 45 to 64 years are similar, although less significant. The prevalence rate declines from 39 percent among lower educated to 19 percent among higher educated men in this age group. At each education level, a share of one-third indicate they are ex-smokers. Relatively fewer men aged 65 and over are smokers, and there is no disparity among the various levels of education. Well over 60 percent say they used to smoke.


Smoking status of men (aged 25 yrs and over) by education level, 2016/2017

Smokers (%)

Ex-smokers (%)

Never-smokers (%)

25 - 44 yrs
Low
52
17
31
Intermediate
38
21
41
High
22
23
55
45 - 64 yrs
Low
39
34
27
Intermediate
28
35
37
High
19
35
46
65 yrs and over
Low
18
63
20
Intermediate
14
64
22
High
14
61
25
Source: CBS, RIVM, Trimbos

Women: fewer smokers, smaller disparities according to education level
Relatively fewer women than men are smokers and fewer women are ex-smokers. Disparities among women according to education level in terms of smoking prevalence are broadly comparable with men. A different pattern emerges only among women aged 65 and over.
In the 25 to 44-year-old age group, over one-third of lower educated women are smokers against slightly over 10 percent of the higher educated. Around one-quarter of all women in this age group have smoked at some point. The share of women who have never smoked is highest among highly educated women between the ages of 25 and 45.

There is a different pattern according to education levels among women aged 65 and over: those with an intermediate education level have the highest smoking prevalence rate. Half of the lower educated women over 65 have never smoked. This share is lower among medium and highly skilled women (both around 40 percent).


Smoking status of women (25 yrs and over) by education level, 2016/2017

Smokers (%)

Ex-smokers (%)

Never-smokers (%)

25 - 44 yrs
Low
34
21
45
Intermediate
26
25
48
High
12
23
65
45 - 64 yrs
Low
29
39
32
Intermediate
22
38
40
High
13
38
48
65 yrs and over
Low
11
38
50
Intermediate
14
45
41
High
7
50
43
Source: CBS, RIVM, Trimbos


Not only are lower educated people more likely to take up smoking, they also smoke more often on a daily basis. Smoking on a daily basis is common among one-quarter of the lower educated versus 9 percent of highly educated aged 25 years and over. Heavy smoking (at least 20 cigarettes a day) is also more prevalent among the lower educated. Six percent of the lower educated are heavy smokers, whereas heavy smoking is extremely rare among the highly educated.