Dutch agricultural exports at record high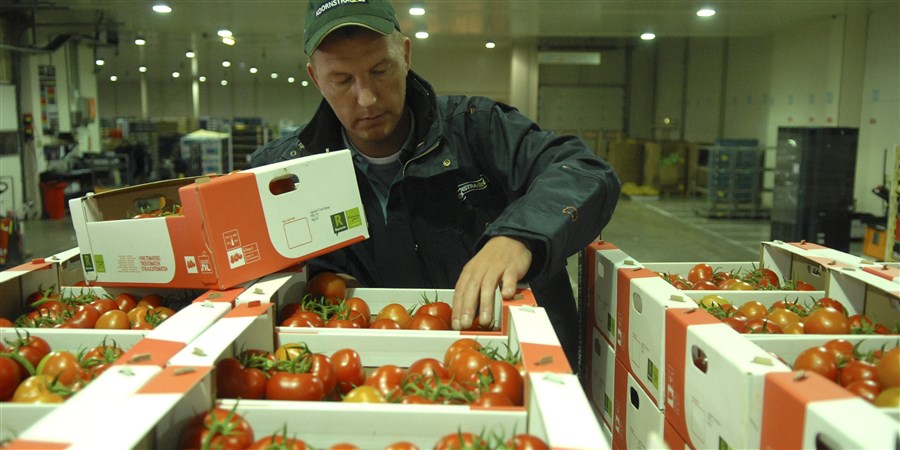 Dutch exports of agricultural goods reached a record level of 91.7 bn euros in 2017, exceeding the previous record in 2016 by more than 7 percent. This is reported today by Statistics Netherlands (CBS) and Wageningen Economic Research on the basis of joint research commissioned by the Ministry of Agriculture, Nature and Food Quality.
Dutch trade in agricultural goods

Exports (bn euros)

Imports (bn euros)

Trade balance (bn euros)

2008
65.2
41.6
23.6
2009
61.5
37.9
23.6
2010
67.4
42
25.3
2011
73.7
49.1
24.6
2012
76.9
52
24.9
2013
81
53.6
27.3
2014
81.7
52.9
28.8
2015
81.4
55.9
25.4
2016
85.5
57.5
28
2017
91.7
62.6
29.1
Source: CBS until Nov. 2017, estimate Nov. and Dec. 2017 by Wageningen Economic Research and CBS
In addition, Dutch agricultural imports as well as the agricultural surplus reached record heights. Imports of agricultural goods increased by 9 percent to 62.6 bn euros, while the agricultural surplus went up by almost 4 percent to 29.1 bn euros.
Record exports including agriculture related goods
Total agricultural exports including agriculture related goods represented a value of 100.8 bn euros in 2017. The latter include such products as milking robots or machinery for the food industry. It is the first time in history this export value has passed the 100 billion euro mark. Trade in agricultural and agriculture related goods contributed 44 and 4 bn euros respectively to Dutch GDP. Agriculture related goods are not discussed further in this news release.
Exports of Dutch-manufactured agricultural goods generated over 40 bn
Dutch agricultural exports included 66.2 bn euros in Dutch-manufactured products and 25.5 bn euros in re-exports of previously imported foreign goods. Exports of domestically manufactured goods contributed significantly more to the Dutch economy (40.5 bn euros) than re-exports of foreign goods (3.5 bn euros).
Dairy rivals leader horticulture
The most exported agricultural goods of 2017 are: horticulture including cut flowers, bulbs, plants and nursery products (9.1 bn euros), dairy (8.9 bn), meat (8.3 bn) and vegetables (6.7 bn). If we only take into account domestic produce, the same goods can be found in the top 4. Fruit ranks fifth on the list of top agricultural export goods, although this is largely re-exports of foreign produce.
Over a period of 12 months, the export value of dairy rose by 21 percent. A slower increase was seen in meat exports (6 percent), horticulture (3 percent) and vegetables (2 percent). Dairy has overtaken meat in the ranking and rivals the leader, horticulture.
Top 10 Dutch agricultural exports

2017 (bn euros)

2016 (bn euros)

Horticulture
9.1
8.8
Dairy
8.9
7.3
Meat
8.3
7.9
Vegetables
6.7
6.6
Fruit
5.4
5
Beverages
5.2
4.8
Natural fats and oils
5.1
4.3
Processed fruit and vegetables
5
4.7
Cocoa and cocoa preparations
4.9
4.7
Food industry residues, feed
4.4
4.2
Source: CBS until Nov. 2017, estimates for Nov. and Dec. 2017 by Wageningen Economic Research and CBS
One-quarter of agricultural exports go to Germany
Germany is the top destination for Dutch agricultural exports. Conversely, the Netherlands is also the largest supplier to the German agricultural market. In 2017, 23.4 bn euros in agricultural goods went east across the Dutch border, equivalent to over 25 percent of total agricultural exports. This was 5 percent more than in 2016.
Germany was followed by Belgium (10.4 bn euros), the UK (8.6 bn euros) and France (8.0 bn euros) as the largest buyers of agricultural products from the Netherlands. There was a proportionally larger increase in exports to Belgium and France than to the United Kingdom. The limited export growth to the UK is possibly linked to adverse exchange rate developments related to the upcoming Brexit.
Top 10 destinations in Dutch agricultural exports

2017 (bn euros)

2016 (bn euros)

Germany
23.4
22.2
Belgium
10.4
9.3
UK
8.6
8.5
France
8
7.1
Italy
3.7
3.4
Spain
2.7
2.5
US
2.6
2.5
China
2.4
2.2
Poland
2.3
2
Sweden
2
1.9
Source: CBS until Nov. 2017, estimates Nov. and Dec. 2017 by Wageningen Economic Research and CBS