The Netherlands largest importer of insects in the EU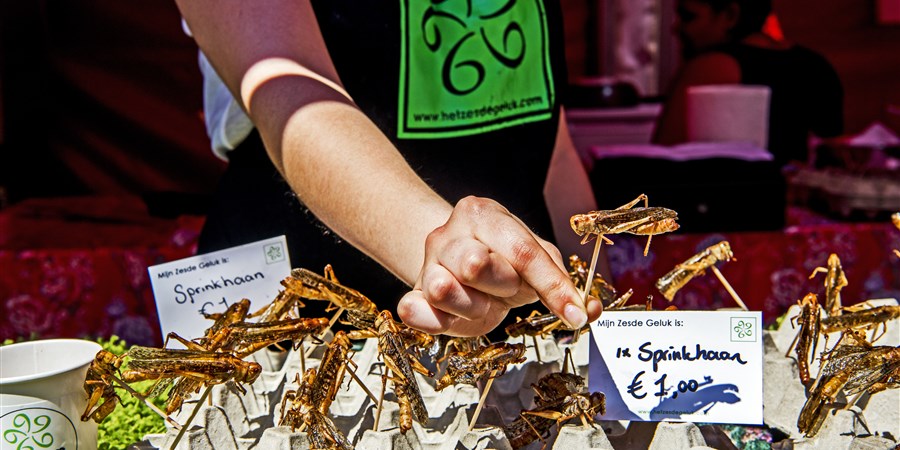 Out of all EU countries, the Netherlands spends the largest amount of money on the import of live insects. In the first half of 2017, the import value was nearly five times as high as five years previously. There are relatively fewer imports of bees, while imports of other insects are on the increase. The main country of origin is Israel. Statistics Netherlands (CBS) reports this based on new analyses of trade figures.
[video: https://www.cbs.nl/en-gb/video/d215d1e9b2dc4880871b506957ffc406]
Insects are used for the pollination of agricultural crops (e.g. bees) and for natural crop protection (e.g. parasitic wasps). They are also increasingly utilised for human and animal consumption, e.g. mealworms and grasshoppers. The Netherlands is recognised globally for its innovative approach towards the use of insects.
Utilisation mainly domestic
In the first half of 2017, the Netherlands imported 8.2 million euros (390 thousand kg) worth of live insects making it the largest importer of insects in the European Union, followed by Belgium and France. These three countries together account for almost 60 percent of total insect imports into the EU.
Around one-third of insect imports are re-exported. In other words, the bulk of insects of foreign origin is for domestic use. Insects are also being bred locally by Dutch farmers.
Import value of live insects, first half of 2017
Bees ( million euros)
Other insects ( million euros)
Netherlands
2.5
5.7
Belgium
0.3
7.1
France
1.7
4.9
Spain
3.4
0.5
Italy
0.2
2.4
United Kingdom
1.1
1.1
Germany
0.1
1.9
Austria
0
1.5
Denmark
0.1
0.9
Poland
0
0.8
Other EU countries
0.7
1.2
Source: CBS, Eurostat
Bees overtaken by other insects
In the first six months of 2012, the trade in bees accounted for 60 percent of total insect imports, representing an import value of slightly over 1 million euros. This flew up to 6 million euros one year later, in 2013. By the first half of 2017, it had decreased to 2.5 million euros or 30 percent of the total import value of insects. Other insects comprised seventy percent of live insect imports. Over a period of five years, their import value increased eightfold to 5.7 million euros.
Import value of bees and other insects, first six months

| | Bees (million euros) | Other insects (million euros) |
| --- | --- | --- |
| 2012 | 1.1 | 0.7 |
| 2013 | 6.2 | 2.2 |
| 2014 | 3 | 2.2 |
| 2015 | 1.8 | 4.2 |
| 2016 | 2.6 | 5.2 |
| 2017 | 2.5 | 5.7 |
Third largest insect exporter
The Netherlands takes up third place in exports of live insects with an export value of 5.6 million euros. The largest exporter is Belgium with 15 million euros, followed by Slovakia with 6.2 million euros (almost entirely consisting of bees exports).
Assassin bugs from Israel
Many of the imported insects originate from Israel. Imports from Israel accounted for 5.6 million euros over the entire year of 2016, equivalent to 40 percent of total imports. Most of these insects were assassin bugs for natural crop protection. Dutch imports of insects from Slovakia amounted to 2.6 million euros; these were almost exclusively bees. The United Kingdom supplies nearly 2 million euros worth of insects. Dutch insect exports have Mexico as their main destination with nearly 2.6 million euros worth of insects from the Netherlands in 2016, i.e. 30 percent of total insect exports.
Import and export value of live insects, main countries, 2016

| | Bees (million euros) | Other insects (million euros) |
| --- | --- | --- |
| Imports | | |
| Israel | 0 | 5.6 |
| Slovakia | 2.6 | 0 |
| United Kingdom | 0 | 1.9 |
| Belgium | 0.7 | 1.1 |
| Germany | 0.5 | 0.1 |
| | | |
| Exports | | |
| Mexico | 0 | 2.6 |
| Germany | 0.6 | 0.1 |
| Turkey | 0 | 0.5 |
| Belgium | 0.4 | 0 |
| France | 0.3 | 0.1 |
| | | |