Half of over-85s feel healthy, also in care homes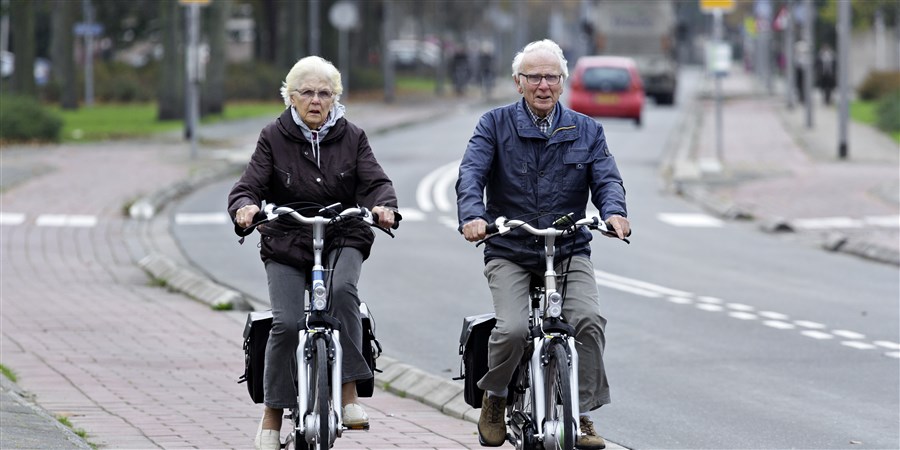 Older people who live independently see their own health status as declining with age, whereas those who live in care institutions see themselves as progressively healthy. In fact, people aged 85 and over who live in nursing and care homes are just as likely to feel healthy as those living independently, even though they suffer more health problems and physical limitations. Statistics Netherlands (CBS) reports this based on new analyses in the Health Survey and Survey Older persons in nursing and care homes.
Elderly who perceive their health as good, 2015/'16

| | Living in care or nursing home | Living independently |
| --- | --- | --- |
| 55 to 74 yrs | 26.9 | 68.2 |
| 75 to 84 yrs | 33.3 | 57.2 |
| 85 yrs or older | 46.2 | 47.2 |
In 2016, around 116 thousand people aged 55 and over were long-term residents of a nursing or residential care home. They represent 2 percent of the population aged 55 and over. Thirty percent of these residents are 90 years or over, and three-quarters are female. The number of people living in nursing and care homes has been falling for years. In 1998, these homes counted 114 thousand people aged 55 or older, or 4 percent of all over-55s. Not only has the share of people living in care institutions dropped compared to 1998; the average age of these residents has increased as well.

Institutionalised elderly: many limitations and medical conditions
In 2015/'16, the Netherlands Institute for Social Research (SCP) and CBS conducted a survey among older persons in nursing and care homes. They interviewed

1.6 thousand

residents on their health status and living conditions. In the past, these elderly people fell outside the scope of CBS' surveys such as the Health Survey. Research shows that 8 in 10 people living in nursing and care homes have physical limitations. Forty-four percent of all residents suffer from serious physical limitations. For example, they have great difficulty washing themselves, using the toilet and getting dressed and undressed. Thirty-seven percent have severe physical limitations, being unable to get in or out of bed without assistance or get up from a chair by themselves.
Most residents are affected by more than one chronic disorder. Nearly

60 percent

have two to four disorders, one-quarter have five or more. As few as

4 percent

of the elderly have no chronic medical condition at all. Common disorders are involuntary urine loss

(55 percent)

, joint wear or chronic inflammation of the joints such as arthrosis or rheumatoid arthritis

(42 percent)

, diabetes

(21 percent)

or the consequences of a stroke

(18 percent)

.

Elderly at home: more often, but not always, healthy
As opposed to the institutionalised elderly, those living independently are far less likely to have serious limitations, although daily activities are not always easy for them. Heavy domestic work, for example, is done effortlessly by only 57 percent of over-55s living by themselves. The independent older person is on average 17 years younger than the care home resident and for this reason less likely to suffer from physical limitations. It is easier to compare the oldest group living independently, i.e. those aged over 80, whose average age is almost the same as that of residents of care institutions (85 years). More than 6 out of 10 elderly persons aged 80 or older living at home have difficulty climbing the stairs, one-third struggle to get dressed and undressed, and 52 percent find it difficult to venture outdoors. Among the institutionalised elderly, these shares are 90 percent, 76 percent and 80 percent respectively.
The elderly aged 80 or older living independently are less likely to have (chronic) medical conditions than people in nursing and care homes. Certain disorders occur just as often among people in care institutions, e.g. diabetes (18 percent) and asthma, chronic bronchitis or lung emphysema (13 percent). Among the institutionalised elderly, these shares are 21 percent and 15 percent respectively. Other medical conditions such as involuntary urine loss occur far less often (28 percent, versus 55 percent among the institutionalised elderly).

Elderly with limitations by type of housing, 2015/'16

| | Living in care or nursing home | Living independently - aged over 80 yrs |
| --- | --- | --- |
| Climb stairs | 91 | 63 |
| Venture outdoors | 80 | 52 |
| Get dressed and undressed | 76 | 33 |