Unemployment falls below 5 percent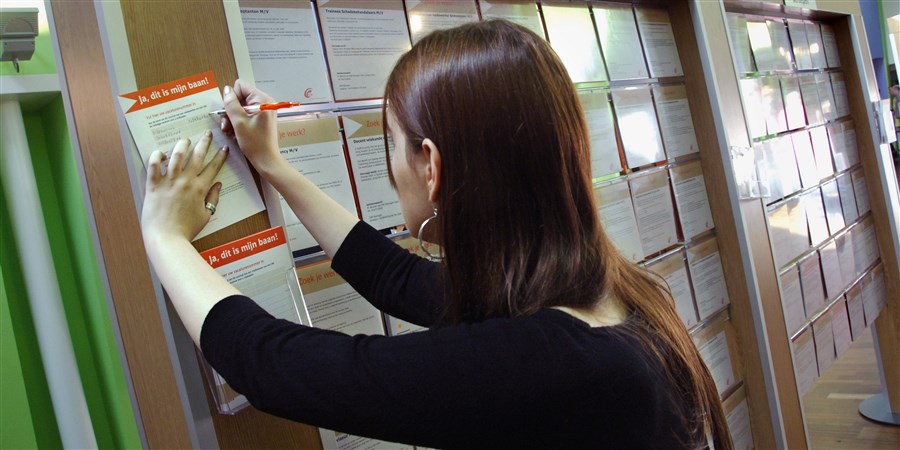 According to Statistics Netherlands (CBS), unemployment declined to 4.9 percent of the labour force in June. For the first since the summer of 2011, less than 5 percent of all people in the labour market are looking and immediately available for work.
Between April and June, unemployment declined by an average of 6 thousand per month and stood at 446 thousand in June. The number of people in paid employment grew by an average of 11 thousand per month. At the end of June, the Employee Insurance Agency (UWV) paid 372 thousand unemployment (WW) benefits.
UWV: number of benefits continues to drop
In June, just as in previous months, the number of current unemployment benefits declined compared to the preceding month. UWV reported a total number of 372 benefits this month, i.e. a decrease of 13 thousand (-3.5 percent). There was a sharper decrease among young benefit claimants under the age of 25 (-5.4 percent) than in the age group 55 years and over (-2.7 percent). Furthermore, the decline in number of unemployment benefits compared to May was sharper among men (-4.8 percent) than among women (-2.2 percent).

The number of benefits dropped substantially compared to June 2016 (-15.1 percent). Construction companies saw a more than average decline relative to one year previously (-42.5 percent).
UWV: sharp decrease in new benefits during first half of 2017
In the first six months of this year, UWV provided 208 thousand new unemployment benefits: a decline of 20.7 percent compared to the first half of 2016. In nearly all sectors, the number of new benefits decreased year-on-year. The drop was above average in the sector construction (-48.7 percent) and retail chains (-47.8 percent). The banking sector shows a different trend: the number of new benefits was up by 18.8 percent in the first six months of 2017 compared to the same period in 2016.
Youth unemployment lower, unemployment among elderly still higher than in 2011
Nearly six years ago was the last time when the unemployment rate fell below 5 percent. Unemployment went up after that until the beginning of 2014 and subsequently declined again. It declined more rapidly among the youngest age group than among people aged 45 and over.

Youth unemployment amounted to 8.9 percent in June, which was also lower than six years ago (9.5 percent). The unemployment rate in the age group 45 years and up, however, was still higher than in 2011 (4.7 against 4.1 percent). Furthermore, youth unemployment has declined more rapidly over the past three months than unemployment in older age categories. The decline in the latter group in fact levelled out at the beginning of 2017.
More people in work
There are 12.9 million people in the Netherlands in the age category 15-74 years. In June, 66.6 percent of them were in paid employment. This is equivalent to 8.6 million people (4.6 million men and 4 million women). Between April and June, the number of people in paid employment has grown by an average of 11 thousand per month. Altogether 4.3 million people aged 15-74 are not in paid employment; 446 thousand of them are unemployed.

In Q1 2017, nearly 3.9 million people were not looking or not immediately available for work. Out of this group, 3.2 million people indicated that they were not willing or able to work due to education or training, care for others, sickness or old age. The remaining more than 600 thousand people were either not available or not looking for a job.
More unemployed are finding work
The main reason for the decline in unemployment is that more unemployed find work than workers lose their job. In June, there were 118 thousand people in work who were still unemployed three months previously. In the same period, 81 thousand people who were still in paid employment three months previously had become unemployed. The decline in unemployment was slightly tempered as the number of jobseekers who could not find work (167 thousand) exceeded the number of unemployed who gave up looking for work (148 thousand).