Identifying key drivers of educational disadvantage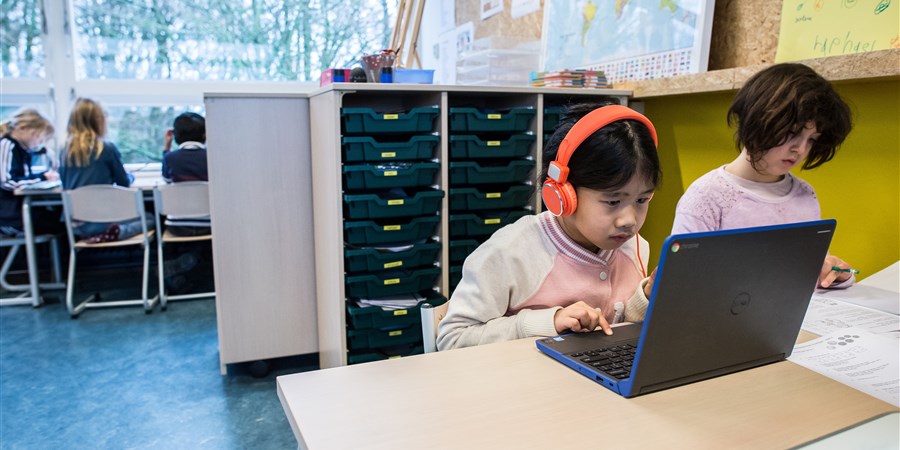 The Urban Data Centre UDC Leiden 071 has been open for just over a year now. During that time, several major studies were held on a wide range of issues such as poverty, the 'skewed tenants' phenomenon, electric cars and educational opportunities. For the latter topic, Statistics Netherlands (CBS) created a dashboard (a useful online information source) to help municipalities in the Netherlands identify risk factors involved in educational disadvantage.
On the same page
Research coordinator Bob Groot has been closely involved with the Urban Data Centre Leiden on behalf of CBS. He explains: 'The data centre's official launch was at the end of December 2017. It actually owes its origins to the researchers and controllers who work as executive support staff for the municipality – because they initiated its establishment. We share a collaborative office space with them, which is great as it encourages us to pool our resources when formulating research questions and conducting studies, etc. It goes without saying that effective communication and being on the same page are essential in any collaboration.' Enna Bongers, policy officer at the municipality of Leiden, agrees: 'CBS specialises in data and methodology – privacy is of the utmost importance in this line of work. The municipality is more involved with the practical side of things and often deals with politically sensitive issues. This meant we had to get used to each other's different approaches when we first started working together.'
Data-driven approach
The municipality of Leiden is increasingly adopting a more data-driven approach in their work. Their collaboration with CBS via the Urban Data Centre helps facilitate this process. Groot clarifies CBS' role in this: 'We help researchers who work for the municipality generate more information from existing data sources, such as the CBS StatLine database. We also hold workshops on how to perform research, structure data bases, visualise developments and protect privacy. And, last but not least, we've collaborated on several large research projects together.'
Poverty and skewed tenants
One of the UDC Leiden studies focused on gaining more in-depth insight into poverty. Groot explains: 'We measured the coverage of several municipal schemes at district level. We also looked into the 'skewed tenant' phenomenon, which describes people who occupy cheap social housing even though they could afford to rent a more expensive property on their income. This was a challenging project and required several sessions before we could decide on our approach and methodology. For example, one of the issues we ran up against was how to obtain information from housing associations when the GDPR (data privacy regulation) is in full force. Determining an income threshold proved to be fairly tricky as well.'
Educational opportunities
Another important study emerging from the Urban Data Centre Leiden is one that focuses on educational opportunities. Bongers highlights the significance of this survey: 'The municipality of Leiden relies, in part, on objective data when developing policy to level the playing field in education. We are currently using a CBS model to help us identify which districts put children at a higher risk of experiencing educational disadvantage. This type of information ensures that the right choices are made when developing policy and allocating resources.' UDC Leiden discussed these choices in great detail when defining the parameters of this model. For example, they produced an analysis of how the target group should be defined. They also looked at generating additional information by linking different information sources, such as divorces and debts. Bongers adds: 'Our objective for the future is to be able to track children over a longer period of time so that we can observe their development. This is the only way we can measure the effectiveness of our policy.'
CBS has implemented a national roll-out of the Leiden approach, commissioned by the Dutch Ministry of Education, Culture and Science.
Key areas
The municipality of Leiden has used the CBS model to delineate key areas requiring their attention. These areas contain a relatively higher proportion of children who are at risk for experiencing educational disadvantage. Bongers says: 'We will be implementing targeted measures in these areas and will factor in the vital role parents play in their child's educational career. Just having parents read to their children or help them with their homework can make a huge difference. But these types of activities should already feature in the first four years of a child's life. This is why we try to support parents in this process by initiating language development activities at nurseries and day-care centres and by introducing read aloud projects and activities that help parents while raising their children and encourage them to read aloud to them.'
Dashboard
Leiden wants to continue developing its policy on educational opportunities. One way they hope to achieve this is by focusing on the risk factors involved in educational disadvantage. Bongers explains: 'We will also look at other factors that play a role in educational disadvantage such as recommendations from schools and transfers to secondary schools. Our main objective is to ensure everyone receives an education that reflects their potential.' In the meantime, CBS has implemented a national roll-out of the Leiden approach, commissioned by the Dutch Ministry of Education, Culture and Science. Groot discusses the benefits of this: 'We were able to use the roll-out to create a dashboard that contained heat maps. These heat maps illustrated the geographical spread of children at risk of educational disadvantage per municipality in the Netherlands. This example demonstrates the added value of Urban Data Centres: one successful study in the municipality of Leiden can easily be rolled out to all municipalities in the Netherlands. We are currently investigating the possibilities of using some of our other Urban Data Centre research results on a wider scale.'