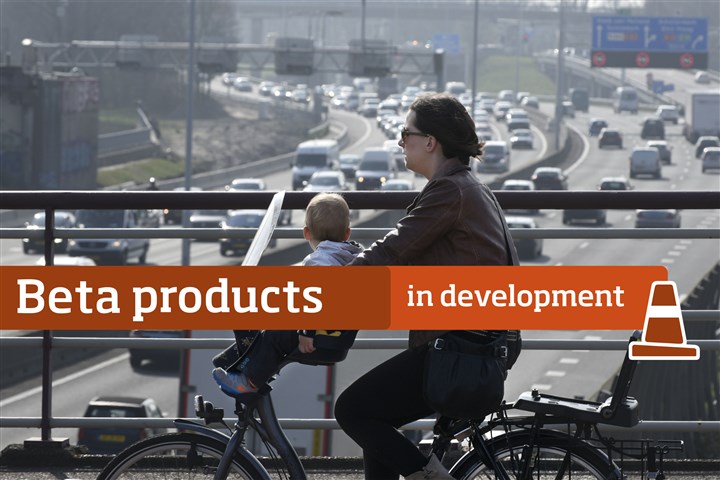 Traffic intensities on national roads
Traffic intensities statistics form the first study by Statistics Netherlands (CBS) to be based completely on Big Data. Underlying these statistics are vehicle counts at over 20,000 fixed measuring locations on Dutch national roads outside built-up areas.
At fixed locations, passing (Dutch and foreign) vehicles are counted electronically 365 days a year, 1,440 minutes a day. This data is stored in the National Data Warehouse for Traffic Information (NDW database). Vehicles are registered with the aid of detection loops in the road, traffic cameras above the road or by the roadside, via bluetooth as well as via infrared.
The huge volume of bulk data totalling 80 terabytes in size is eventually reduced to an "editable format" by means of filters, combining of data and various calculations. The dataset eventually contains numbers of motor vehicles crossing per day, per road, per regional area (corop) and by driving direction.
Data from adjacent measuring points is used to clean and validate (partly) missing measuring points. Data from measuring points alongside the same road in one regional (corop) area are combined into one single measuring point.
How are traffic intensities on national roads used?
For the first set of calculations and for the purpose of publication, Statistics Netherlands used the total of data collected from measuring points on national roads over the years 2011 to 2014.
The average number of passing motor vehicles (traffic intensities) per hour has been broken down by: group of provinces, province, regional area (corop), national road and the combination corop/national road.
In this visualisation, a countrymap of the Netherlands shows traffic intensities in all provinces, corop regions and on all national roads. http://research.cbs.nl/verkeerslus/
By clicking on a national road, region or time period, the applicable number of passing motor vehicles becomes visible, subdivided into categories of intensity, on that particular road or in that particular region. By displaying two screens next to eachother (click on the tab "Kaart"), comparisons can be made. See the screenshot on page 2 for an example.
Feedback needed