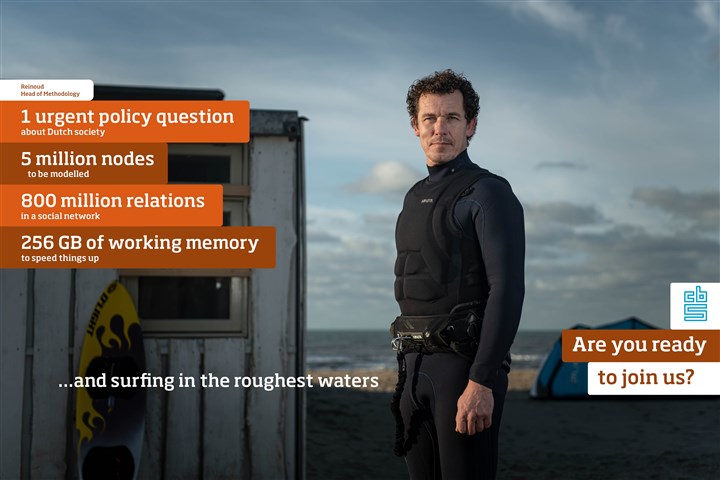 Reinoud - Head of Methodology
You could say innovation is a passion of mine, both out on the water and in my work. I'm Head of the Methodology Team in The Hague. We develop methodologies to help CBS produce even better
statistics. I'm part of the smartest team in the Netherlands, although they do say so themselves! We all have academic qualifications, most have PhDs, and there are even four professors on the team. Big Brains to wrangle Big Data!

CBS provides reliable statistics for today's world, and the organisation is always looking for innovations that can respond to the rapidly changing world of tomorrow. We are exploring all the possibilities offered by new (big) data sources and techniques, such as AI and Machine Learning – not as a scientific goal in itself, but so we can get even better and more relevant output from the data. For me personally, that goes way beyond numbers. How do you make statistics accessible? How do you present figures and analyses in such a way that they really do provide more insight, and people can use them?

I'm really interested in that: the psychological side of statistics. The great thing about working at CBS is the incredible passion and motivation of the people, not to mention the high degree of professionalism and personal leadership. Everyone is amazingly motivated, and that really appeals to me. The importance of the work to society is at the heart of what we do.

In my free time I go surfing – the more wind, the better. Then it's just me, my board, the wind and the sea. It's all down to me. Awesome!